Family
This woman's 'Vegas Rules' list for her friend's bachelorette party is the perfect example of what NOT to do.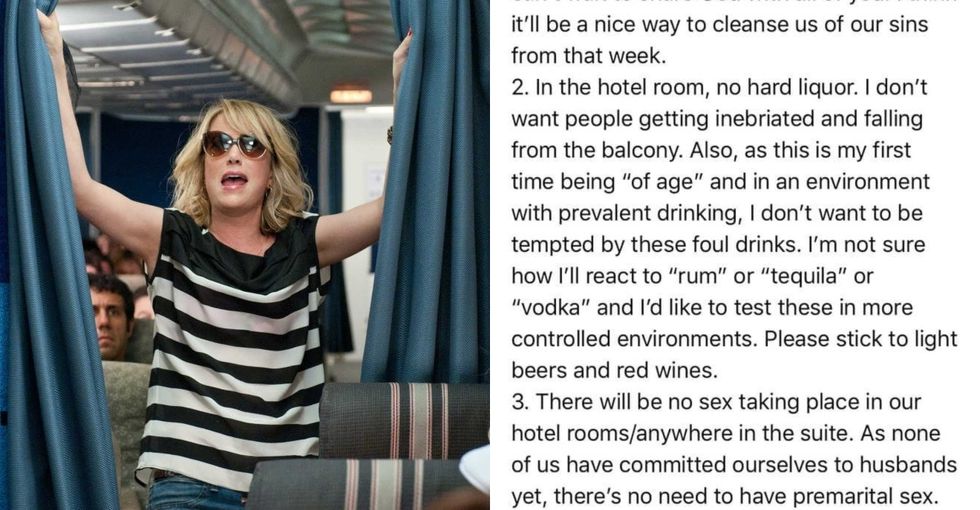 Editor's Note: The names in this story have been changed to protect the anonymity of those involved.
One of the main reasons I chose to elope is because I didn't know if I could handle both the stress of a wedding (very stressful according to many listicles I've read) and the anxiety of putting together some kind of "bachelor's night" where I would (due to character flaws beyond therapeutic help) spend the entire time trying to ensure that everyone was having the Best Time Ever.™
I bet I know one bride ("Emma") who's probably feeling the same way after giving in to a friend who originally wasn't invited to a pre-wedding girls' trip to Las Vegas.
---
The reason the friend "Taylor" wasn't originally invited, according to the Reddit post you're about to become intimately acquainted with, is because she's a downer. But she's also apparently a downer who throws tantrums, and so the bride gave in to her demands for an invitation, probably thinking "whatever, I've invited sixteen other people on this trip. How bad could it be?"
It turns out, really, really bad. As soon as the "respectful and courteously passionate" 18th wheel was given the go-ahead to pack her bags, she started instituting her own rules regarding what would, and more importantly, WOULD NOT go down in Sin City.
Why don't you check the email out for yourself?
[rebelmouse-image 19480379 dam="1" original_size="662x960" caption="All image in this post via imgur." expand=1]All image in this post via imgur.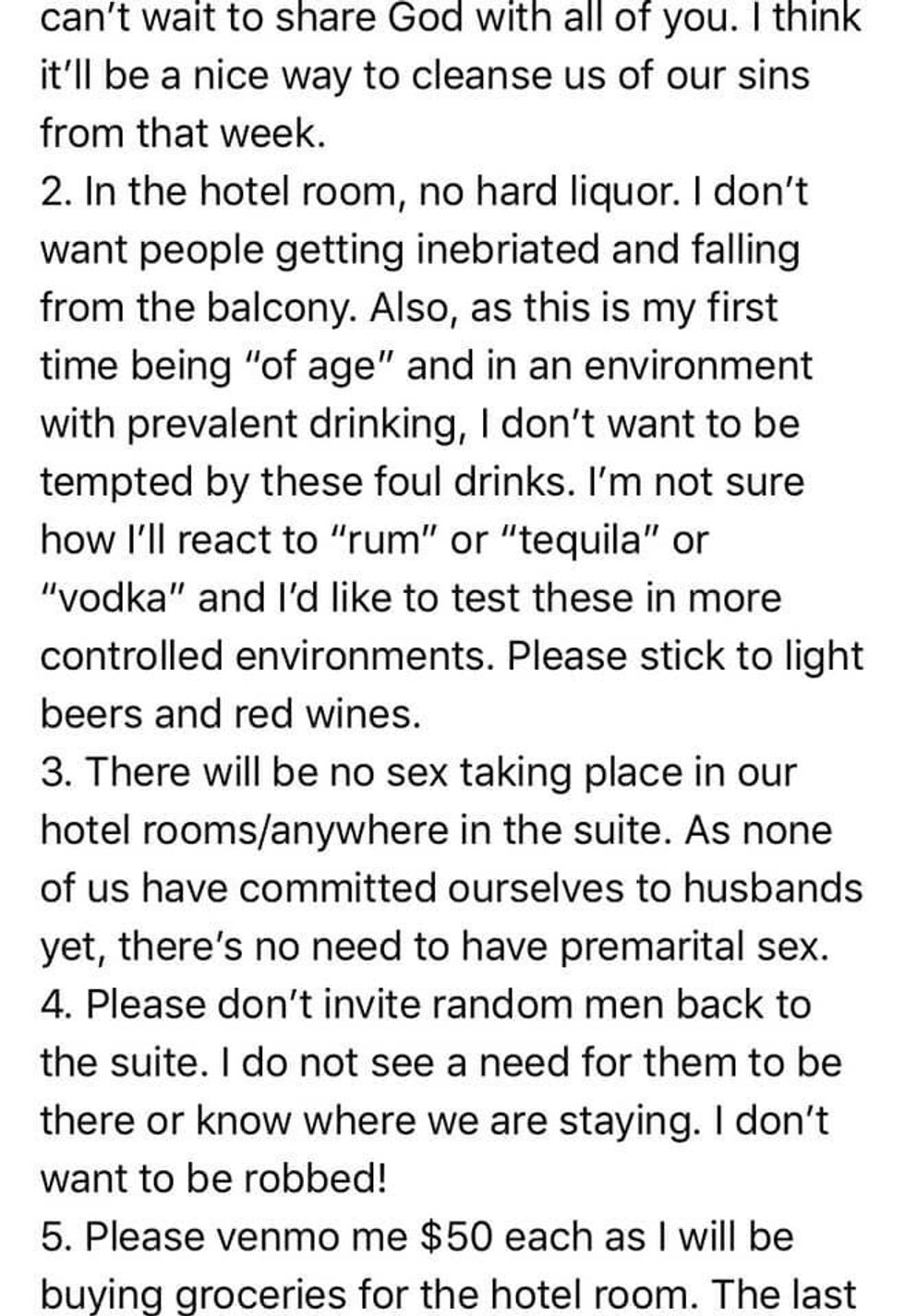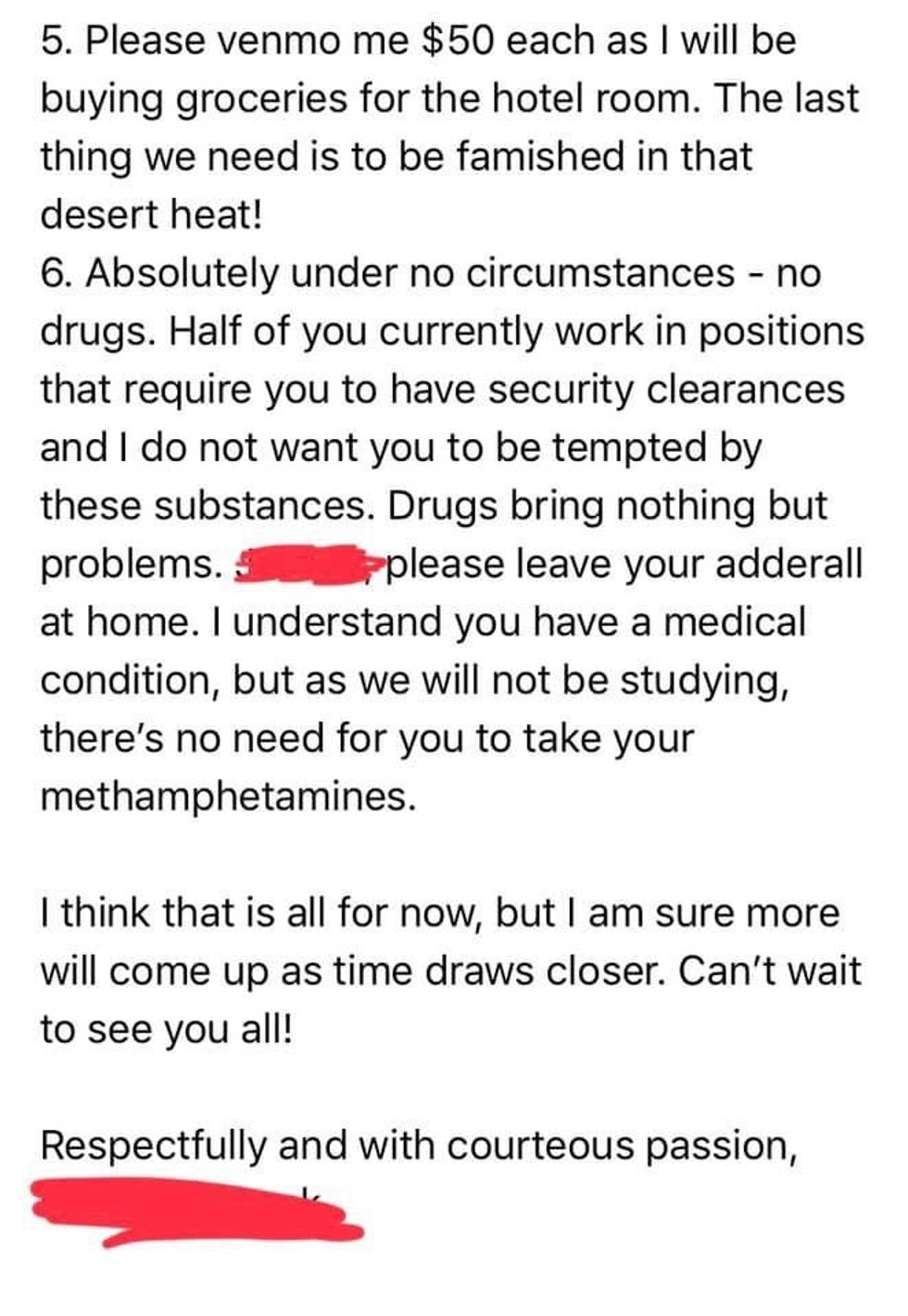 Everyone else's jaws on the floor? Since I'm only allowed about 400 words per post (for all our protection), I'm just going to point out the most obvious thing here: Don't ever be this guest.  
If you've been invited to a party after begging and pleading, just assume that you should let everyone do their own thing. And that thing is certainly not calling out someone who's taking a medication and then demanding that this medication be left at home because you don't understand how mental health works. What's more fun at a party than stigma?
Of course, the internet had thoughts:
And, of course, some people are asking the really important question. Specifically: Is this a bachelorette party or a reality show competition about to go murderously wrong?
You know what? I have a better idea: Cut the trip in half, leave Taylor to drink wine in a controlled environment at home, and pool all the money you saved (plus the $50 per person Taylor demanded for food) to see Gaga dance atop a robot.
Better yet: Just book a few rooms at an all-inclusive resort and forego an actual agenda. All you need is a pool and a swim-up bar to have a good time. Call if you need more ideas!