Family
These moms are flaunting their stunning postpartum bodies on Instagram.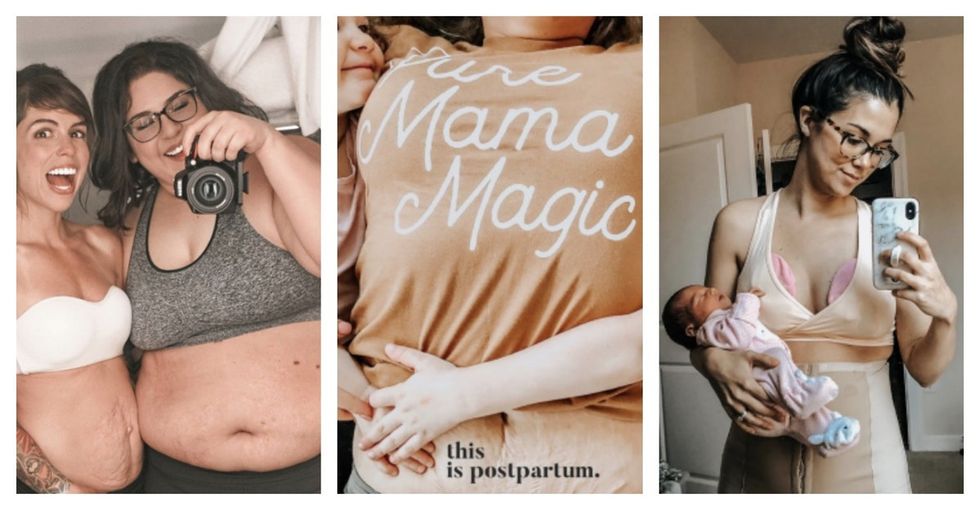 Meg Boggs is on a body confidence mission to change the way we look at postpartum bodies.
As part of her mission, the mom blogger recently recruited 25 moms to share their own journeys and struggles with body confidence, postpartum depression and anxiety as well as infant loss and grief. She had them share photos and details about their story, using the hashtag #this_is_postpartum on Instagram. The collection of images is stunning to say the least.
---
Every woman's story is inspiring in its own unique way.
One mother, Ashley Dorough, of houseofdorough.com, posted about the postpartum depression she suffered from after the birth of her second child. "Hey, you. I know what it feels like to look in the mirror and feel disgusted, worthless, broken."
"To cry for no reason. To feel too proud to ask for help. To have unexplainable feelings of hopelessness, anger, and resentment. To have all of your expectations of what you think motherhood is going to be like ripped apart. All of these experiences we go through... they DO make us stronger. But why doesn't it feel that way? Why isn't it celebrated?"
Desiree Fortin, who struggled with infertility, chose to use the platform as a method to embrace her postpartum body after welcoming triplets," she told CNN. "My body changed more than I anticipated. There was a lot of extra skin, there were stretch marks covering all over." She now refers to them as her "hope wounds" as they represent things she had "prayed and longed for."
"They are the road map to my motherhood. They are a representation of my three miracle babies who I would not have if I did not walk through infertility and carry three human beings at one time."
Other stories document miscarriage, and the shame and feelings of failure that women can struggle with after c-section scarring and general body image struggles. Each is distinctive, beautiful and truly moving.
Boggs' personal struggles with motherhood inspired her to start the movement.
Her body confidence struggles began during pregnancy, when Boggs, a plus size woman, noticed that her body didn't look like other expectant moms. "I would see pictures of a perfect bump and I didn't relate to that because I definitely did not have a perfect bump," she told CNN. Despite internet searches, she had trouble finding images of women who looked like her. "I felt as if my postpartum journey and body didn't count."
After she had her baby girl, she refused to be photographed with her daughter. "I regret so much that I wasn't in the photos with her. It's so important and you have to think about your kids and they are going to want you in the photos with them," she told CNN.
At seven months postpartum, she was inspired to start her blog, MegBoggs.com. While she expected to be shamed and trolled by readers, she was pleasantly surprised with all the support she received. "To my surprise, my messages flooded with positivity and things like 'I needed this today.' That's when this idea started finding its way into my heart," she explained.
Boggs and these 25 brave and beautiful women hope that their message will help normalize the postpartum experience for others who may feel alone.
"I can get hundreds of negative comments but it's that one message that I'll get, even if it's just the one that says 'This is what I needed to see today,' it's those messages that remind me that it's worth it," Boggs said.
This new campaign is a great reminder for women to celebrate their personal journey into motherhood, no matter what it looks like. Bringing a life into this world is one of the most beautiful gifts, and the bodies that help do it should be treated with nothing but love and respect no matter what.