Pets
Every letter submitted donates a pound of food to pets in need.
via Chewy
True
Every holiday season, millions of kids send letters asking for everything from a new bike to a pony. Some even make altruistic requests such as peace on Earth or helping struggling families around the holidays.

But wouldn't the holiday season be even more magical if our pets had their wishes granted, too? That's why Chewy Claus is stepping up to spread holiday cheer to America's pets.
Does your dog dream of a month's supply of treats or chew toys? Would your cat love a new tree complete with a stylish condo? How about giving your betta fish some fresh decor that'll really tie its tank together?

Or do your pets need something more than mere creature comforts such as life-saving surgery?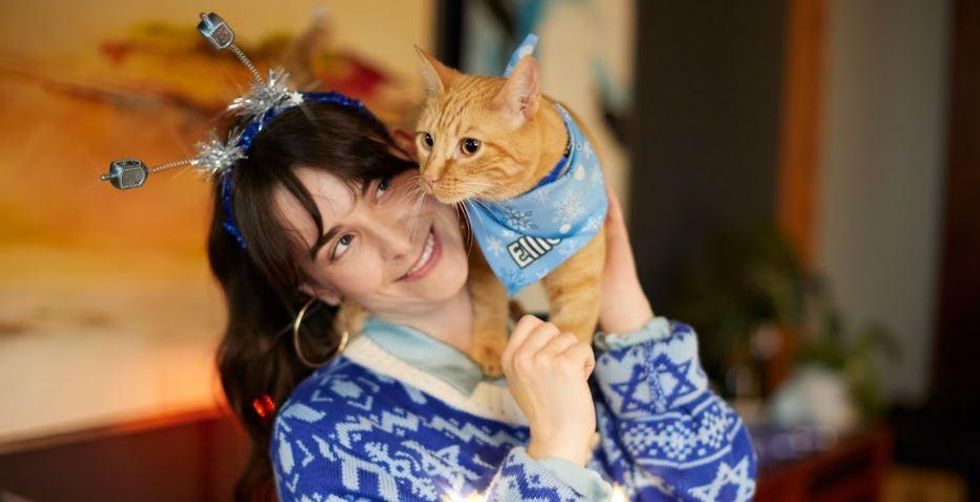 via Chewy
"At Chewy, we know pets are a part of the family and we wanted to give them a way to truly participate in the holiday season this year," said Orlena Yeung, VP of Brand Marketing at Chewy. "Through Chewy Claus, we are hoping to spread joy while recognizing the most important gift that keeps on giving—the love and companionship of our pets."
To submit your letter to Chewy Claus, just go to be.chewy.com/chewy-claus.
Not only could your pet's letter make their holidays even merrier, it will give back, too. For every letter submitted to Chewy Claus, Chewy will donate one pound of food to Greater Good Charities (up to 15,000 pounds). Further, for every product purchased during the Season of Giving, Chewy will match up to $1 million per week in a pet food and supply donation to Greater Good Charities, for a potential total of $10 million.
I've got a new dog this year, a one-year-old boxer mix named Archie and I know what he wants this holiday season.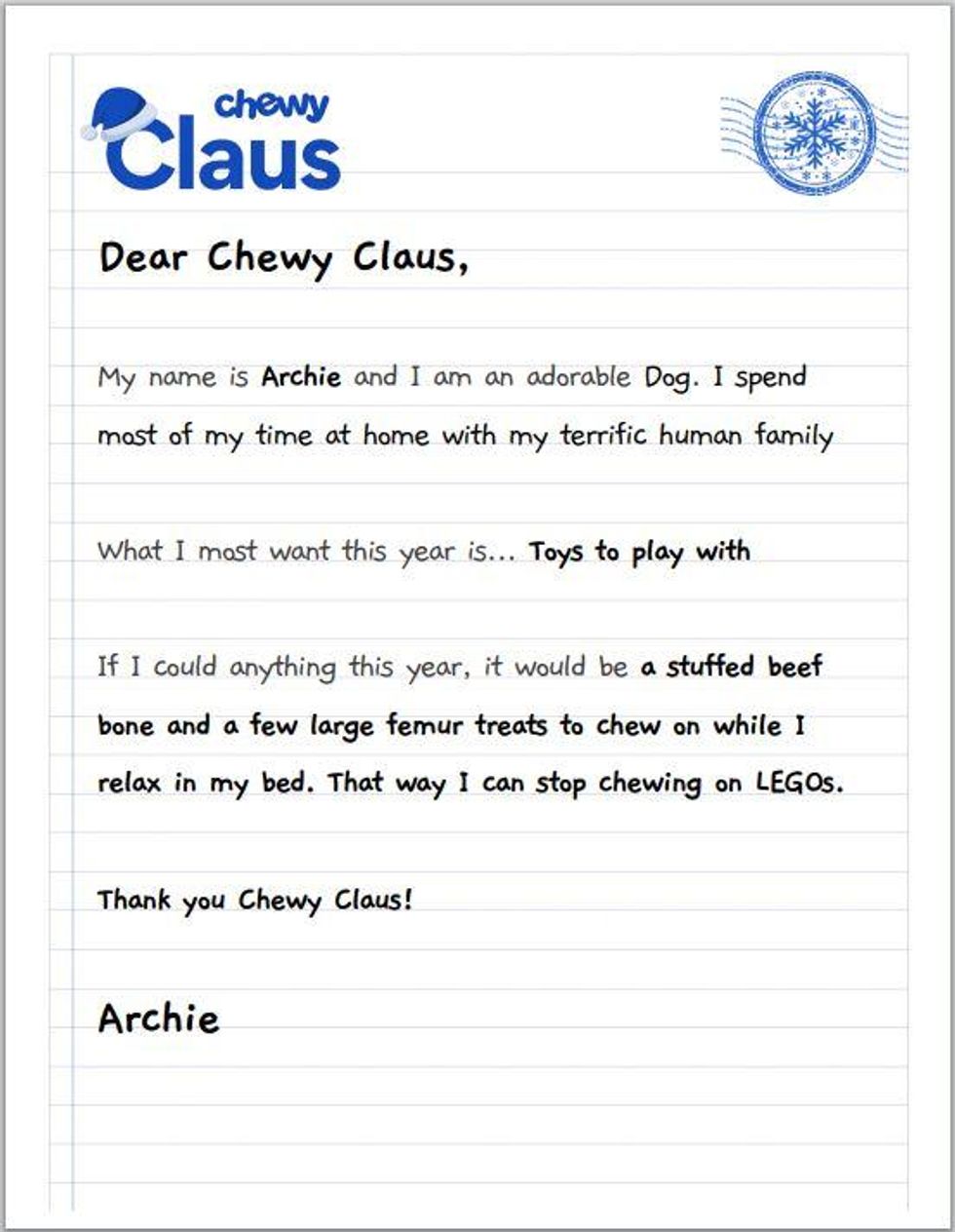 via Chewy
The first letter sent to Chewy Claus came from True & Faithful Pet Rescue in Venice, FL. The rescue, which focuses on saving senior dogs, was one of the many victims of Hurricane Ian. Their wish was simple; they asked for food for themselves and those in their community.
Chewy Claus delivered by providing a 20-thousand-pound truckload of food to True & Faithful and other shelter and rescue partners in the community. Chewy also assembled a team of volunteers to hold a clean-up day and donated the necessary funds to rebuild their beloved dog beach.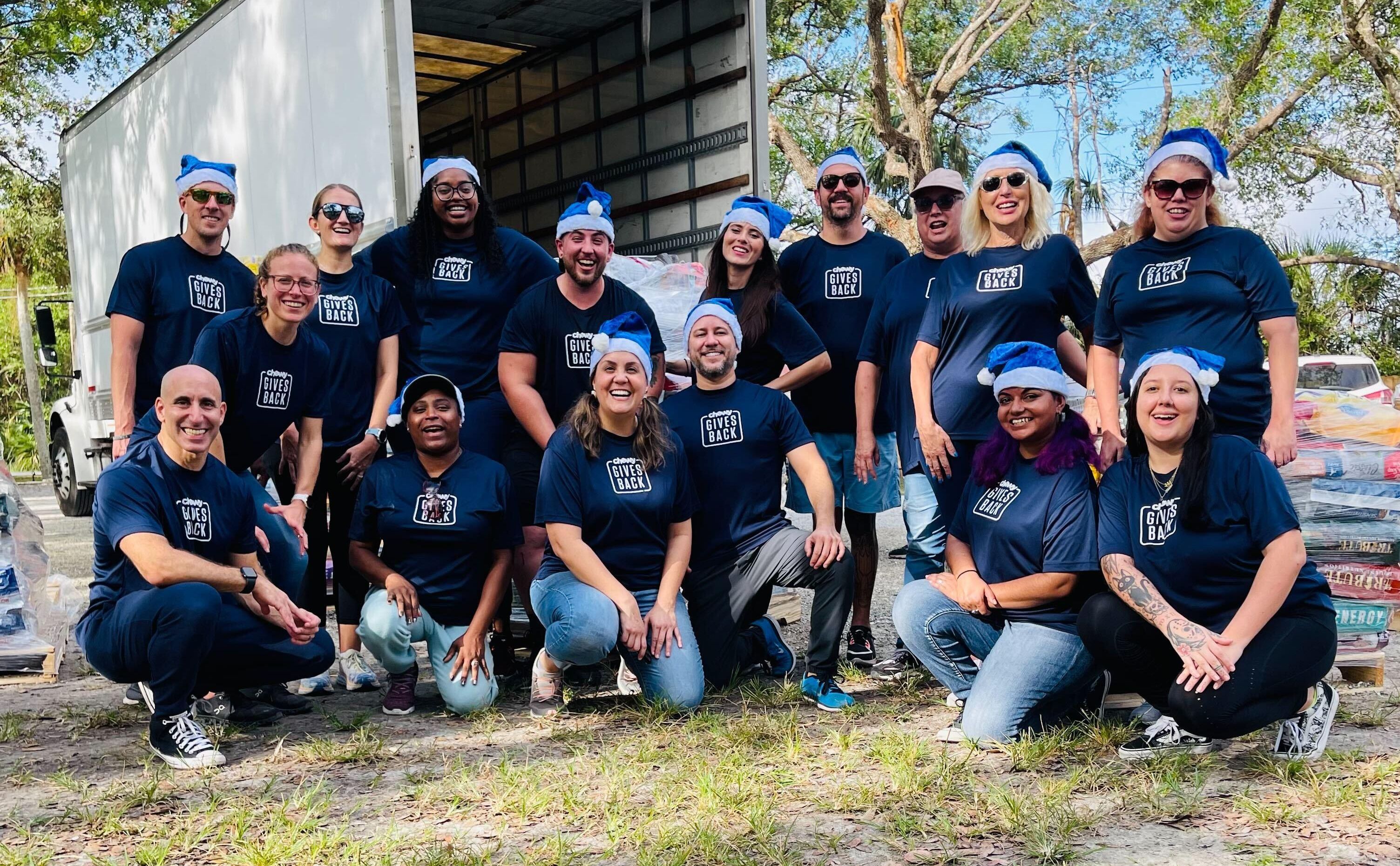 via Chewy
"We are so grateful for Chewy's support in rehabilitating our space and not only donating thousands of pounds of food to our community, but also providing the help and funds necessary to rebuild our beach," Lisa Letson, Founder of True & Faithful Pet Rescue told Upworthy. "The beach is our senior dogs' happy place, where they can live their best lives for the time they have left. It really is a dream come true for us."
Chewy is the best place to shop for pets this holiday season because it's the gift that keeps on giving. It's simple: when you shop, they donate. Chewy will also match customer purchases in the form of a product donation up to $1M per week for a potential total of $10M throughout the season of giving. That means pets living in shelters and rescues will receive toys, treats, food and other essential items this holiday season. Plus, if you write a letter to Chewy Claus, your pet may get their holiday wish and pets in need will get theirs, too—a win win win. Isn't that what the season is all about?
popular
Haley Morris-Cafiero's photos might make you rethink how you look at people.
Credit: Haley Morris-Cafiero
Artist Haley Morris-Cafiero describes herself on her website as "part performer, part artist, part provocateur, part spectator." Her recent project, titled "Wait Watchers" has elements of all her self-descriptors.
In an email to us, Morris-Cafiero explained that she set up a camera in the street and stood in front of it, doing mundane activities like looking at a map or eating gelato. While she's standing there she sets off her camera, taking hundreds of photos.
Later, she looks through them and sees what is happening around her. Morris-Cafiero finds that people are often looking at her body, or commenting on it with their gaze or body language, at times even appearing to mock her.
"I then examine the images to see if any of the passersby had a critical or questioning element in their face or body language."
"I consider my photographs a social experiment and I reverse the gaze back on to the stranger and place the viewer in the position of being a witness to a moment in time. The project is a performative form of street photography," she writes.
Her work has been exhibited across the U.S. and abroad.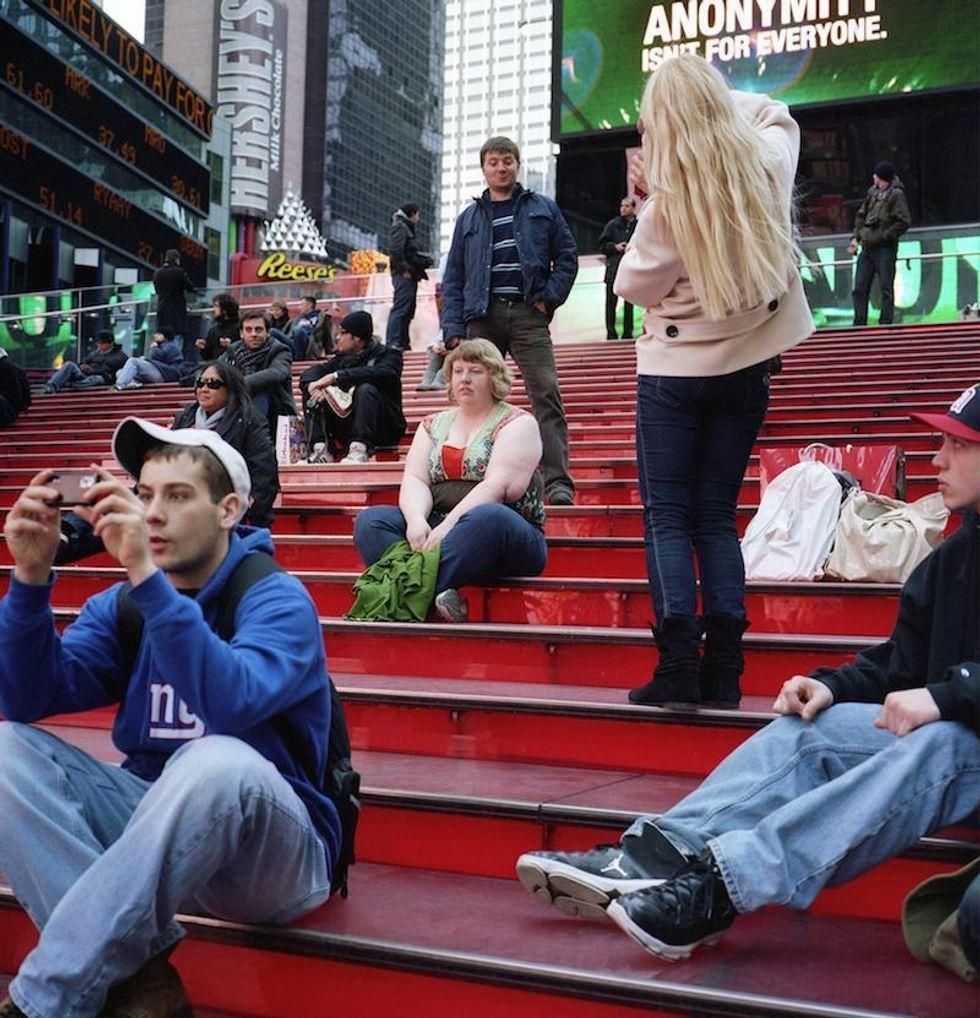 Artist Haley Morris-Cafiero filmed people's reactions to her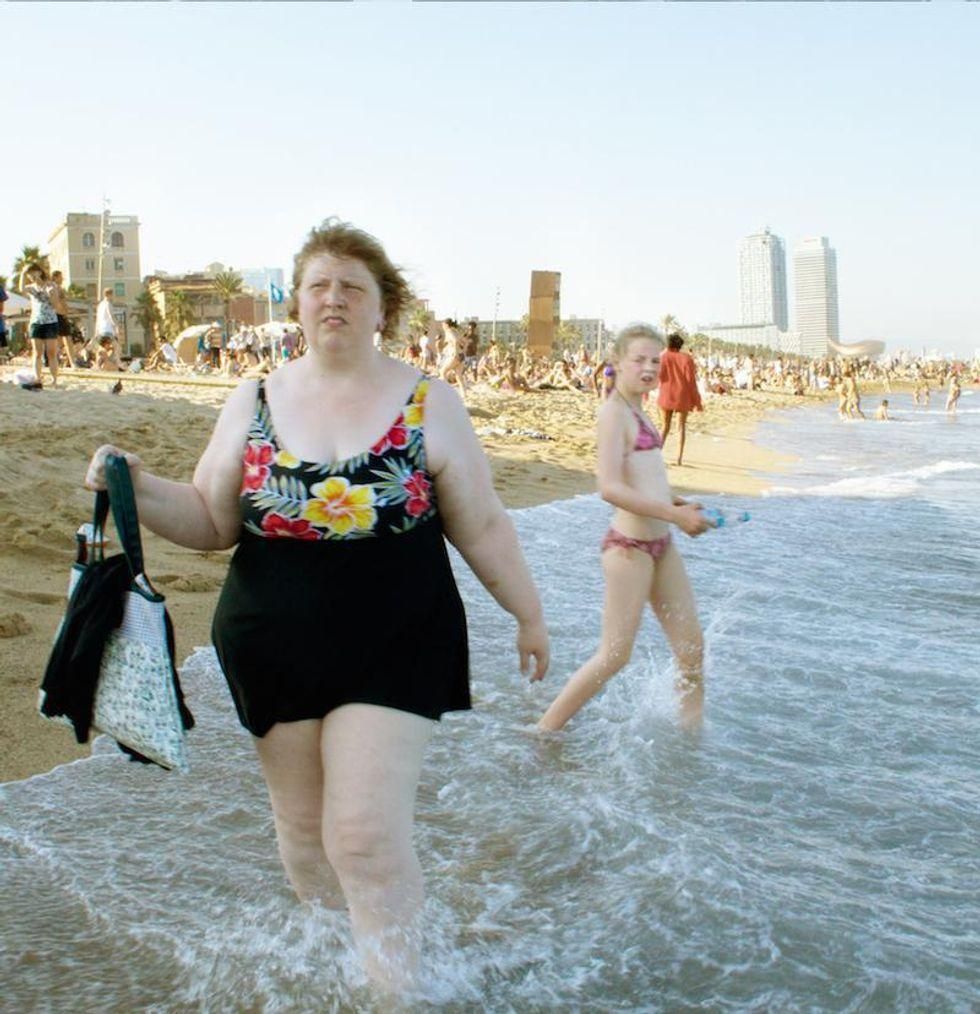 She also published her book, The Watchers, which shows her photo collection and includes comments made to her about her body from passerby.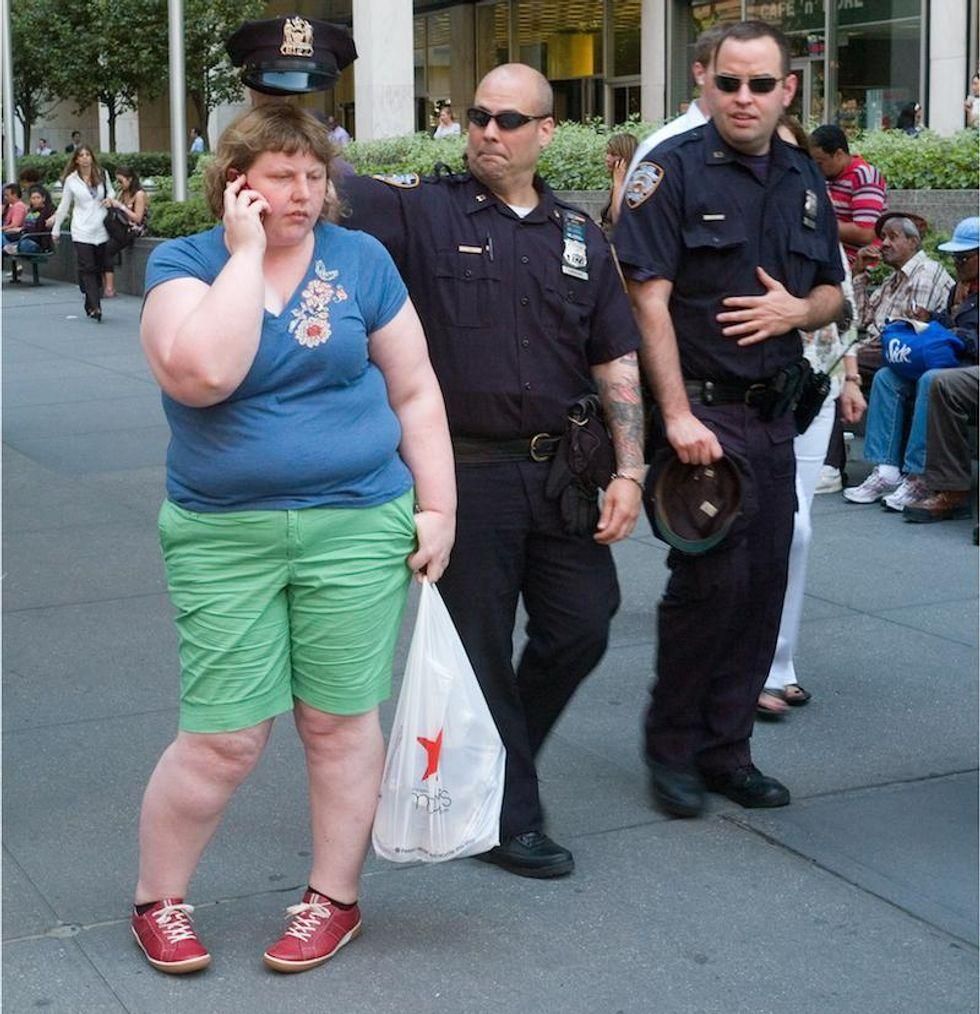 You can see that even people in positions of authority, like this police officer, feel comfortable mocking her just for being out in public.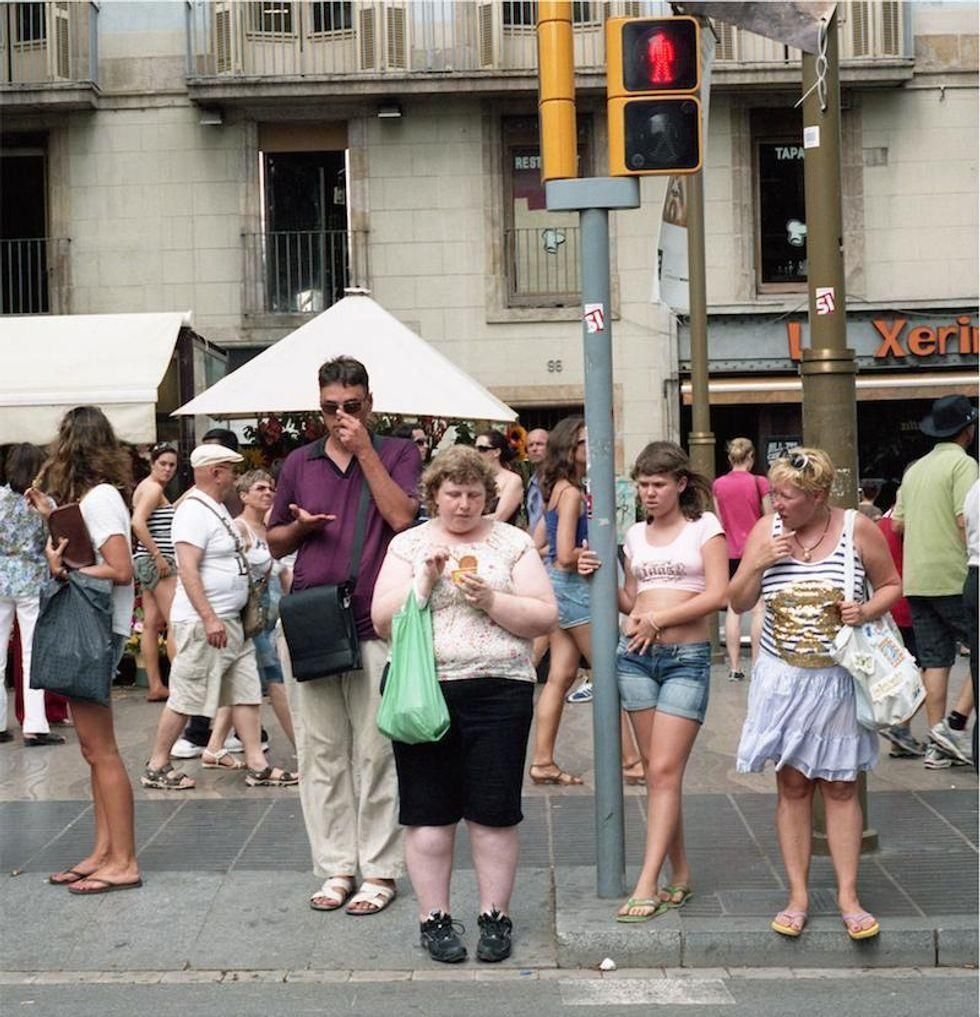 Though she's not looking at the people around her, Morris-Cafiero's photographs capture a split second in time that really crystalizes how people relate to one another on the street and the judgment she receives from strangers.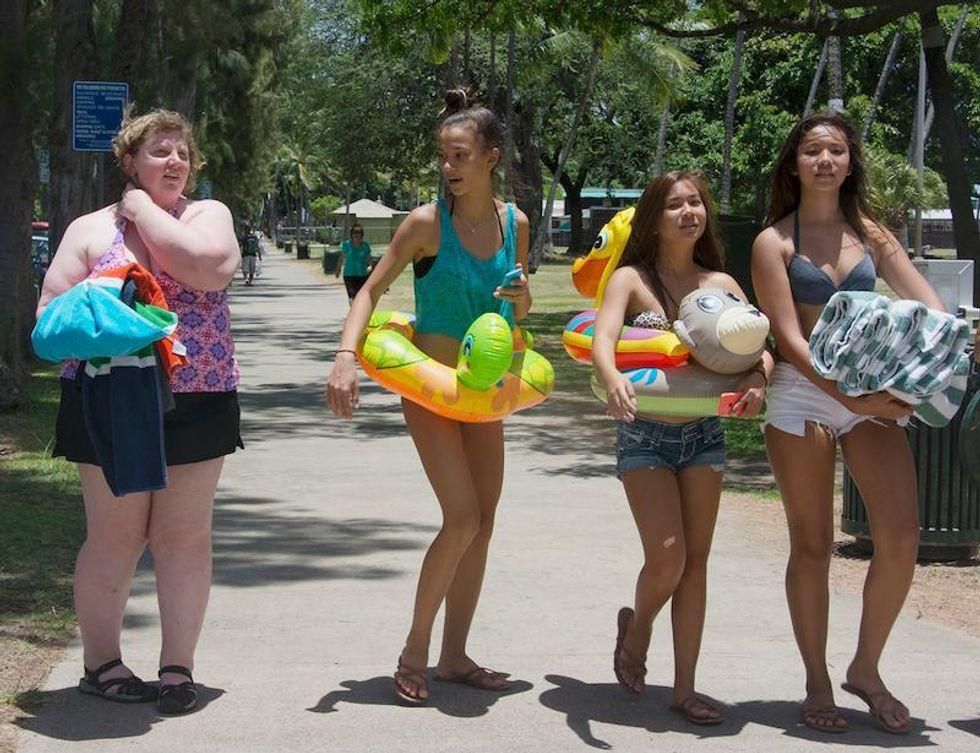 In galleries, with the words beside them, the photos are even more pointed. She also includes the positive words she receives from people who have experienced discrimination for their size or any other aspect to their body that is consistently bothered by the dominant culture.
Though we all theoretically know that people, women in particular, are discriminated against for their size, seeing it captured in photographs is gut-wrenching:
The project has gone viral as people identify with Morris-Cafiero's experience, which means a lot of people relate to being stared at and commented on by folks who should mind their own business. Does that include you? You can check out more of her incredible work here.
Joy
Hana Sofia Lopes was due to attend a highly prestigious even when her bag containing all her necessary items was lost.
For Luxembourg-born Portuguese actress Hana Sofia Lopes, traveling overseas to hobnob with industry elites should have been a dream come true. But it quickly became a nightmare.
As CNN reported, Lopes had planned on visiting a friend in New York City before arriving in Montreal where the event would be held. It was an event she was eagerly looking forward to and had the perfect outfit for it carefully tucked away in her luggage.
Only the luggage never arrived.
The actress spent a week calling the airline during her New York stay, but all to no avail. Things didn't look good. "Here I am in New York, with no clothes other than those I was wearing during the flight. No shoes. No brush for my hair. No makeup. No socks. Nothing. Just me and my handbag," she told
CNN.
At the end of her rope, Lopes went to file a complaint as she touched down in Montreal. And whether it was a lucky coincidence, or a dose of good karma, Lopes would have a chance encounter that turned things around in the most uplifting way.
Deciding to not take her anger out on the airport worker, Lopes gave the disclaimer, "what I'm about to say is nothing personal. It's really just against your company, against the company you're working for."
The rage might have been quelled, but emotions still rose up. As tears began to roll down her face, Lopes explained that "I'm here to shoot a movie, and tomorrow, there is a reception with the prime minister of Luxembourg, which is my home country. I don't even have makeup to put on my face. I don't even have face cream. I have nothing."
The worker, Azalia Claudine Becerril Angulo, found herself instantly empathizing with this woman whom she had never met. "She was really sad, angry also, and I understood why," she told CNN, adding that she found Lopes' openhearted approach refreshing. "I wanted to help her. Normally, people are rude and they're very aggressive. She was different."
Though she couldn't help with the luggage—which apparently was in Frankfurt, Germany—it just so happened that when not working at an airport, Angulo was a professional makeup artist.
"If you want, I can come to your hotel in the afternoon and do your hair and makeup so that you can attend your reception," she told Lopes, offering to do it all for free. Obviously, Lopes agreed.
Angulo arrived at Lopes' hotel room the next day, and as she went to work, the two women chatted about their lives. Lopes recalled how it all felt "very natural" as they seamlessly spoke in French, English and Spanish, and that their connection was instant. "It didn't feel like I was just meeting somebody for the first time. It felt like I was meeting up with an old friend, which is crazy, because I just met her the day before, but we were talking a lot."
Angulo finished with a look the Lopes loved, but refused to accept payment for her work "Makeup for me, it's an art, it's really a passion," she noted "So it's not about the money. It's just because I really like to make the person feel good and happy."
In quite the storybook ending fashion—that same day Lopes was notified that her luggage was not, in fact, in Germany, but instead was on its way to Montreal. It's unclear whether or not that dress arrived in time for the event that night, but regardless, the photos from the event turned out gorgeous. Hair, makeup and all.
Though it's certainly good news that everything worked out for Lopes, both she and Angulo agree that what's really important to take from their feel good story is the power of kindness.
Angulo told
CNN
, "people have to be a little bit more understanding that the person in front of them, they don't have control of what happened. So if they are patient and really calm about it, the person in front is going to help you the best that we can."
On her Instagram page, Lopes seconded the sentiment as she wrote, "in an era where atrocities and bad news seem to be the norm, our story hopefully restores a little bit of faith in humanity. Let's never lose our ability to step into someone else's shoes, it's what makes us human. I am sure that what unites is far more redeeming and compelling than anything that separates us."
It costs nothing to be kind. But it pays off in the most rewarding of ways.
Get stories worth sharing delivered to your inbox