Heroes
The designs for Notre Dame's new roof are eco-friendly and cool AF.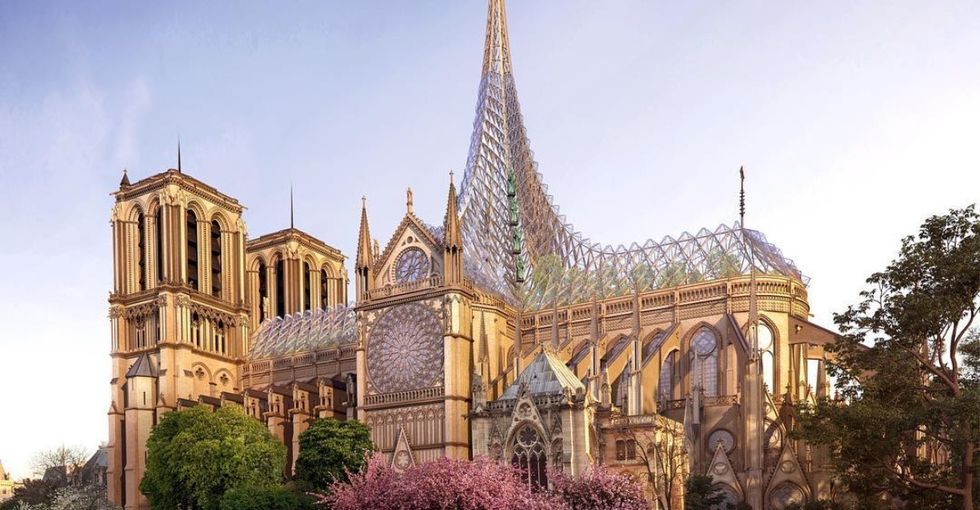 On April 15th, France lost part of one of its most iconic buildings — Notre Dame Cathedral. However, fundraising efforts for the rebuild began quickly, and now there are several design firms competing for the job.
France also opened the bidding up to international designers, and that really fanned the flame of the competition. Within the past month, grand design plans have been pouring in, and some of the most interesting ones go beyond historical restoration to directly address one of the world's greatest challenges — climate change.
Hey, the Paris Agreement doesn't have to be the only innovative green initiative in France, right?
---
One particularly cool, eco-friendly design is from French design firm Vincent Callebaut. Their "Palingenesis" design is not only a beautiful glass structure, it would also be a light-absorbing greenhouse that's meant to provide the Cathedral with 100% clean energy.
"The new wooden frame is covered with a three-dimensional crystal glass dress subdivided into faceted diamond-shaped elements," the firm noted in a press release. "These crystals consist of an organic, active layer made of carbon, hydrogen, nitrogen and oxygen, which absorbs light and transforms it into power. This energy, stored in hydrogen fuel cells, will be directly redistributed throughout the cathedral."
The firm also plans to build an urban garden inside the structure that would be fertilized by aquaponics (natural fish-made fertilizer). The sizable-sounding crops would mostly go to underserved communities in Paris, making the entire design beautiful, environmentally sustainable, and socially responsible.
But I'll just shut up and let you look at some more pictures of the awesome thing.
[rebelmouse-image 19561923 dam="1" original_size="1196x1116" caption="Photo via Vincent Callebaut/Instagram" expand=1]Photo via Vincent Callebaut/Instagram
Vincent Callebaut isn't alone in their idea to create a green space on top of Notre Dame. Another French firm also wants to create a greenhouse, but one that's only accessible to birds and insects.
"[The] Notre Dame tragedy should serve the cause of the environment, the greatest struggle of humanness, by being a new world symbol for the present and future generations," studio director Abel Guillaume told Fast Company. people would still be able to enjoy them and the space, but they'll have to do it from behind glass.
Studio Nab also wants to provide a refuge for insects, but a specific kind of insect that's already native to Notre Dame — bees. 180,000 bees have resided on the Cathedral since 2013, and thankfully survived the fire. Studio Nab's greenhouse structure would provide them with a safe space that's open to the public so people can learn about the importance of bees and how to properly maintain urban agriculture.
One idea that's somewhat speculative is Studio Drift's plan to use recycled plastic found in the ocean to create a new roof for the cathedral. They claim redoing the roof in wood would require cutting down lots of trees whereas upcycling plastic waste is sustainable, and whatever they save in cost they plan to put back into the efforts to clean up the oceans.
It sounds nice in theory, but since the other firms above are using glass and adding more sustainable elements, this idea trails a bit behind theirs.
That said, it's great to see so many designers attempting to incorporate the planet's future into a design for a relic from the past. It'll be exciting to see which one of these ambitious projects wins out in the end.