More
'Reflecting on your own self-worth is the most important thing you can do every day.'
True
L'Oreal Dermablend
MacKenzie has scars from high school — and not just emotional ones.
When she was 13, she started developing severe acne and redness all over her face. As a shy, sensitive teen, MacKenzie just wanted to blend in, but the acne made it extremely difficult.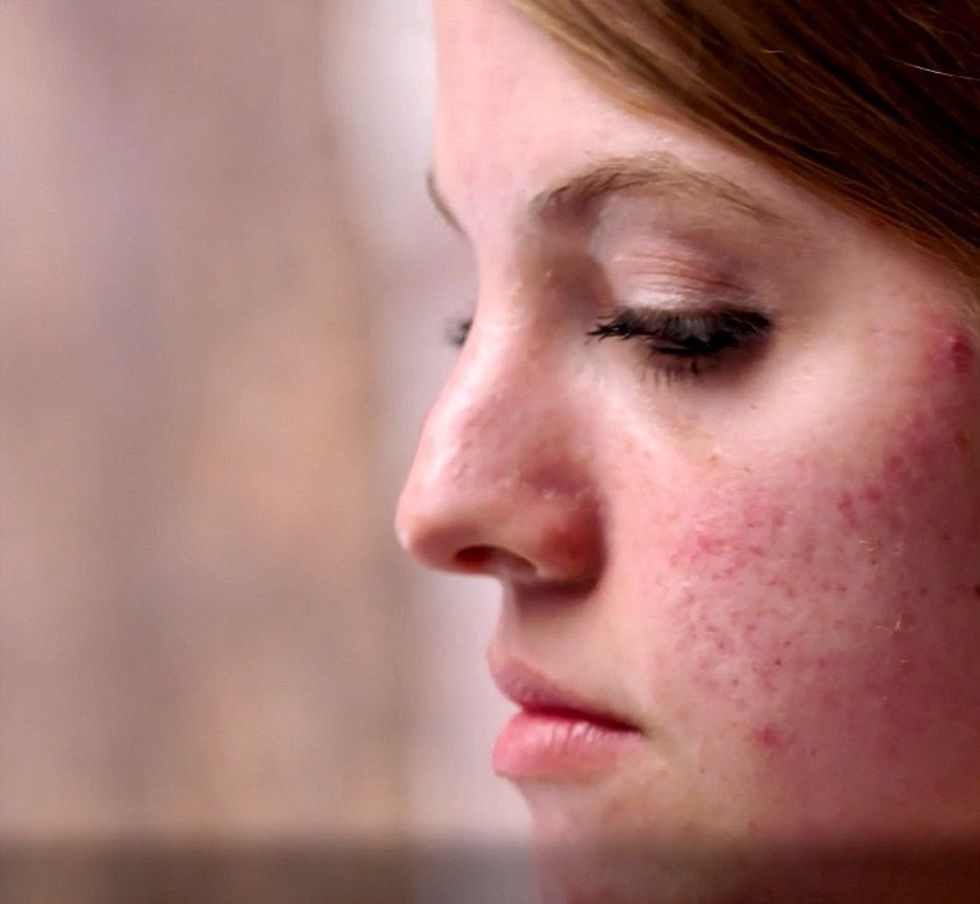 MacKenzie. All photos via Dermablend.
<p>"What's wrong with you? What's wrong with your face?" Insensitive questions like that would pummel her every day in school to the point where she wished she could just stay home. </p><p>"People thought I couldn't really stick up for myself," MacKenzie recalls. "So they just kind of made me an easy target."</p><p>She tried using foundation, but it ended up accentuating her acne rather than covering it. Of course, this left her feeling even more defeated. </p><h2>Things like painting and volunteer work, however, helped her distract herself from the negativity she experienced.</h2><p class="shortcode-media shortcode-media-rebelmouse-image"><img type="lazy-image" data-runner-src="https://assets.rebelmouse.io/eyJhbGciOiJIUzI1NiIsInR5cCI6IkpXVCJ9.eyJpbWFnZSI6Imh0dHBzOi8vYXNzZXRzLnJibC5tcy8xOTUzMjA3OS9vcmlnaW4uanBnIiwiZXhwaXJlc19hdCI6MTYwNDgyODg2OX0.cdSaRZMg7s-d_CRckvN_7mUqsKjZegTFCUP7cXazqAA/img.jpg?width=980" id="1a7b6" class="rm-shortcode" data-rm-shortcode-id="0f567a6ab0ca4b0c8600e55b9f26a633" data-rm-shortcode-name="rebelmouse-image"><small class="image-media media-caption" placeholder="add caption...">One of MacKenzie's paintings.</small></p><p><strong>In fact, volunteer work, especially when it involved mentoring younger kids, was so important to MacKenzie, she decided to pursue a bachelor's degree in social work.</strong> She also mentors students at a high school near her university. </p><p>Not surprisingly, MacKenzie very much relates to the struggles her mentees are currently facing. She often tells them something of which she regularly reminds herself:</p><p><strong>"Reflecting on your own self-worth is the most important thing you can do every day."</strong></p><h2>MacKenzie also found solace in a new kind of makeup which helped cover her acne and filled her with confidence. </h2><p><strong>She discovered <a href="http://bit.ly/2zXKFX6" target="_blank">Dermablend</a>, and it's helped her feel so much more comfortable because she was able to use it more for self-expression rather than something to hide behind.</strong> It's allowed her to be much more creative with the image she reflects back at the world.</p><p class="shortcode-media shortcode-media-rebelmouse-image"><img type="lazy-image" data-runner-src="https://assets.rebelmouse.io/eyJhbGciOiJIUzI1NiIsInR5cCI6IkpXVCJ9.eyJpbWFnZSI6Imh0dHBzOi8vYXNzZXRzLnJibC5tcy8xOTUzMjA4MC9vcmlnaW4uanBnIiwiZXhwaXJlc19hdCI6MTYyNTcyNDc2OX0.uq8K2i4ycllPlWL4LyMzrB3F2lH0nhlVXsEsZhPYDj0/img.jpg?width=980" id="e3cc2" class="rm-shortcode" data-rm-shortcode-id="4265ef20acc7c30f46520ffc725b4879" data-rm-shortcode-name="rebelmouse-image"><small class="image-media media-caption" placeholder="add caption..."></small></p><p>"That outlet has helped me reflect upon my own beauty," MacKenzie says.</p><p>Today, she doesn't feel like she always needs to wear makeup.<strong> It's her choice, and that's incredibly empowering. </strong> Her foundation helped give her the self-assurance to make that choice. Now, whether she decides to wear makeup or not, she sees all the things that make her beautiful. </p><p>"At the end of the day, I look in the mirror and see someone who's grown so much that nothing can bring me down," MacKenzie says. "Makeup or no makeup, I still feel so confident in myself."</p><p><em>Watch </em>MacKenzie's<em> story here:</em></p><div><div data-card="facebook" data-reactroot=""><div class="fb-video" data-href="https://www.facebook.com/Upworthy/videos/2029742843733230/"><blockquote cite="https://www.facebook.com/Upworthy/videos/2029742843733230/" class="fb-xfbml-parse-ignore"><a href="https://www.facebook.com/Upworthy/videos/2029742843733230/">Dermablend Reflections: Mackenzie</a><p>Growing up, she felt that her acne made her an outsider. Now it's something that helps her relate to the kids she mentors.</p>Posted by <a href="https://www.facebook.com/Upworthy/">Upworthy</a> on Monday, October 30, 2017</blockquote></div></div></div>