More
Students at BYU are protesting their school's 'honor code' as sexist, homophobic and dangerous.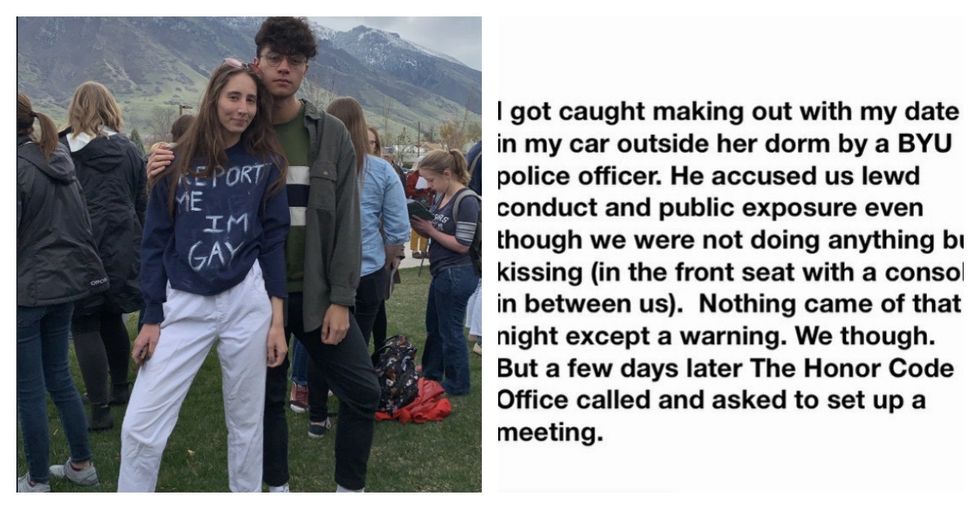 The youth are loved — and hated — for shaking things up.  
We put a unique twist on just about everything, from dating to employment. But one area in which we're rocking the boat the most lately is politics.  
---
As a generation, we are exceptionally vocal about things we don't like. We live in active pursuit of fixing things older generations often tell us we can't change.  
Many of us have been activists since birth. What's more, our spirit of change seems to be influencing the younger generations, like Generation Z who've been leading the wave of change on issues like gun reform.  
The rise in student and campus activism we've seen over the last decade makes that crystal clear.
Lately, even historically religious schools are seeing the impact.
Students at Brigham Young University — a school that is sponsored by The Church of Jesus Christ of Latter-day Saints and known for its strict code of conduct- are protesting their Honor Code.
An estimated 500 protesters gathered at a noon rally at Brigham Young University to oppose how the school's Honor C… https://t.co/0HGwGmnxMF

— Mormon Land (@Mormon Land) 1555100565.0
In case you're not well-versed in BYU student code of conduct, Here's the short of it. The honor code is based on religious doctrine and provides guidelines on what behaviors are permitted.
The following is an excerpt from the conduct section of the code:
"Students must abstain from the use of alcohol, tobacco, and illegal substances and from the intentional misuse or abuse of any substance. Sexual misconduct; obscene or indecent conduct or expressions; disorderly or disruptive conduct; participation in gambling activities; involvement with pornographic, erotic, indecent, or offensive material; and any other conduct or action inconsistent with the principles of The Church of Jesus Christ of Latter-day Saints and the Honor Code is not permitted."
It also presents more controversial guidelines about "homosexual behavior" and a host of dress code guidelines.
But it's not just an expected code of conduct, it's a heavily enforced set of expectations that can delay students graduation or even result in expulsion for what would typically be seen as minor infractions.
Last Friday over 300 BYU students chanted "God forgives me, why can't you?" At the Honor Code office (HCO).
They also shared stories of the ways the honor code has negatively impacted their lives. Among these concerns were mentions of how the code negatively impacts LGBTQ and victims of sexual assault.
Hashtags like #honorcodestories, #mercynotfear, and #RestoreHonor are being used on Twitter and Instagram as places for those impacted by the code to share their experiences.
Just confronted a basic BYU bro in the Tec Lab for saying that students should be punished for protesting the HCO b… https://t.co/Zt8oxhxHO9

— Aly (@Aly) 1555003973.0
"Report me, I'm gay" Me too girl, me too #RestoreHonor https://t.co/aUP5nNxj6Z

— Teilani (@Teilani) 1555092612.0
It's worth noting that the protest to the Honor Code aren't a rejection of Church of Latter-Day Saints culture as a whole.
Protesters and the users who submit stories to their Instagram page, Honor Code Stories are adamant that they are seeking change out of their love for the church.
The students at BYU join Marjory Stoneman Douglas High School, Notre Dame, and other schools all over the countryin being the latest example of student activist. The reoccurring statement being that youth are willing to stand up for what's right.
Hope for a better future is a key component of all youth activism. Instead of giving up on a system that has unfairly benefited certain groups and overlooked others, they've decided to fight for better treatment for all.  
Sure, there are plenty of folks who are resistant to these change makers' demands, and will continue to be resistant. But based on the youth protests of the past, that's likely to stop these young students.
The Honor Code protest is the latest of many that illustrate that millennials and Generation Z are committed to changing the world for better. And nothing, not resistance or even tradition, will stand in our way.