Nature
Hiker shares viral video of a territorial cougar mom following him for 6 unforgettable minutes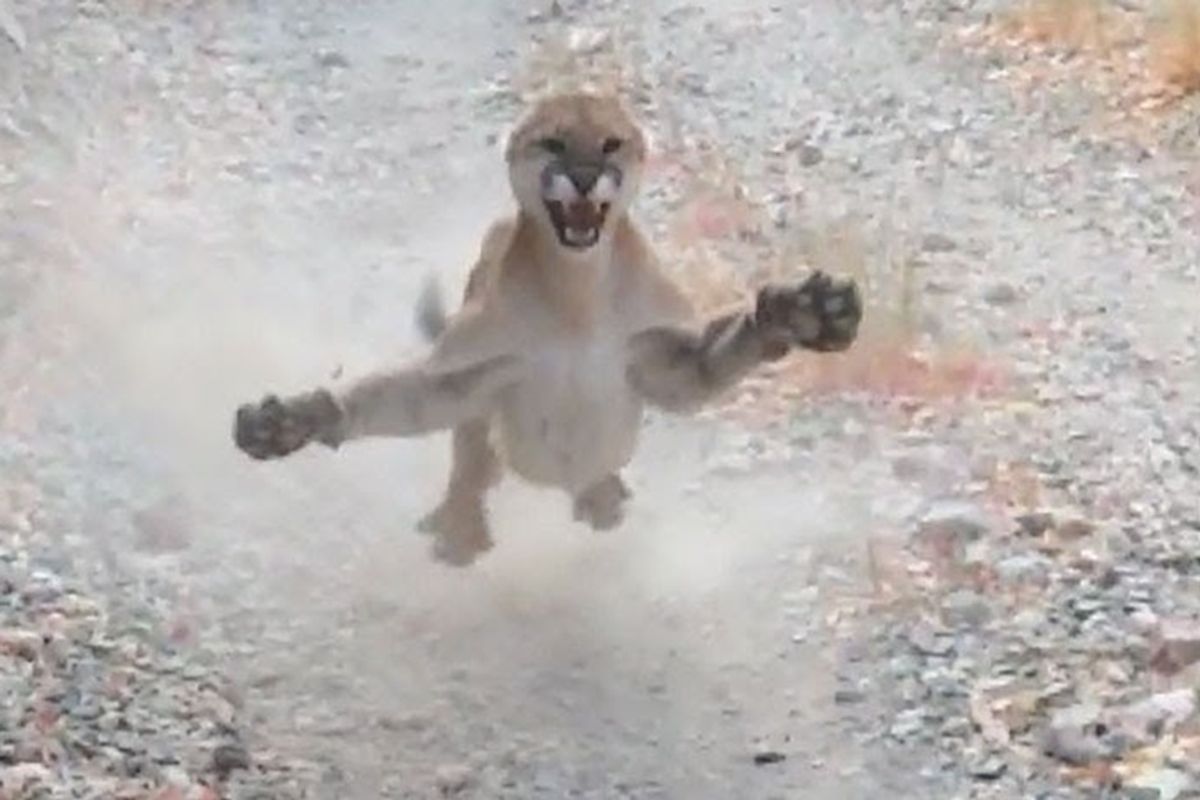 via Kyle Burgess / Instagram
Kyle Burgess, 26, recorded a terrifying, six-minute encounter with a cougar (aka mountain lion, puma) on Saturday at Slate Canyon near Provo, Utah. The video shows the cat methodically following Burgess, eventually pouncing at him with her massive claws while hissing.

Burgess was on a ten-mile run through the canyon when he came across some wild kittens. But he soon noticed that they were wild mountain lion cubs and their mother wasn't very happy about him being around.
---
"I didn't really know what kind of cubs they were or what animal they were," Burgess told Fox 13. "Once I did realize what they were, I was like, that's mom right there. I'm screwed."
The mother then lunged out at Burgess and, in an attempt to save her cubs, followed him until she felt they were safe.
Cougar Attack in Utah | Mountain Lion Stalks Me For 6 Minutes!www.youtube.com
In the video, Burgess yells at the cat attempt to scare her. "No! No! I'm big and scary! Go away! "Burgess yelled as she followed him down the path.

At about thee minutes in, the cat lunges and hisses at Burgess with its claws out. He screamed right back at the cat, making sure he never turned his back on her. At the end of the video, Burgess throws a rock at the cat and it quickly scurries away.
"Holy cow. Yeah, not going back that way," a relieved Burgess said at the end of the encounter.
People can't imagine living through such a scary situation. "I think I had a heart attack watching. My heart was racing so fast. I can't imagine this happening to me in real life," Brenda Raffin said on Facebook.
Others are criticizing those who say the cougar was stalking Burgess. "The selected headlines are fear-mongering junk 'a cougar stalked a man for 6 minutes...' No. 'A cougar pushed back a perceived threat to her babies for 6 minutes,'" Blair Brown wrote.
The Utah Division of Wildlife Resources praised Burgess for correctly handling the potentially deadly situation.

"He backed away. He didn't go toward the mountain lion or her kittens," Scott Root, DWR conservation outreach manager, said according to Fox News. "He stayed large, he stayed loud and he backed away from the area for quite a while. I think he did everything really well."
The video is going viral because it's thrilling and scary. It's also a great opportunity to create awareness about how to handle a cougar encounter in the world.
Here's what to do, according to Wild Aware Utah:
IF YOU ENCOUNTER A COUGAR
1. Stop. Never run from a cougar. Do not approach the cougar.
2. Maintain eye contact.
3. Pick up children and pets or keep them very close.
4. Stand up tall.
5. Do not crouch or squat.
6. Make yourself look bigger by raising and waving your arms or jacket above your head.
7. Talk firmly in a loud voice, back away slowly and leave the area.
8. Fight back if you are attacked! Protect your head and neck.
9. If you are aggressive enough the cougar will probably flee.