Joy
Five reasons rabbits make the best indoor pets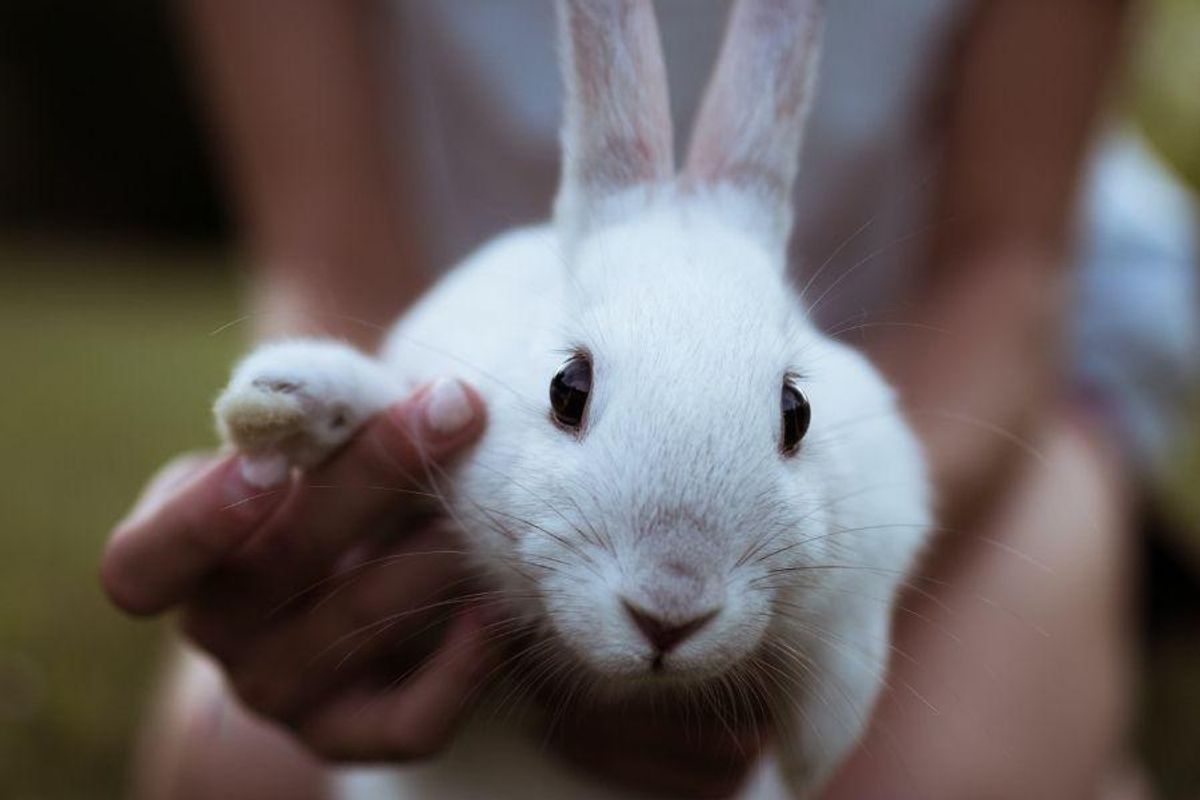 Our family has gone through a passel of pets while raising our kids.
We started with a goldfish named Princess (who lived a surprisingly long life for a feeder fish we got at a festival). We've had several pairs of fancy rats, which really do make sweet, personable pets. We got our first cat when we moved to a place that allowed them, which as a lifelong cat person I was excited about. Then added a feline friend for him a couple of years later.
Finally, several years ago, two of our kids got rabbits. And honestly? If we had known how awesome bunnies can be as indoor pets, we would have skipped the fish and the rats—maybe even the cats—and never looked back.
---
The fish was interesting to look at. The rats were sweet and cute. (If you've never seen a pet rat wash its face or eat a Cheerio, you're missing out.) Rats themselves are clean, but their cages get smelly pretty fast. The cats are great—again, always been a cat person—but ours are indoor only and the catbox situation is … less than desirable. They've also destroyed several pieces of furniture with their claws. Good thing they're so entertaining and lovable.
But the rabbits have surprised me by having a leg up on all the other pets we've had. Here's why:
1. They can be litterbox trained—and it's way less stinky than a cat's litterbox.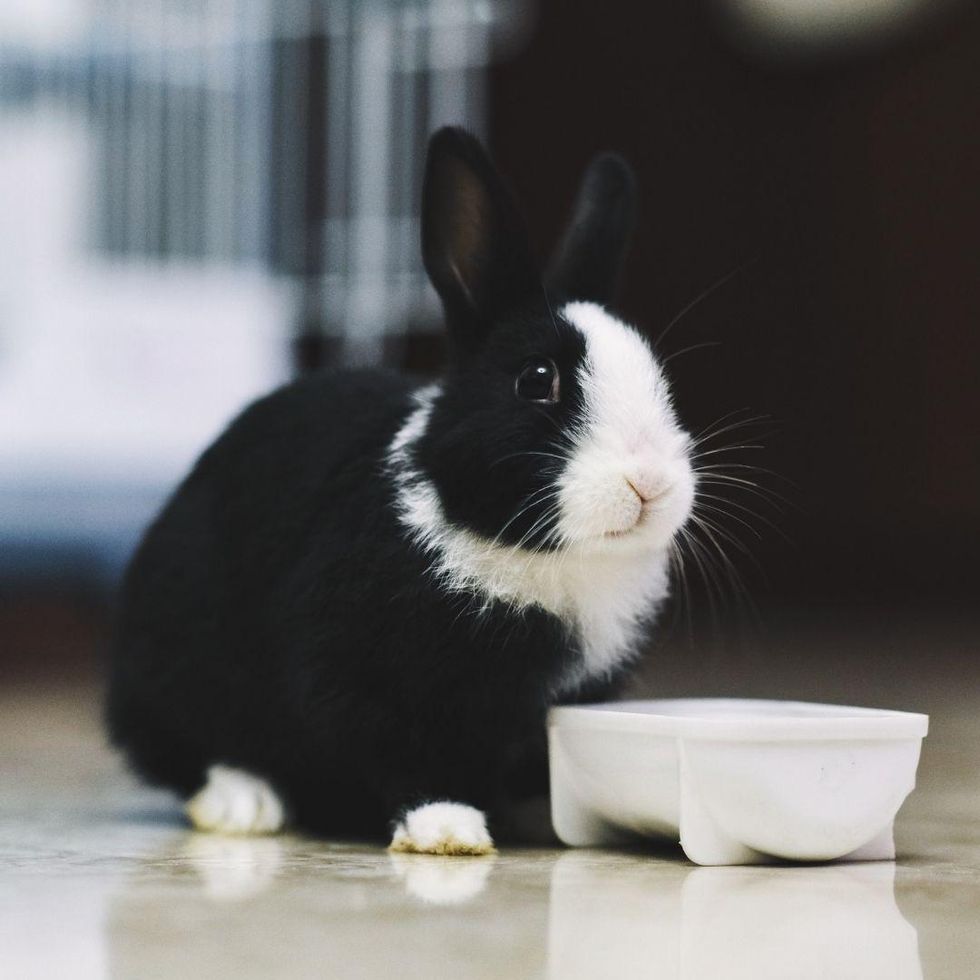 I had no idea that rabbits could be litter trained.
Rats can allegedly be litter trained as well, but we never had any luck with that with any of our pet rats. And cats are easy to litter train, of course, but cat pee and poo are smelly. It takes super expensive litter to cover cat pee ammonia smell, and if a kid waits too long to change the litter it's … noticeable.
Rabbit pee doesn't stink. I don't know how, but it doesn't. It barely has much of a smell at all, and the smell is just sort of "earthy." Same with rabbit poop. It's basically just digested hay, and it's little dry-ish pellets that pick up easily. We often joke that it's like picking up a Cocoa Puff, not that we have to pick up a lot of it because they generally keep it all inside their litterboxes.
It took less than a week for each of our rabbits to start using their litterboxes consistently. And their "litter" is just paper. Super easy to clean out their boxes, and again, super not smelly.
2. They're adorable and unbelievably soft.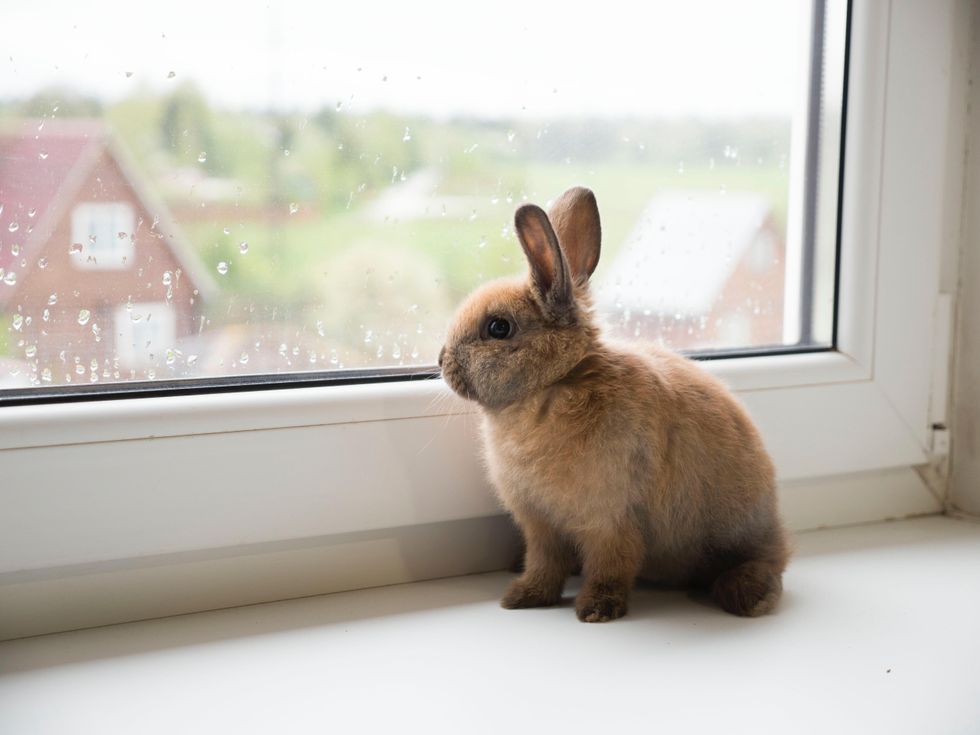 Photo by Степан Галагаев on Unsplash
Bunny fur is so soft it's unreal. The only thing I've ever felt that was softer was chinchilla fur. They do shed sometimes, so there's a vacuuming element to having rabbits, much like there is with cats and dogs. Totally worth it, though.
There are a bazillion different rabbit breeds out there, with different-sized bodies, different fur types, different ear types and so on. But most of them are so darn cute. The way they twitch their little noses all the time? Precious. Their little bunny butts with their little bunny tails? Forget about it. I thought watching a rat wash its face was cute, but bunny face and ear washing is even better.
And eating lettuce? The little crunchy-munchy sounds they make? Gracious.
The number of "Awwww, he's so cuuuute!" around here rivals when we had a newborn baby.
3. They do cute things with cute names like zoomies, binkies and flops.
Not only do rabbits do the cutest things, but the cute things they do also have the cutest names, such a:
Zoomies: When a rabbit gets a sudden burst of energy and starts racing around the room, it's called a "zoomy."
Binkies: When rabbits are happy, they'll do a sudden, twitchy jump for joy, where they leap up in the air and sort of shimmy their body really fast. It's my favorite thing. They do it out of nowhere, like their joy just overtakes them all of a sudden and they can't help themselves. (Watch some bunny binkying above and witness the cuteness.)
Flops: When rabbits feel safe and content, they just flop over onto their side. Again, out of nowhere. You might almost think they fainted or died, but no, they just "flopped."
I genuinely had no idea rabbits had such personalities. I'd only ever seen them in hutches or cages just sort of laying around, but when they are able to roam around, they're delightfully entertaining.
4. They can be surprisingly smart—and fearless.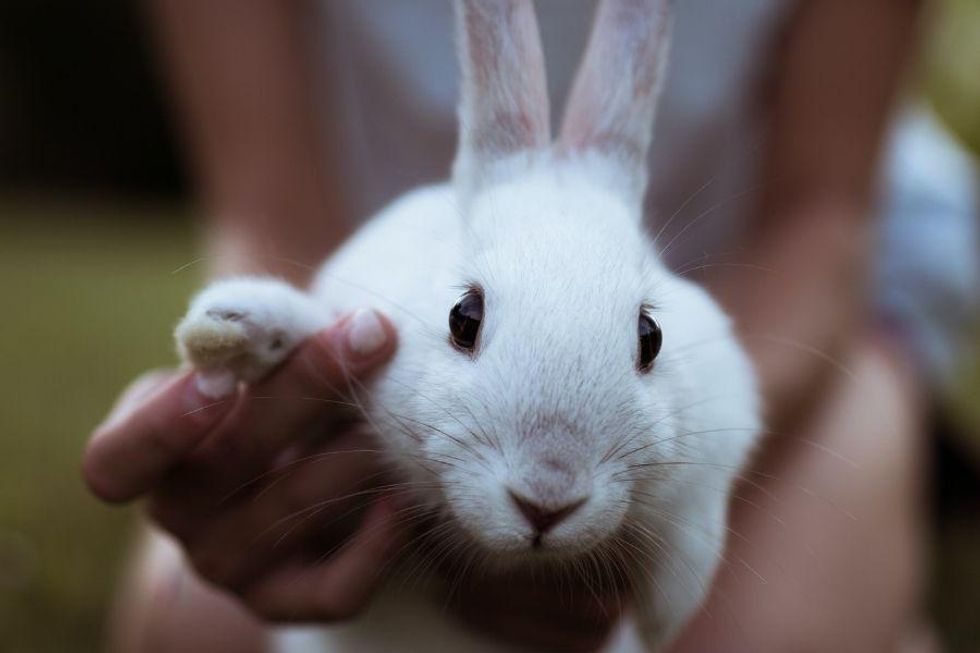 Photo by William Daigneault on Unsplash
Wild rabbits are skitterish, so I expected our pet rabbits to be similar. Nope. Our bunnies can get spooked by loud noises, but they're not at all afraid of people. They're not even afraid of our cats. They'll run right up to people and constantly try to get the cats to play with them. It's hilarious.
And maybe it's just our rabbits, but they're surprisingly smart. My son's rabbit kept getting out of his enclosure, and it took us a while to figure out how he did it because he'd only do it when no one was in the room.
You can also train them to do little tricks, like running around in a circle or jumping through a hoop. My kids have trained the rabbits to jump over their legs when they're sitting, and all my daughter has to do is flick her finger and her rabbit will spin around for a treat.
5. They're pretty low-maintenance as furry pets go.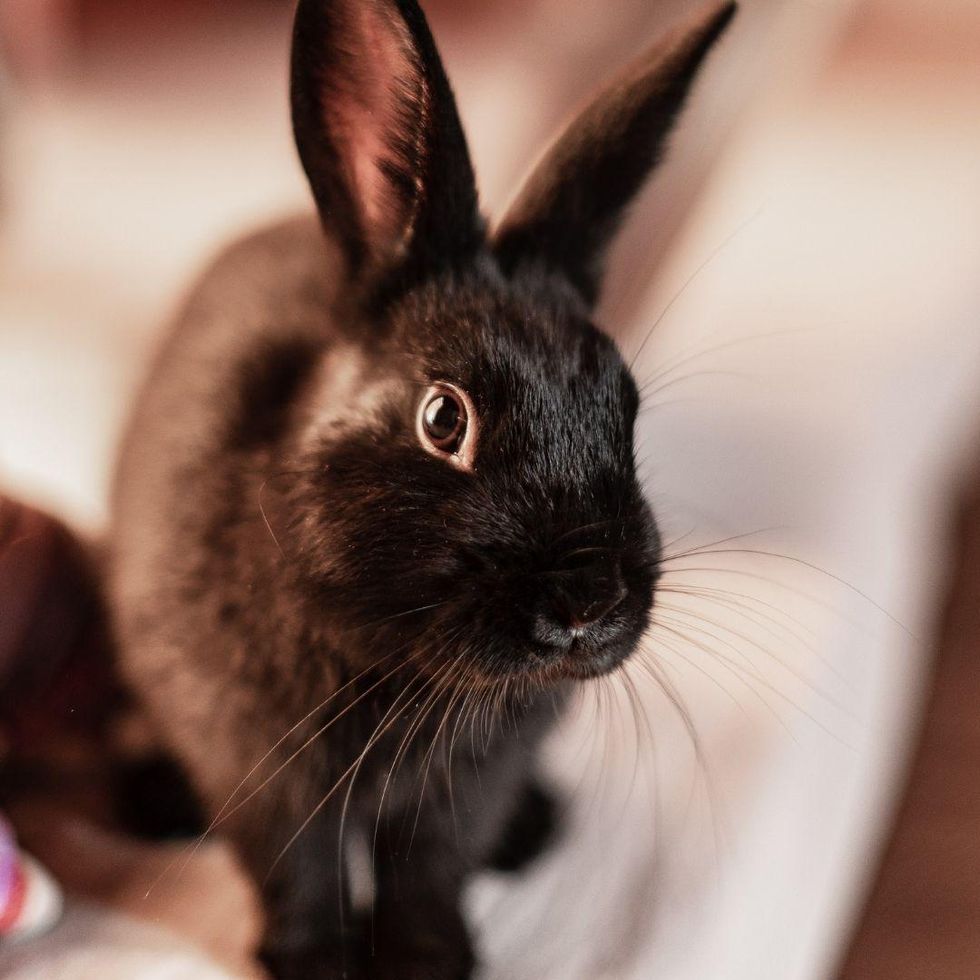 Photo by Aneta Voborilova on Unsplash
I don't want to oversimplify what it takes to have a bunny as a pet, and there are some downsides I'll share in a moment. But as far as loveable, furry creatures go, rabbits are pretty low-maintenance. They eat hay and food pellets and fresh vegetables, they drink water either from a bowl or a water dispenser, and they need things they can chew on. There aren't vaccines for pet rabbits in the U.S., so no need to keep up with those. They need their claws trimmed once in a while. And that's about it.
So what are the downsides?
Chewing. The main downside with our two bunnies is that one of them is a major chewer. All rabbits like to chew, but if you give them enough things that are safe for them to chew on, they're less likely to chew things you don't want them to. But rabbit teeth are like razors and our chewer is particularly partial to cords—phone chargers, lamp cords, any type of cord really. He somehow manages to chew through pet-proof cord protectors as well, so he doesn't get to roam around freely without a close watch on him like our other rabbit does.
Space is another issue if you can't let them roam freely. Creating an enclosure large enough for them to run around in requires space that not everyone has. Our "free-roaming" bunny doesn't even have a cage—he just roams around my daughter's room and has a little linoleumed area where his litter box and food go. (Unlike cats, rabbits actually like to have their food near their litterboxes.) Like all animals, rabbits need exercise to stay healthy so it's not great for them to stay in small hutches or cages all the time.
Finally, as the Humane Society of the United States points out, they're not great for families with very young children. I'd wait until kids are old enough to understand how to handle them gently (they are more delicate than cats or dogs) and not make a lot of startling noises around them.
That's really about it. As I said, if I had known the cost-benefit ratio of having rabbits as indoor pets, we would have started the kids off with them as pets from the get-go. In some ways, they're even preferable to the cats—and coming from a lifelong cat person, that's really saying something.