popular
13 pet owners share the funniest thing they've accidentally taught their pets to do.
They're always paying attention.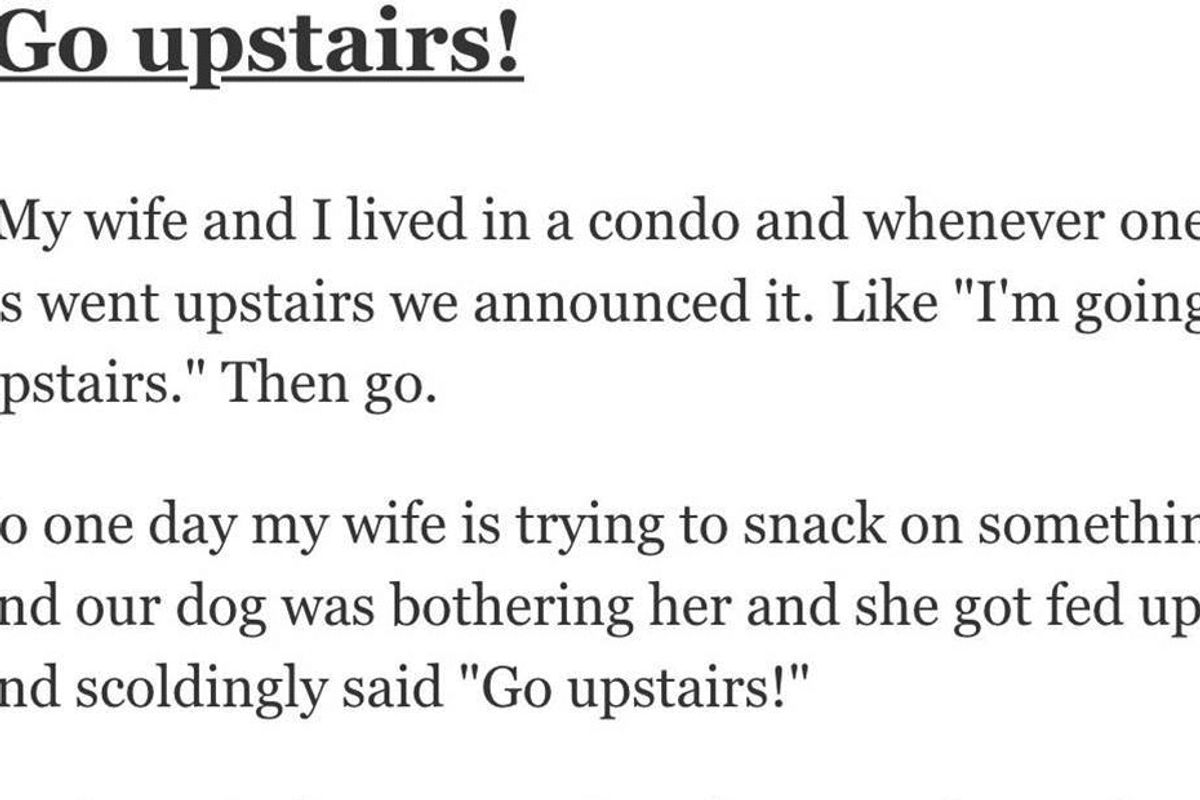 One of the great joys of having a pet is seeing how they develop and learn over their lifetimes.
Sometimes, the things they pick up from us are surprising because they're completely unintentional.
Reddit user TheRoseByAnotherName asked the online forum "What's the best thing you've accidentally trained a pet to do, like a behavior that is specifically from interaction with you and couldn't just be a quirk or learned themselves?" and the answers were surprising and funny.
Here are 13 of the best.
---
1. Crafty kitten
"When my old cat was a kitten he would get in your face when you were eating and try to steal stuff off your plate/fork/mouth. Squirt bottle came into play and after a few days he realized if he stood by the xbox we would not squirt him and he could plan an attack," dj_narwahl
2. The bed of solace
"I had three brothers growing up who loved to torment my mainecoon. I made the rule they couldn't touch him on my bed. They would chase him through the house and he would make a huge flying leap onto my bed (1 bedroom for four kids) and then whip around and just glare daggers at them, knowing he was safe. I swear it only took him a week to figure it out!" — [Account deleted]
3. Pavlovian X-Box
"The noise of the Xbox turning off. When the dog hears that 'boo boo bing' noise he goes fucking apeshit thinking he's getting taken on a walk. To be fair. He usually is," — belsnickel222
4. "Go upstairs!"
"My wife and I lived in a condo and whenever one of us went upstairs we announced it. Like "I'm going upstairs." Then go. So one day my wife is trying to snack on something and our dog was bothering her and she got fed up and scoldingly said 'Go upstairs!' Up the stairs he went! Where he sat and stared at her as if nobody ever feeds him and one little bite would mean the world," —The_Superfist
5. Bird blessing
"I had a budgie who was impossible to train, but he chirped twice after anyone in the house sneezed. It was his form of 'Bless You,'" — A_Big_Pizza_Pie

6. Husky Pants
"A little bit of preface....I hate pants, I'm more of a skirt or dress type of person. My energetic Sheepherder Husky mix knows if I have pants on it means I'm taking her for a hike. Now whenever I'm seen in pants she freaks out, jumping up and down and running to the front door," — HiraeathAtRockBottom
7. The dog 'n the hat
"My dog is a retriever so she likes to hold things when I get home, not too uncommon. I started giving her my hat and after a while she started jumping up to get it. Now I have to kneel down so she can gently pluck it off my head. Adorable. Unfortunately she loves all hats now. So, this poor kid (2.5-3years old) was at a barbecue at my house and decided she wanted to run around with her baseball cap on. Cue my dog running after her, bowling her over, and stealing her hat to bring to me. I was mortified," — Fishes_Suspicous
8. "What did you do?"
"I used to scold my dogs my saying 'What did you do?' in a stern, disappointed voice. Then we were watching TV, and a male voice said 'What did you do?' and they both just sat there looking like they were in trouble," Uffda01
9. Good boy toots

"My dog farts when he wants attention. Every time he would fart, my gf and I would laugh and tell him he's a good boy. Now he'll come up to me, sit, wag his tail, and let a few toots out. Not sure if it's his short fur or just his anatomy, but they're almost always audible," — BonkeyKongCountry.
10. Bad kitty
"When my childhood cat would bite us or my parents, my mum would put her outside as punishment. When she felt like going outside, she'd come and bite us," — SusieQ134
11. Medical support dog
"I am chronically ill and have an autoimmune disease that causes my blood pressure to crash while upright and Pass out frequently. Certain exercises are important to stop from passing out frequently so I hike daily with my dog. After passing out a bunch on hikes (and at home), My dog somehow has learned to warn me by standing close to my hand and staring at me on our hikes when my blood pressure is getting low and my heart rate is increasing to tell me to sit/lay down before I pass out. It's become super helpful!" — FrogyFrogFrog123
12. Blinky bunny

"My rabbit, Poe, will only exit his cage when given the go ahead (a nod), and as soon as he does, he binkies twice then sits in my lap. Every. Single. Time," — TerribleEyeSight
13. Spelling pooch
"My old dog (RIP) learnt to spell certain words which we didn't want to say in front of her. She would go mental if we spelt out "W-A-L-K", "L-E-A-D" or "O-U-T". I miss her," — SilentSamamamander