A blind man in a Facebook group asked people to describe their dogs and it's the sweetest post ever
11.19.19
Over the past few years, Facebook has been a lightning rod for controversy, whether it's the 2016 Russia election hacking scandal, privacy concerns or numerous disputes over what it censors and what it does not.

So it's easy to forget that the world's largest social network is also a place where beautiful things still happen on a daily basis.
A blind man named Stephen William Dale Shkuratoff asked members of the The Dogspotting Society public Facebook group to describe pictures of their dogs so that he can get a better idea of what they look like.
---
"I love being a member of this group!" wrote Shkuratoff. "I am blind and was hoping to ask for more dog descriptions. Personality traits are more helpful than colors. Like how soft the dog is, for example. Bonus as always for dogs full of kisses and snuggles.
"Thanks for making me feel included," he concluded. "Hope no one minds me asking for descriptions a lot recently."
According to its Facebook page, the Dogspotting Society is a "cool place to hang out where you can post your own dogs! Here you can make friends, talk about dogs and Dogspotting. Always remember to take it easy and Be Excellent to Each Other!"
And boy were they excellent to Stephen.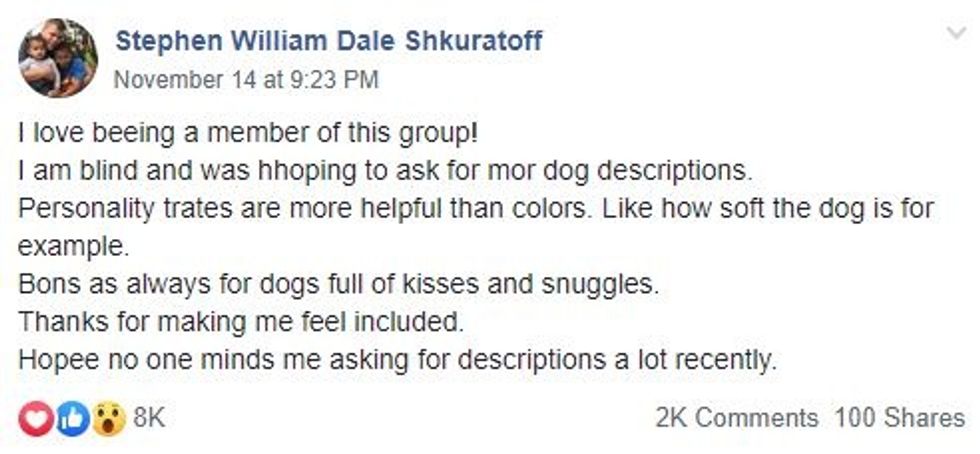 via The Dogspotting Society / Facebook
In just five days, over 2,000 people have provided darling descriptions of their pooches for Stephen.
Amber wrote:
Porter is 100% mutt he is about 2.5 ft tall and has a tail that doubles the length of his body...that never stops wagging! he is missing 2 of his front teeth so his tongue is always hanging out...which is adorable! he has the softed smoothest coat of any dog i have ever met! the fur behind his ears is like velvet!He loves to jump and snuggle with his people. He is very protective of his babies (my boyfriends 3 children) and will stand in the way of anyone who is trying to get near them...he is the number one good boi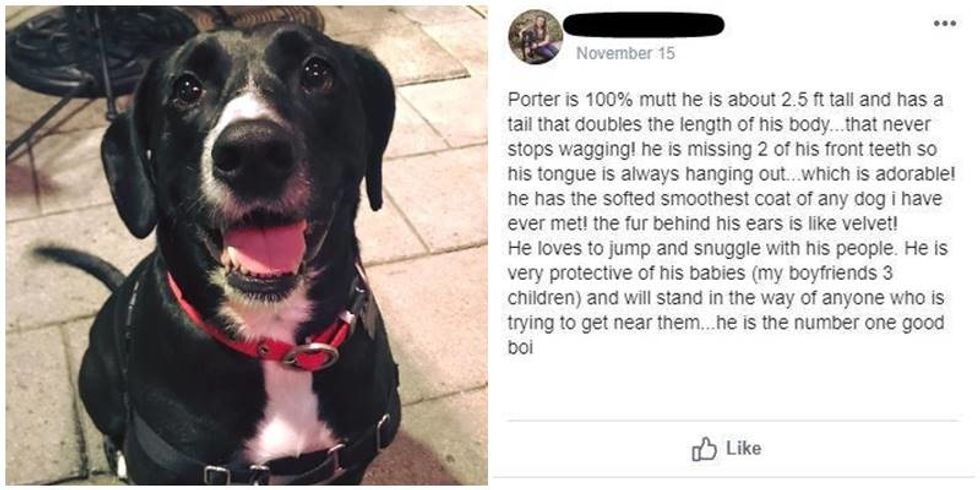 via The Dogspotting Society / Facebook
Kaylin wrote:
I have an American Staffordshire Terrier named Zena. She is 9 months old and is 45 lbs of excitement and curiosity. If she sees anyone on the street, she always wants to say hi! Today she wanted to say hi to a weedwhacker but I told her she couldn't. Zena is about knee height, and the colour of a dreary, rainy day. Her ears are soft like a bunny's. Sometimes when you give her scritches she will return the favor and nibble you back, which feels funny! It's like a bunny is nibbling you. She is still learning how to give gentle kisses, as she still thinks ramming you with her teeth is the same thing. We're working on it. Zena likes to cuddle and will be right up against you all night, no matter how much room is in the bed.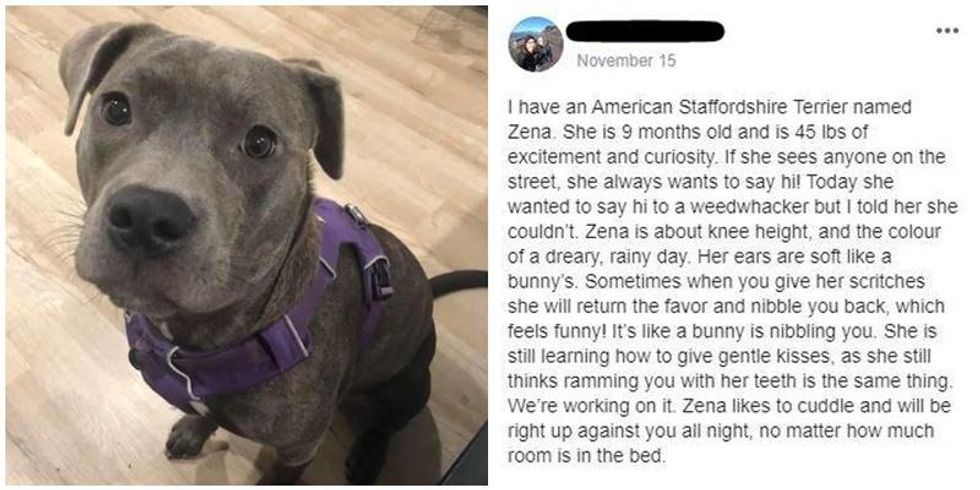 via The Dogspotting Society / Facebook
Luisa wrote:
My oldest dog is named amadeus. He is turning 2 tomorrow. His fur is super soft and loves to give people kisses. He hates squirrels and runs quickly to protect his yard on his potty breaks. He barks a lot but to make sure he protects everyone in the house. His favorite treat is cheese.Luna is a feisty puppy with an attitude. She wants all the attention on her and will make sure that she gets the majority of it (and not her brother). She loves to be a lap dog at 7 months, but she weighs 75 pounds, so she is a heavy one. Her fur is soft, but very smooth. Her farts smell terrible, but we really love her either way lol.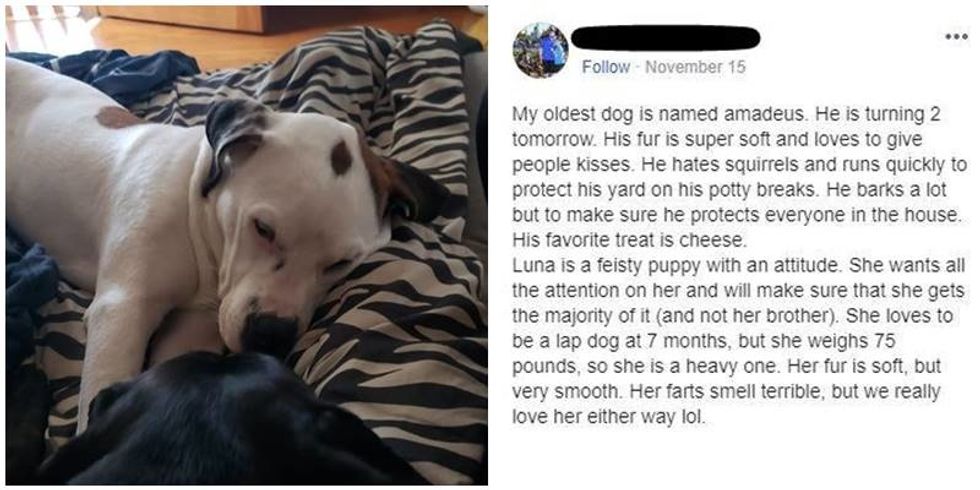 via The Dogspotting Society / Facebook
Mary wrote:
Elsa is a red Dachshund/Staffordshire Terrier mix. She has been described as a "giant sausage dog" and "big-ass Weiner dog." She is a very buff low rider!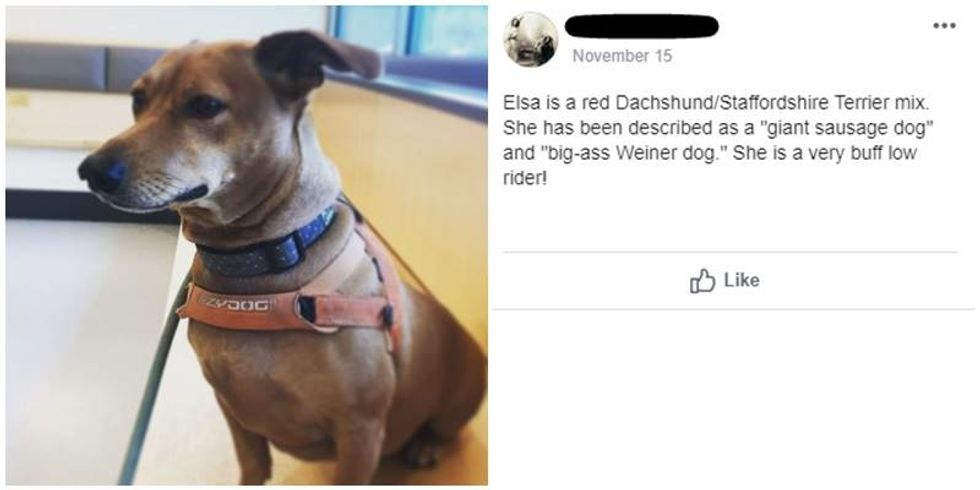 via The Dogspotting Society / Facebook
Becky wrote:
Our cocker spaniel Mia is a floofy black Tom boy in disguise. She looks like a beautiful princess with her long floppy ears decorated with shiny dark curls. Her body is long and her booty is thick. She loves to shake it like crazy when someone from the pack comes home or throws her a ball.

Even though she is beautiful and girlish with her long eyelashes and bashful eyes, Mia loves to dig and hunt. Her legs are long, but you can't tell most of the time - she loves to lay on her back with all paws in the air. "Belly rubs, peasants!"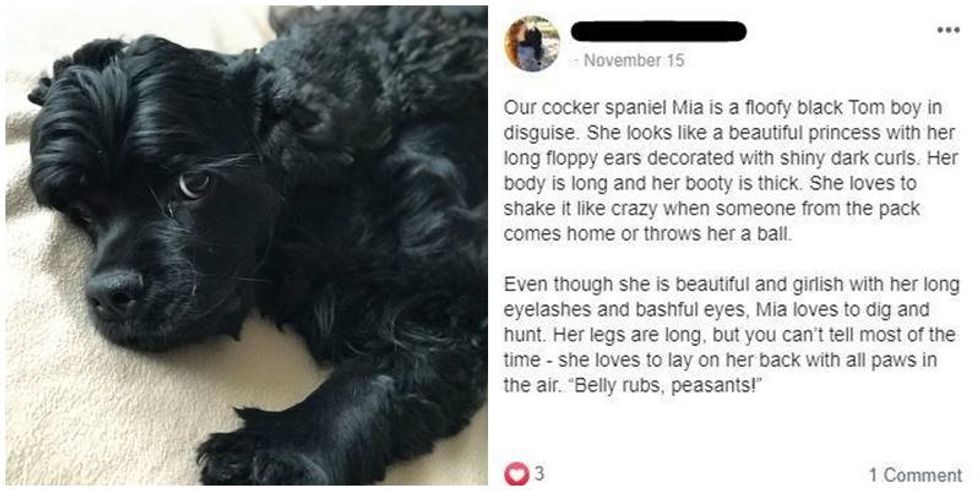 So how do blind and visually-impaired people read the text on Facebook?

"The answer is quite simple," Carl Augusto, from the American Foundation for the Blind dais according to Adweek.
"People who are blind or visually impaired use a screen magnification program to enlarge fonts in order to optimize the screen for reading, or they use a screen reading program that reads the text aloud. These are quick, efficient and helpful solutions — that is, if the websites and computer programs are properly designed."
Over the years, Facebook has worked to improve accessibility for visually-impaired users. It has recently implemented Artificial intelligence to describe photos to users and facial recognition technology to explain which friends are in specific photos.
popular