Joy
Packed With Purpose turns ordinary gifting into extraordinary impact
The Certified B Corp Bundle from Packed With Purpose is a delicious gift basket that truly gives back.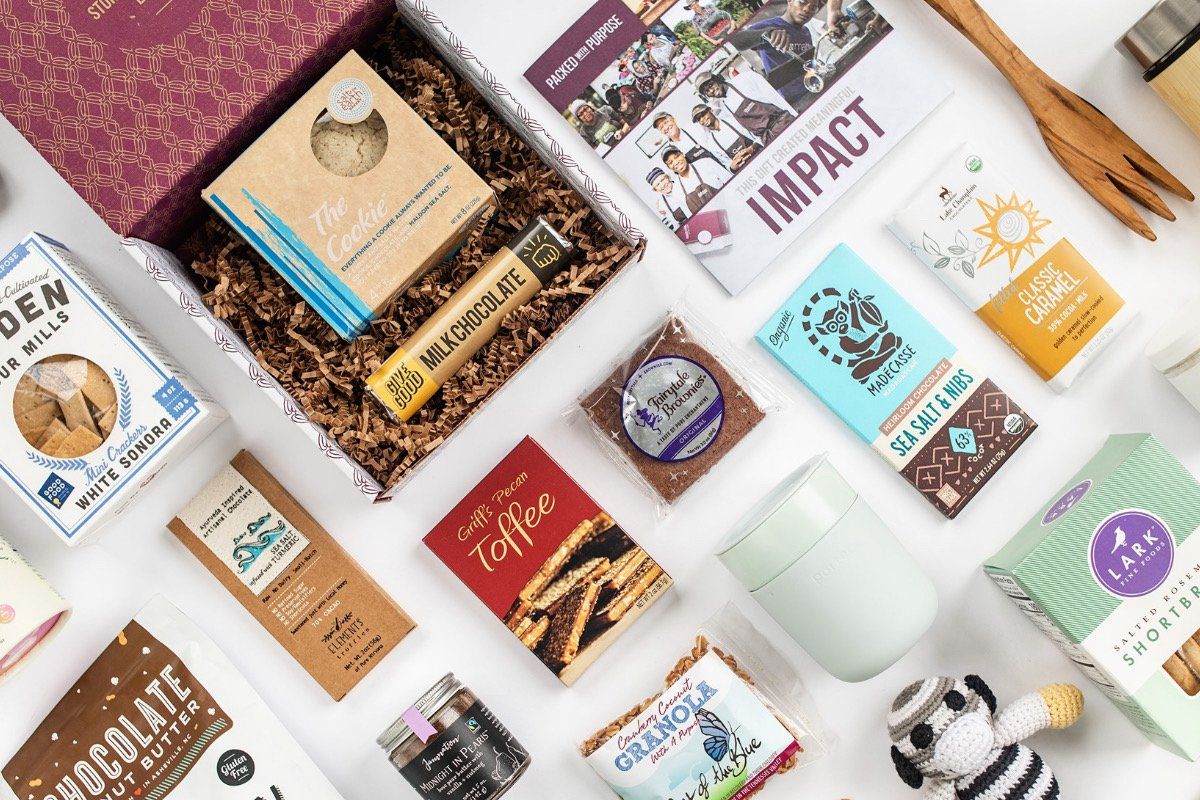 Upworthy earns a percentage of revenue from the purchase of items mentioned in this article.

In today's throwaway culture, where gifts feel devoid of meaning and often end up collecting dust, an innovative company is shifting gift-giving dynamics from generic, forgettable items to meaningful contributions that foster real, positive change. Packed With Purpose nurtures a positive shift in our gift-giving culture, underlining the potential for presents to carry far more weight than mere objects.
Born out of a vision to create more meaningful connections, Packed With Purpose doesn't just sell gift boxes—they curate experiences that celebrate quality, integrity, and impactful indulgence. The company's mission goes beyond the concept of a 'feel-good' gift. They are here to create an impact that reverberates far beyond the moment of unboxing. Each item in their carefully curated gift sets is meticulously vetted, ensuring they align with the company's ethos of environmental sustainability, social responsibility, and ethical business practices.

---
The Certified B Corp Bundle is the epitome of Packed With Purpose's approach to gifting. This delightfully diverse collection of gourmet treats is a cornucopia of flavors sourced from Certified B Corp businesses. These companies have met rigorous transparency, accountability, and social and environmental performance standards. The bundle represents a commitment to delivering a delectable gift and giving back to the community and planet. It's not just a gift—it's a statement of purpose.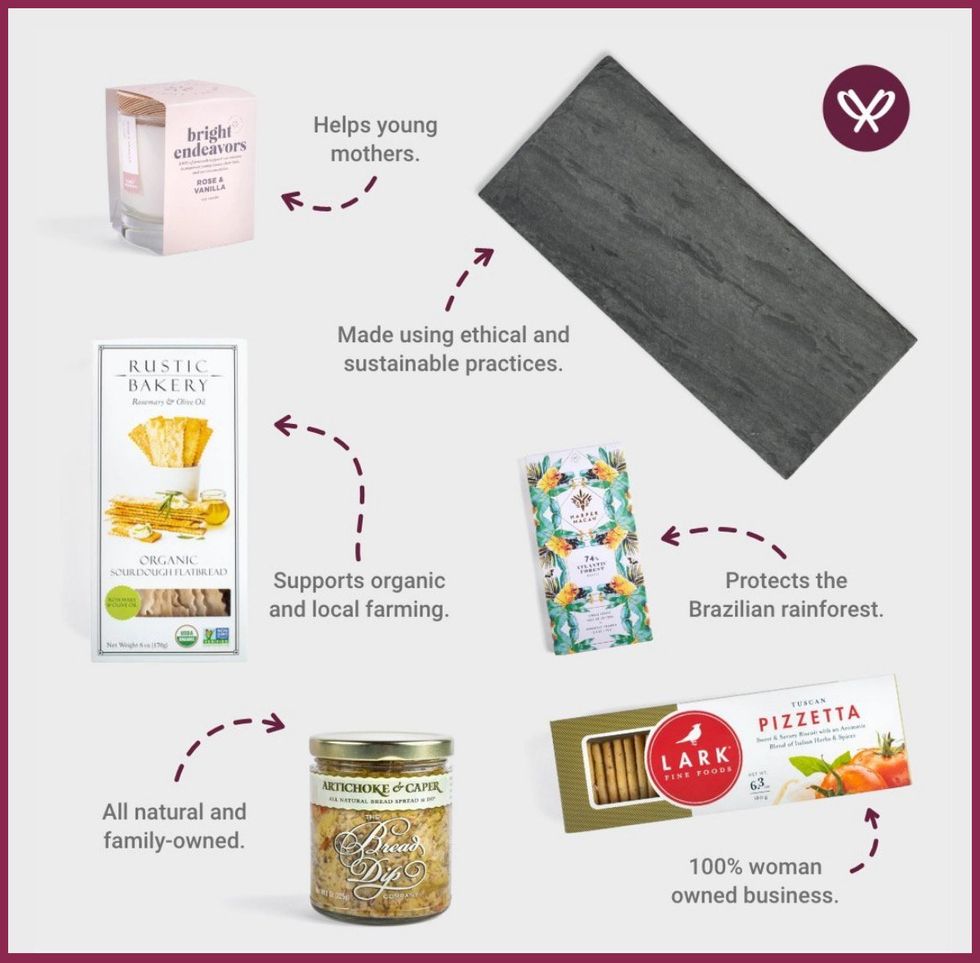 With a deep-rooted belief in purposeful living and ethical business, Packed With Purpose demonstrates what a conscious company can achieve. It is committed to environmental sustainability, corporate transparency, and social impact, focusing on aligning with brands and suppliers who share these same values. Their purposeful products support diverse, women-owned businesses and initiatives tackling food insecurity, youth development, and wellness programs, among others.
Unpacking the operations of Packed With Purpose offers insight into the meticulous care they infuse into every stage of their product selection process. Their dedicated team of impact enthusiasts vets each potential product and its producer, ensuring they meet the company's high standards. These are standards not only of taste and quality but also of ethical and sustainable practices.
For example, Packed with Purpose is proud to partner with socially conscious brands like Together We Bake and WOODCHUCK USA. Founded in 2012 by Stephanie Wright and Tricia Sabatini, Together We Bake is an organization that empowers women in the nation's capital by offering them second chances through training for careers in the food service and hospitality industry. This exemplary enterprise provides a ray of hope and a path to self-esteem for many women with challenging pasts.
In contrast, but equally remarkable, WOODCHUCK USA is a venture rooted in the idea of connecting people with nature. Crafted with sustainably sourced wood, their products are as unique as their mission to "leave the planet better than we found it." With every product sold, a tree is planted in locations as diverse as Madagascar, Nepal, and their home state of Minnesota. Whether it's chic wooden luggage tags or an artisanal journal, each purchase helps reforest our planet.
This process of careful curation to find companies like those mentioned above guarantees that every substitution, every item in every box, is of equal quality and impact. They understand that every product has a story, and with Packed With Purpose, each story is one of positive impact and purposeful change. And because of their commitment to environmental sustainability, all Packed with Purpose gift boxes and packaging is made from recyclable materials and printed on FSC-certified paper.
When we talk about Certified B Corporations, or B Corps, we're referring to a special type of business.

B Corps aren't just about turning a profit — they're about driving positive change in the world. To earn the B Corp Certification, a company must undergo a rigorous evaluation process by B Lab, a non-profit entity that measures a company's entire social and environmental performance. This certification means they've reached the highest standards of transparency, accountability, and social impact — it's like a badge of honor for businesses committed to doing good.
But why does this certification matter? Think of it as a promise. When you see a product from a Certified B Corp, it carries an assurance of ethical practices and sustainable impact. It tells you that the company behind the product is dedicated to quality and creating positive change in the world. These businesses understand their role extends beyond their products to include their impact on employees, communities, and the environment. In essence, a Certified B Corp is a business that balances purpose and profit, demonstrating that companies can be a force for good. It's not just about doing business — it's about doing business right.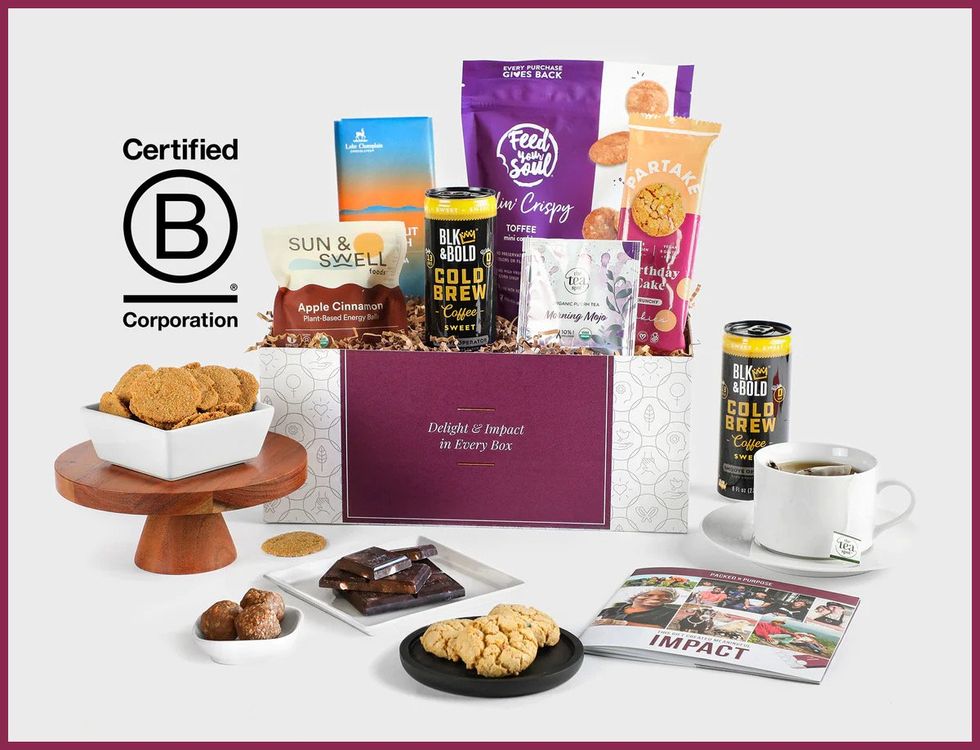 Let's step into the world of the Certified B Corp Bundle, where every item tells a story of purposeful impact. Each box reveals a collection of culinary delights, from the indulgent organic dark chocolate bar with roasted hazelnut pieces by Lake Champlain Chocolates to the refreshing, lightly sweetened cold brew coffee by BLK & Bold. It offers nutrient-dense apple cinnamon energy bites from Sun & Swell Foods, and a warming breakfast blend tea with a hint of citrus and vanilla by The Tea Spot. The bundle's sweetness continues with crunchy, allergen-free birthday cake cookies from Partake Foods and buttery, bite-sized sweet toffee cookies by Feed Your Soul. Each product represents the dedication of these Impact Partners to both taste and social responsibility.
Taste is paramount in the Certified B Corp Bundle, a collection where quality meets conscious indulgence. Expect to encounter the full-bodied flavors of Vermont in a fair-trade chocolate bar or the satisfying crunch of allergen-free cookies. You'll delight in the refreshing sweetness of cold brew coffee and the inviting warmth of a breakfast blend tea. Yet, behind these delectable treats is a commitment to sustainability, ethical sourcing, and the highest production standards. It's a celebration of the best Certified B Corps have to offer in terms of taste and integrity.
With each purchase of the Certified B Corp Bundle, you're not just buying a gift — you're contributing to a greater cause. Each product supports diverse, women-owned, and socially conscious businesses and extends aid to programs ranging from cancer research and wellness initiatives to workforce development and food education. For example, Feed Your Soul partners with organizations to provide meals to those in need, while The Tea Spot donates a part of its profits to cancer survivors. Purchasing a Certified B Corp Bundle means joining a movement of conscious consumption and contributing to the mission of these purpose-driven businesses. It's not just a gift — it's an extraordinary impact in a box.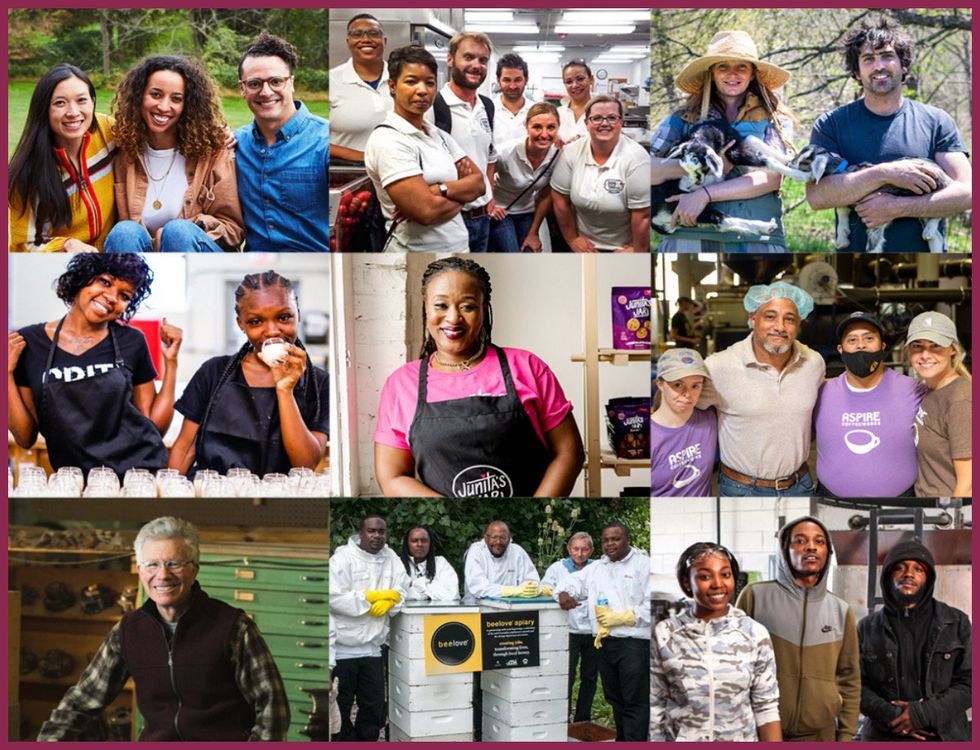 Let's pull back the curtain on some remarkable Impact Partners contributing to the Certified B Corp Bundle. Take Lake Champlain Chocolates, a family-owned business that crafts small-batch gourmet chocolates with organic, fair-trade cocoa and all-natural ingredients. This partnership perfectly embodies their commitment to quality, integrity, and sustainability. Another standout is BLK & Bold, a black-owned business that pledges 5% of its coffee and tea proceeds to support domestic youth in need. Their partnership with Packed With Purpose is a testament to their commitment to social impact.
Then there's Feed Your Soul, a business that seamlessly blends delicious treats with philanthropy. With each purchase, they donate a portion of the proceeds to organizations fighting homelessness and hunger. Partnering with Packed With Purpose is a natural alignment of values, further reinforcing their mission to feed the body and soul. Each partner's story is unique, yet they share a common thread: a commitment to ethical, sustainable business practices and a desire to create a positive impact in the world. When you gift a Certified B Corp Bundle, you're not just delivering flavors and treats; you're sharing these inspiring stories and becoming a part of this positive impact narrative.
When you choose the Certified B Corp Bundle from Packed With Purpose, you're making a statement — a statement of care, consciousness, and change. Each bundle represents an investment in sustainable business practices, support for diverse and women-owned businesses, and a contribution to various socially conscious causes. It's a tangible testament to the power of purposeful purchasing.
Whether it's a birthday, anniversary, or a gift for a business client, the Certified B Corp Bundle can turn an ordinary gesture into an extraordinary impact. It's a gift that goes beyond delightful tastes and flavors — an expression of shared values, a celebration of social consciousness, and a heartfelt gesture that leaves a lasting positive footprint.
If you're ready to turn gift-giving into a powerful act of purposeful impact, click here to explore the Certified B Corp Bundle from Packed With Purpose. See how a simple box of delectable treats can unfold into a world of positive change. Dive in, make a difference, and join us on this journey of purposeful gifting.