Heroes
She founded a non-profit to help transracial adoptive parents style their Black kids' hair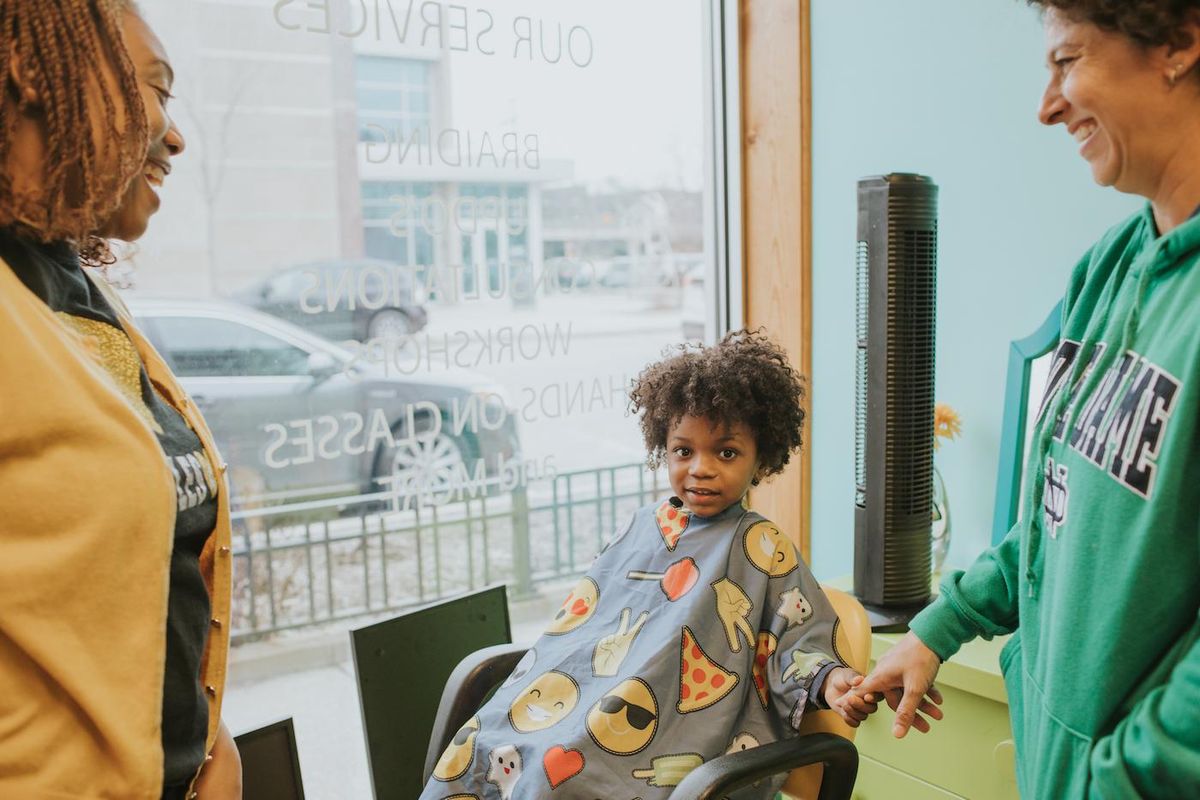 Image courtesy of Styles4Kidz
True
This article was originally published on 7/22/2020
If you aren't familiar with textured hair, it's hard to know how to style it properly. Similarly to how straight-haired people may not know that curly-haired people often don't use shampoo, people who don't have textured hair often have no clue what products to use to keep hair healthy or what hairstyles work best with different hair types.
That can be a problem when non-Black parents adopt Black kids. Hair is a significant cultural reality, and knowing how to manage one's hair is important. If parents are clueless about helping their kids with personal grooming, children will grow up missing out on that aspect of their personal identity.
Enter Styles4Kids, a non-profit organization founded by Tamekia Swint in 2010. Swint had helped a transracial adoptive mom learn how to style her three daughters' hair, and that mom began referred Swint to other adoptive parents. She founded Styles4Kids with just a handful of clients, and how helps thousands of parents and kids. The non-profit organization focuses on hair care education, training, and services for transracial adoptive parents as well as children in foster care, residential facilities and detention centers.
Great Big Story created a video about Swint and her organization that explains why helping kids with their natural hair is so important.
"Sometimes transracial adoptive families don't understand how important hair is," Swift says in the video. "It's much bigger than. hair. It's really about the care and the confidence that we're giving to the child through the hairstyle."

A white mom with six Black kids shared her own realization that her hair styling skills were not up to the challenge, and how Swint helped her gain the skills and confidence she needed to help her care for and style her kids' hair.
"I would want to tell other transracial adoptive parents that it is your job to make your kid look decent when you're out of the house, and if you can't do that naturally on your own—and most of us can't—then it's your job to seek out help from somebody who can teach you."
Styles4Kidz uses Facebook and Instagram to educate and encourage families to master hairstyles that boost kids' self-esteem and cultural pride. Swint also leverages Facebook fundraisers to run a non-profit salon "where multiracial, foster and adoptive kids are empowered to embrace their natural, ethnic crown." Swint calls her services "Hair Care With Heart," fulfilling the organization's vision of building "a diverse community of people creating and celebrating hairstyles that boost kids' self-esteem and cultural pride."
Learn more about Styles4Kidz on the organization's website here.
We're partnering with Meta to spotlight individuals and community organizers who are using their tools for good. We believe that positive actions can create a ripple effect of kindness, online and IRL.