Culture
As a transracial adoptee, I wish my white parents had talked to me about race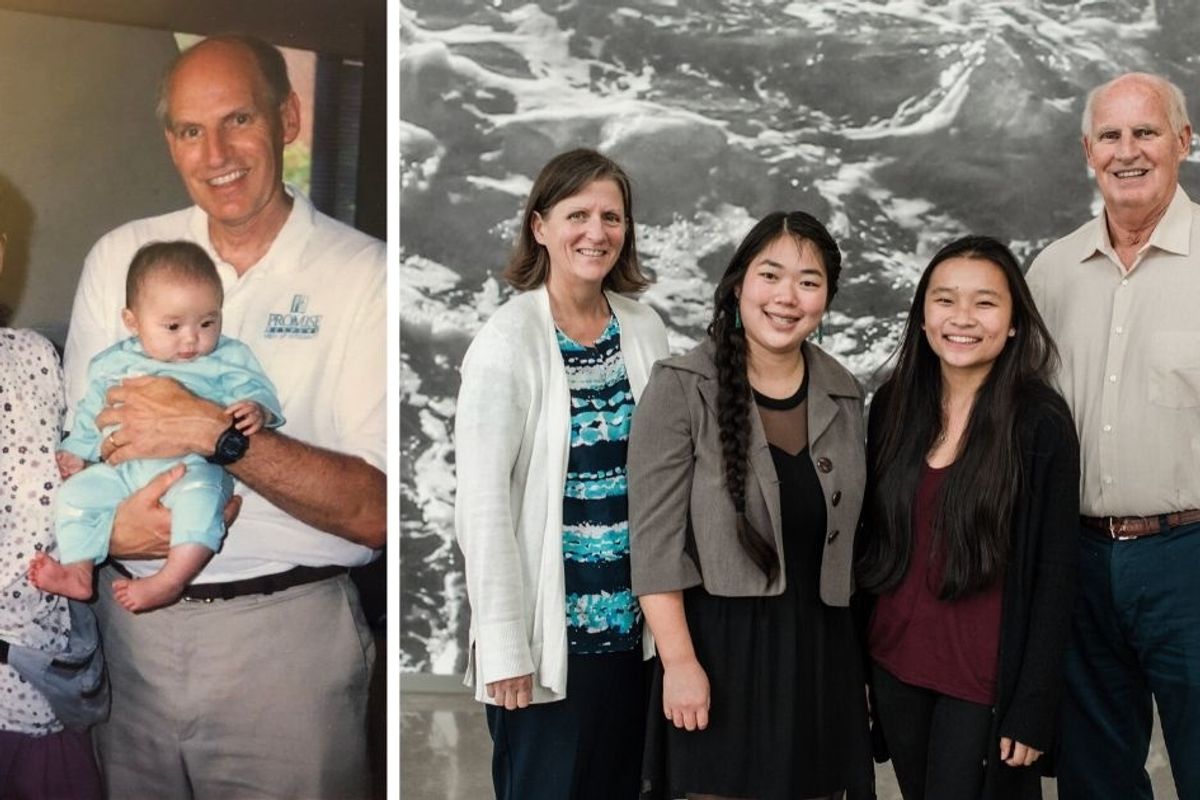 Photos courtesy of Sara Bennett
I've always known that I was adopted. My parents never tried to hide this from me. For one, they couldn't. I didn't look anything like them. Their smooth, pale, white skin contrasted with my darker complexion. Their double-lidded blue and green eyes were nothing like my brown monolidded ones. Strangers would often ask if I was sure that the tall, balding, white man was my father. When I eagerly nodded yes, a certain look would come over their face.
For as long as I've known that I was adopted, I've known that I was loved. My parents always made sure that I knew down to my very core that they cared for me. Even though I looked nothing like them, they were quick to tell me that it didn't matter—that they would love me the same if I were purple with white polka dots, or if I had red hair, or if I were taller. And when I was younger, I accepted their words as the absolute truth.
---
But, as I grew older, the narrative that my parents told me—that they didn't see my race—was challenged by those around me, who did see my race—and it mattered. Who asked me if I was bad at driving or assumed I was good at math. Who confused me with the only other Asian girl at my school of 1,500 students.
I had to reconcile what my parents had told me with what I had experienced outside of my home
I could no longer pretend that my race didn't matter. But what did it mean if my parents didn't see my race? Did that mean that there was a part of me that they couldn't see nor understand? I was trying to figure out how my race factored into my identity, and realizing that it was a much bigger part than my parents had led me to believe. Just because they saw the world through this colorblind lens did not mean that my own personal experiences reflected this.
In college, I gained the knowledge to truly understand my Asian American identity. I learned about microaggressions and stereotypes and the model minority myth. I met other people who had had similar experiences growing up. I learned to name the ways, both small and big, that my race impacted my day-to-day life. I felt validated realizing that there were others who understood who I was, race and all.
My race mattered. The only question was how much?
Now, as a 25-year-old, I wish my parents had talked to me about race. With the wisdom and grace that I gained in college, I understand why they didn't. But their lack of comprehension of the subject impacted the way that I saw myself and forced me to put together my own racial identity like pieces of a puzzle, with no help from them.
I wish that they had made more of an effort when I was younger to acknowledge my race. I wish that they would have told me that they saw me for who I was, race and all. I wish they could have helped prepare me for the way that my race was going to impact how I moved throughout life. I wish that they would have explicitly stated that they would love and support me through the complex journey of discovering what it meant to be an Asian American woman. But they didn't. And I was forced to learn all these things on my own.
I had a recent conversation with my mom about Black Lives Matter, which made me think that my parents just might be ready to hear my story. During our conversation, my mom seemed willing to listen to the ways in which Black people are discriminated against in this country and the way that the color of their skin impacts each and every interaction that they have. And while I know that my privilege is different, I am still affected by the way other people perceive me. And I just want my parents to understand that. I still have hope that they can learn.