More
Nike's ad turns a sexist trope on its head by celebrating ambitious, 'crazy' women.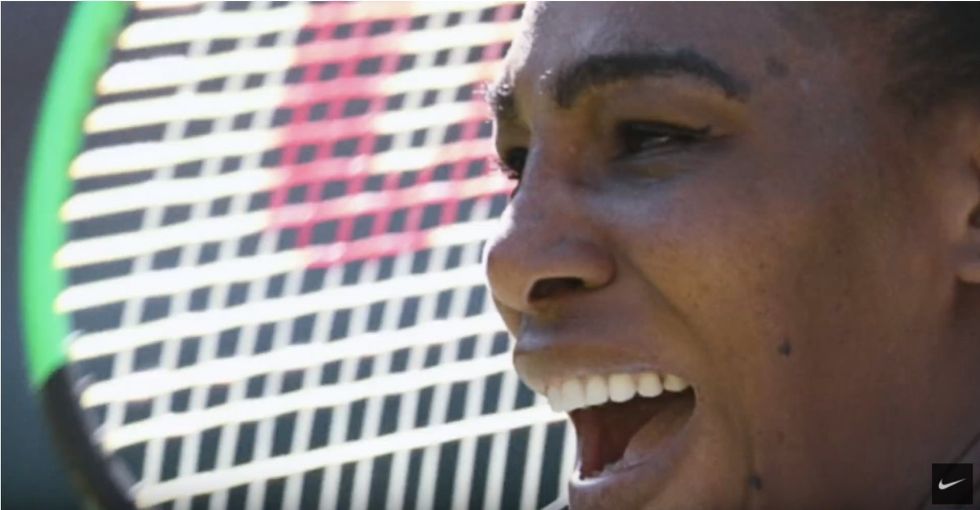 Nike's latest ad challenges a common sexist trope in sports—and people are loving it.
Women have fought for decades to be seen as legitimate competitors in male-dominated fields, including professional and amateur sports. Until the early 20th century, many believed that women were not biologically designed for strenuous exercise (a myth that was ultimately debunked by a female physician, Dr. Celia Duel Mosher). And it wasn't that long ago that showing intense emotion and too much ambition could land a woman in an asylum.
Throughout history, women who tried to compete at a high level were seen as "crazy." Sadly, too often, they still are.
---
Nike took on gender bias in sports in its latest ad, and the result is fiercely empowering. Through a montage of video clips of female athletes showing emotion both on and off the field or court, as well as women achieving incredible sports firsts, Serena Williams narrates:
"If we show emotion we're called dramatic.
If we want to play against men, we're nuts.
And if we dream of equal opportunity? Delusional.
When we stand for something, we're unhinged.
When we're too good, there's something wrong with us.
And if we get angry? We're hysterical, irrational or just being crazy."
The ad highlights times women were called "crazy" for attempting to do what had never been done—until they did it.
The first woman to run a marathon had race officials physically attempt to pull her off the course, but she did it. Many thought it was impossible for a female basketball player to dunk a ball, but it's now not uncommon at all. The idea of female coaching a male professional sports team was unheard of until the first woman did it.
In the ad, Williams continues:
"But a woman running a marathon was crazy.
A woman boxing was crazy.
A woman dunking? Crazy
Coaching an NBA team—crazy.
A woman competing in a hijab, changing her sport, landing a double cork 1080—or winning 23 Grand Slams, having a baby, and then coming back for more? Crazy, crazy, and crazy."
Williams speaks personally here. One of the fiercest and most iconic women in the history of sports, the tennis champ has kicked practically every obstacle to the curb. And like all intense, competitive women, she has done it with the constant drum beat of "she's crazy" echoing behind her.
"So if they want to call you crazy?" she concludes. "Fine. Show them what crazy can do." BOOM.
Women are sharing the hurdles they've had to overcome after seeing themselves represented in the ad.
Aside from a few predictable basement dweller "stop-whining-there's-no-such-thing-as-sexism" responses, reactions to the ad have been overwhelmingly positive. Some women responded by sharing their own experiences with gender bias in sports and other ways they had to fight against their dreams being considered "crazy."
@USWNT @Nike I'm bawling, considering all the people who told me it was crazy to want to be a nurse since I'm heari… https://t.co/a03un4fOrO

— Tori 💜sTaylor. USWNT⚽NWSL⚽💜 (@Tori 💜sTaylor. USWNT⚽NWSL⚽💜) 1551032509.0
@Nike Tested for steroids 'cause how could she have muscles like that? #crazy me at 27 in 1984 #track #muscles… https://t.co/7oonL4UNQb

— Elaine Weeks (@Elaine Weeks) 1551059203.0
@Nike As an athlete, I was told that I spend too much time focusing on sports. My body was too muscular for a girl.… https://t.co/dU09b281cV

— Coach Lukas (@Coach Lukas) 1551043374.0
@Nike Thank you. I watched this commercial last night, thinking of my 6 yr old daughter and tears came to my eyes.… https://t.co/oqYUmOTV8Q

— Coach Banda, Teacher almost extraordinaire (@Coach Banda, Teacher almost extraordinaire) 1551121129.0
"Dream crazier," Nike says.Don't worry, we will. And thanks for the inspiration.
Watch the full ad here: