More
Mr. Singh caught a teenager stealing from his store. His response has gone viral for all the right reasons.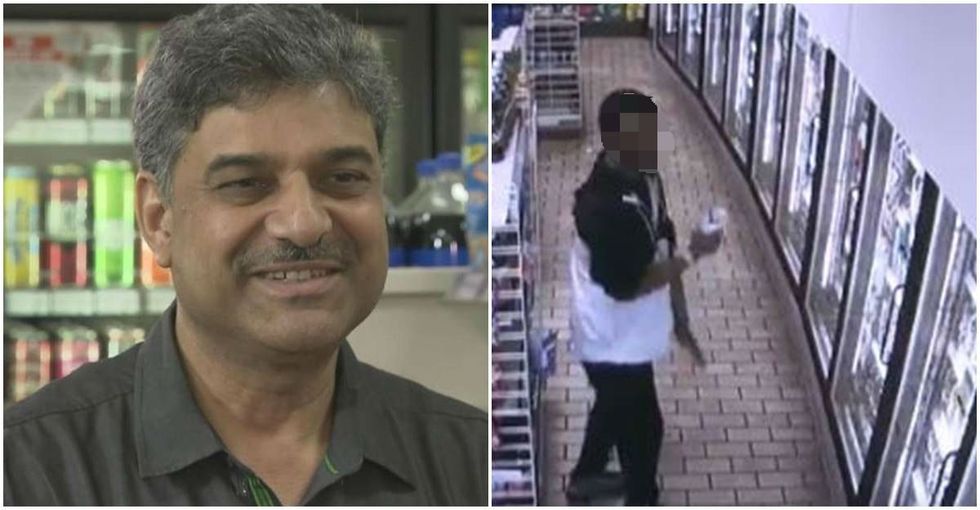 Most of us have a knee-jerk reaction when we see a crime taking place: call the cops.
It's often the smart move to protect the safety of those in the immediate area, but sometimes it's unnecessary. Especially when the consequences of being arrested might far outweigh the seriousness of the crime.
A 7-11 owner in Toledo, Ohio is being praised for not calling the cops on a teenager that he caught stealing from his store. Instead, he saw the crime as an opportunity to practice kindness.
---
When a 7-11 owner spotted what appeared to be a shoplifter, he confronted the man, asking him, "Why are you doing i… https://t.co/paN4l0aHDe

— CBS Evening News (@CBS Evening News) 1554940660.0
Jay Singh was alerted to a teen stealing by a clerk, so he went to look at the security footage to confirm. He then approached the teen at the checkout counter and asked him, "Do you want me to call the cops or will you take it out?"
The teenager removed the stolen items from his pockets and Singh asked him why he stole. "He said, 'I'm stealing for myself. I'm hungry, and I'm doing it for my younger brother,'" Singh recalled.
The store owner then gave the teen a bag full of pizza and sandwiches, free of charge, and sent him on his way.
Customer Cedric Bishop witnessed Sing's generosity and kindness and posted about it on Facebook and the post quickly went viral.
The post received some warmhearted comments.

via Cedric Bishop / Facebook

via Cedric Bishop / Facebook

via Cedric Bishop / Facebook

via Cedric Bishop / Facebook
via Cedric Bishop / Facebook
Singh's generosity is a reminder that often crimes are committed out of desperation, not malice. It's also a gentle reminder that we can solve problems one-on-one without having to enlist the state or subject the perpetrator to a heartless justice system.
"It's not going to make any difference to me if I give him some food because we make a lot of food, we sell a lot of food," said Singh. "If he goes to jail then he's definitely not going to do anything good in life."