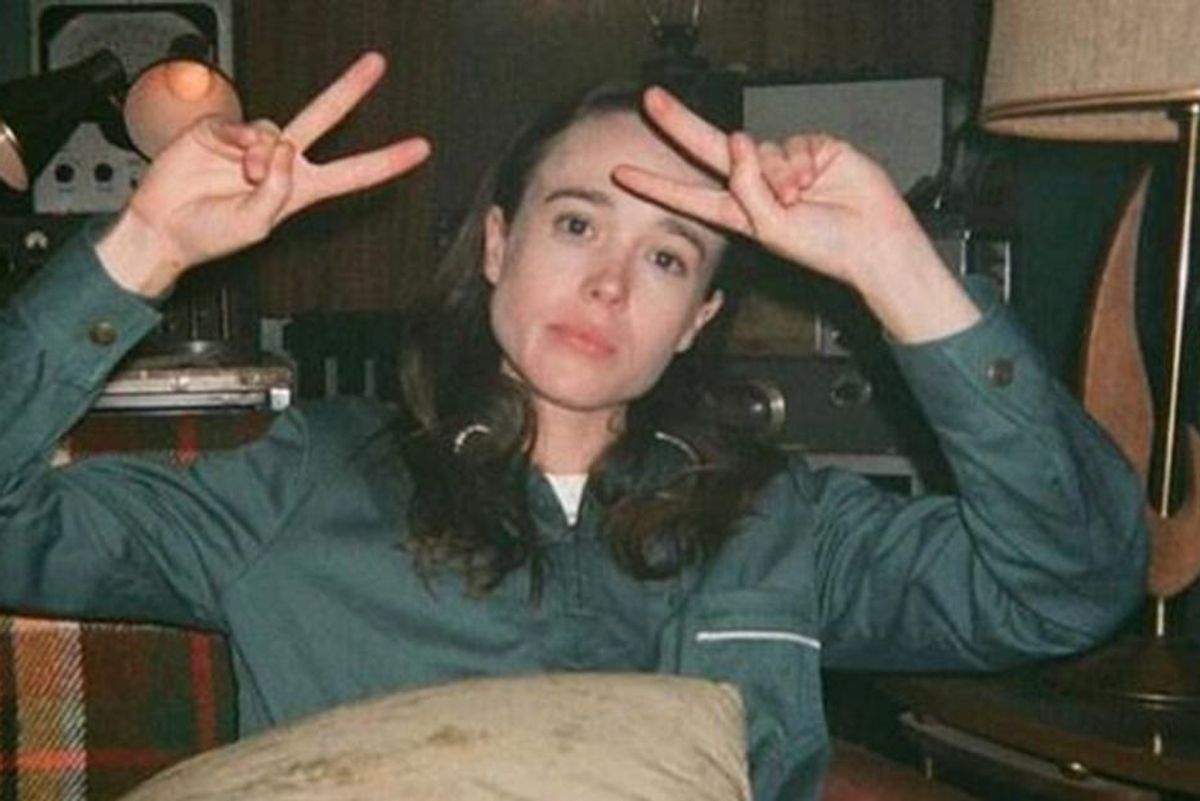 via Elliot Page / Instagram
Elliot Page, once publicly known as Ellen Page, has announced he is transgender. The announcement makes the Oscar-nominated actor one of the most high-profile celebrities to come out as transgender.

The actor currently stars in Netflix's "The Umbrella Academy" and has acted in films such as "Juno," "Inception," and the "X-Men" franchise.
Page made the announcement on social media where he celebrated the joy of coming out while taking the opportunity to discuss the issues faced by the transgender community.
---
"I feel overwhelming gratitude for the incredible people who have supported me along this journey. I can't begin to express how remarkable it feels to finally love who I am enough to pursue my authentic self," Page wrote.

"I've been endlessly inspired by so many in the trans community," he continued. "Thank you for your courage, your generosity and ceaselessly working to make this world a more inclusive and compassionate place. I will offer whatever support I can and continue to strive for a more loving and equal society."
Page's announcement is powerful because he acknowledges the joy and hope of living as his authentic self while understanding his road will be difficult and that countless transgender people face life-threatening discrimination.

"I love that I am trans. And I love that I am queer. And the more I hold myself close and fully embrace who I am, the more I dream, the more my heart grows and the more I thrive. To all the trans people who deal with harassment, self-loathing, abuse, and the threat of violence every day: I see you, I love you, and I will do everything I can to change this world for the better," Page continued.
"The truth is, despite feeling profoundly happy right now and knowing how much privilege I carry, I am also scared. I'm scared of the invasiveness, the hate, 'the jokes,' and of the violence…" Page wrote.
"The discrimination towards trans people is rife, insidious, and cruel, resulting in horrific consequences," he continued. "In 2020 alone, it has reported that at least 40 transgender people have been murdered, the majority of which were Black and Latinx trans women."
Page's announcement was celebrated on Instagram by his spouse, Emma Portner. The couple married in 2018.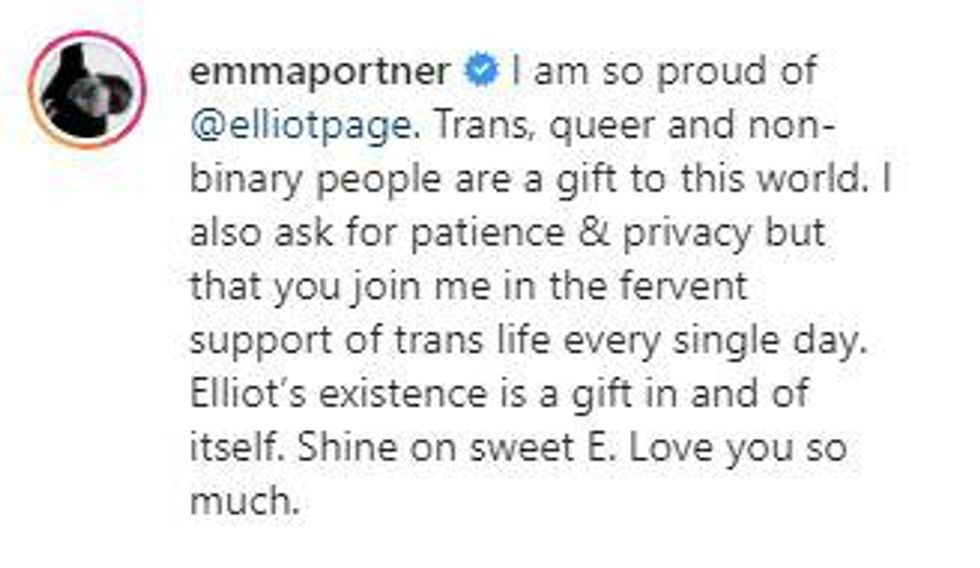 via Emma Portner / Instagram
Page's pronouns are he/they and he identifies as transgender and non-binary. A non-binary person's gender identity is neither man nor woman and can be fluid.

The announcement was celebrated by Nick Adams, GLAAD's Director of Transgender Media. "Elliot Page has given us fantastic characters on-screen, and has been an outspoken advocate for all LGBTQ people," Adams said in a statement.
"He will now be an inspiration to countless trans and non-binary people," Adams continued. "All transgender people deserve the chance to be ourselves and to be accepted for who we are. We celebrate the remarkable Elliot Page today."
Page's decision to come out is brave and will hopefully broaden the conversation surrounding transgender issues and inspire greater tolerance among mainstream society.
Celebrities like Page are in a unique position to change people's opinions on controversial matters such as gender. When people are comfortable having you in their homes through the magic of television they are more likely to accept others of the same identity.
Back in the '90s, Ellen DeGeneres suffered career setbacks and public outrage for coming out as a lesbian. But her visibility was a major factor in turning the tide of public opinion on LGBTQ issues among mainstream Americans.
Hopefully, Page's announcement can do the same by shining a light on the issues facing transgender individuals and promote their inclusion.