Most Shared
Jeff Bezos exposing the Enquirer's attempt to blackmail him was good and right. But everything else about the story is so, so wrong.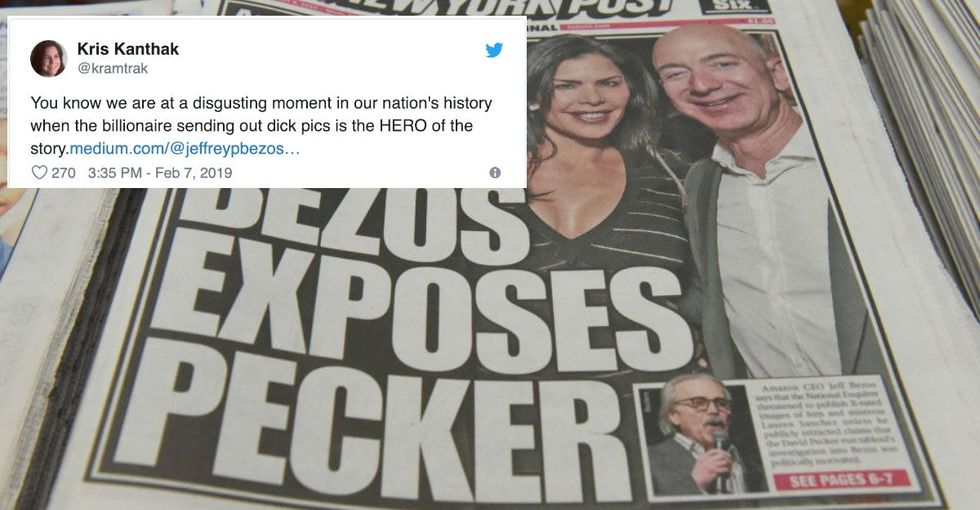 Apparently 2019 is on a mission to outdo the past two years on the "How is this real life?" front.
If you've missed the big news this week, the National Enquirer tried to blackmail and extort Jeff Bezos with embarrassing photos, but Bezos published their threats in a blog post instead. But that's really not the whole story, because that's simply not absurd enough for this day and age.
The biggest headline in America right now is that the richest man in the world, worth an estimated $137 billion, is being blackmailed by the most ludicrous and illegitimate tabloid paper because they got a hold of his dick pics. That's an actual news story.
---
And that's not all. The publisher of this ludicrous and illegitimate tabloid, whose unbelievable name is David Pecker, has a special relationship with Donald Trump—the philandering billionaire reality TV star who also happens to be the President of the United States.
You can't write this stuff. Seriously, if I had sent this storyline as a book proposal to a publisher five years ago, I'd have been laughed out of the writing business. And yet, here we are. Welcome to 2019.
I don't understand why we're not all running around and screaming, "THIS IS NOT NORMAL!"
I'm not sure where to start with how bonkers literally everything about this is. Since I'm not quite ready to take on Jeff Bezos' pants tent yet, let's take a look at what $137 billion actually is instead.
There's rich, then there's filthy rich—and then there's Jeff Bezos. I mean, good for Bezos for building up a business from scratch in his garage (yay, capitalism!), but wealth hoarding in a world where billions of people struggle to put food on the table is obscene. And make no mistake, anyone worth $137 billion is a big ol' hoarding hoarder.
To illustrate, if you did nothing but count dollars for 16 hours a day, guess how long it would take to count $137 billion. Just guess.
Did you guess somewhere in the vicinity of 33,000 years? If not, you'd be dead wrong.Most of us have no concept of how large even one billion actually is. And while wealth isn't bad, that extreme amount of wealth is obscene, especially when your own employees pee in bottles and live in fear in the workplace.
Now that that's out of the way, back to the story of Jeff Bezos' junk pics.
Bezos exposing the National Enquirer's attempt to blackmail him was good and right. But everything else about the story is so, so wrong.
Bezos is being hailed a "hero of democracy" for taking on the all-powerful tabloid and not giving in to extortion attempts. And yes, good on him. But the fact that Bezos was cheating on his wife seems to be getting lost in the "He's a hero!" narrative.
You know we are at a disgusting moment in our nation's history when the billionaire sending out dick pics is the HE… https://t.co/tCPeQHcQaz

— Kris Kanthak (@Kris Kanthak) 1549582525.0
Of course, rich and powerful men have been unfaithful throughout history. But should we just accept that as normal? Perhaps we have no choice in an era where my 10-year-old son can click a button and listen to the President of the United States say he "tried to f*ck" a married woman and that he can grab women "by the p*ssy." Good times, America!
And how about this absurd little tidbit: The letter threatening to publish Bezos' private photos if he didn't make the statement they wanted him to make came from the National Enquirer's lawyer. And the way it's written makes it sound like a legally binding contract. Seriously? Aren't these shady threats supposed to take place in a seedy bar someplace? If we have to be living in a badly written crime story, at least give us the level of drama we expect—and frankly, deserve—at this point.
I don't know, y'all. Everything has become so bizarre and dumb and surreal. Forgive me if I don't have the will or energy to cheer on a billionaire adulterer's spat with another billionaire adulterer, both of whom are embroiled with a gossip tabloid run by a man who makes his millions selling salacious stories about celebrities.
We don't have to keep living like this, America. We can do better, even if it is 2019. I promise we can.