All images provided by Prudential Emerging Visionaries
True
A changemaker is anyone who takes creative action to solve an ongoing problem—be it in one's own community or throughout the world.
And when it comes to creating positive change, enthusiasm and a fresh perspective can hold just as much power as years of experience. That's why, every year, Prudential Emerging Visionaries celebrates young people for their innovative solutions to financial and societal challenges in their communities.
This national program awards 25 young leaders (ages 14-18) up to $15,000 to devote to their passion projects. Additionally, winners receive a trip to Prudential's headquarters in Newark, New Jersey, where they receive coaching, skills development, and networking opportunities with mentors to help take their innovative solutions to the next level.
For 18-year-old Sydnie Collins, one of the 2023 winners, this meant being able to take her podcast, "Perfect Timing," to the next level.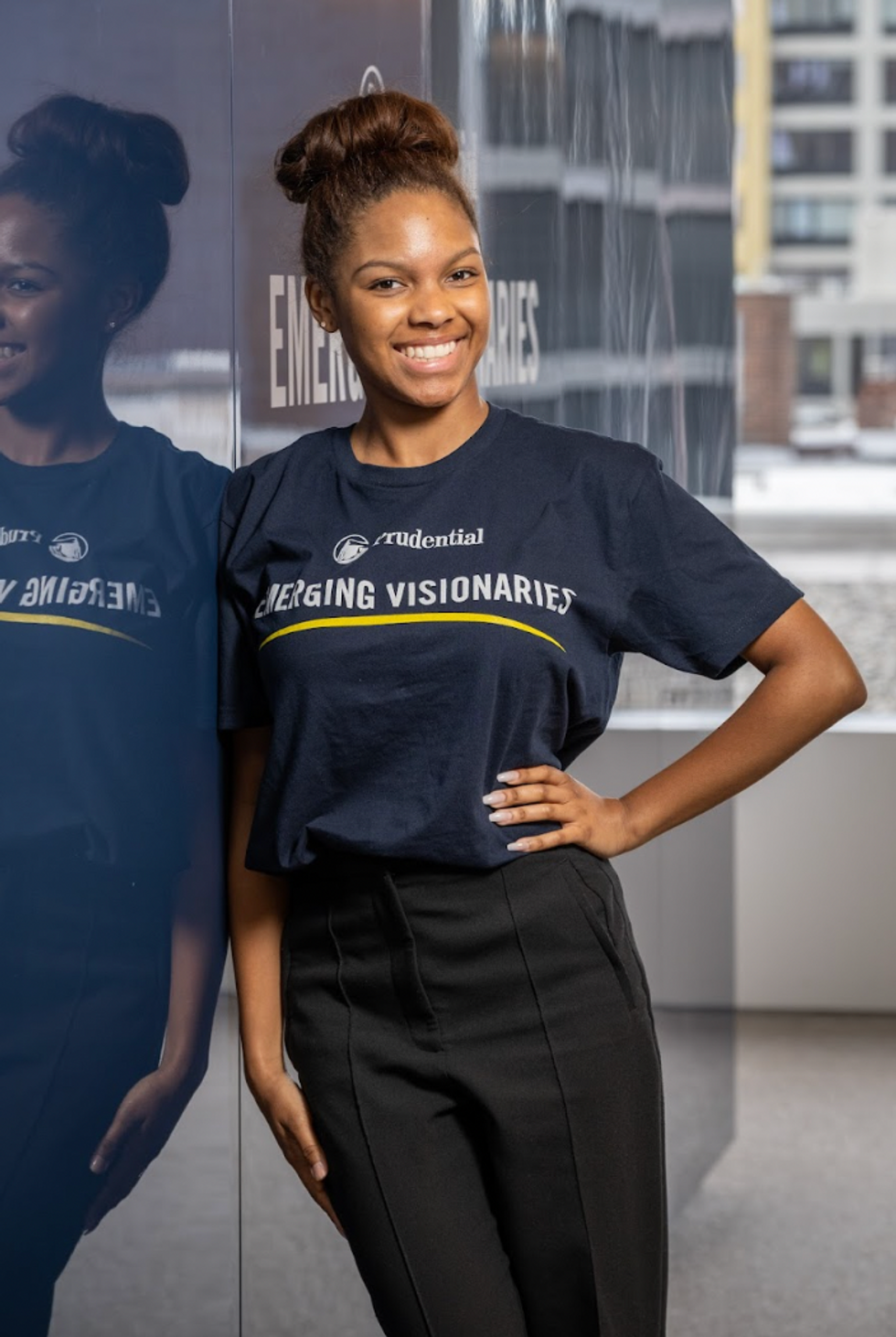 Since 2020, the Maryland-based teen has provided a safe platform that promotes youth positivity by giving young people the space to celebrate their achievements and combat mental health stigmas. The idea came during the height of Covid-19, when Collins recalled social media "becoming a dark space flooded with news," which greatly affected her own anxiety and depression.
Knowing that she couldn't be the only one feeling this way, "Perfect Timing" seemed like a valuable way to give back to her community. Over the course of 109 episodes, Collins has interviewed a wide range of guests—from other young influencers to celebrities, from innovators to nonprofit leaders—all to remind Gen Z that "their dreams are tangible."
That mission statement has since evolved beyond creating inspiring content and has expanded to hosting events and speaking publicly at summits and workshops. One of Collins' favorite moments so far has been raising $7,000 to take 200 underserved girls to see "The Little Mermaid" on its opening weekend, to "let them know they are enough" and that there's an "older sister" in their corner.
Of course, as with most new projects, funding for "Perfect Timing" has come entirely out of Collins' pocket. Thankfully, the funding she earned from being selected as a Prudential Emerging Visionary is going toward upgraded recording equipment, the support of expert producers, and skill-building classes to help her become a better host and public speaker. She'll even be able to lease an office space that allows for a live audience.
Plus, after meeting with the 24 other Prudential Emerging Visionaries and her Prudential employee coach, who is helping her develop specific action steps to connect with her target audience, Collins has more confidence in a "grander path" for her work.
"I learned that my network could extend to multiple spaces beyond my realm of podcasting and journalism when industry leaders are willing to share their expertise, time, and financial support," she told Upworthy. "It only takes one person to change, and two people to expand that change."
Prudential Emerging Visionaries is currently seeking applicants for 2024. Winners may receive up to $15,000 in awards and an all-expenses-paid trip to Prudential's headquarters with a parent or guardian, as well as ongoing coaching and skills development to grow their projects.
If you or someone you know between the ages of 14 -18 not only displays a bold vision for the future but is taking action to bring that vision to life, click
here
to learn more. Applications are due by Nov. 2, 2023.
Health
"Our moral compass is skewed if we think things like this are acceptable."
Photo courtesy of CC BY-ND, Immo Klink and Marco Godoy
These are called "anti-homeless spikes." They're about as friendly as they sound.
As you may have guessed, they're intended to deter people who are homeless from sitting or sleeping on that concrete step. And yeah, they're pretty awful.
The spikes are a prime example of how cities design spaces to keep homeless people away.
Not all concrete steps have spikes on them, but outdoor seating in cities like Montreal and Tokyo have been sneakily designed to prevent people from resting too comfortably for too long.
This guy sawing through a bench was part of a 2006 protest in Toulouse, France, where public seating intentionally included armrests to prevent people from lying down.
Of course, these designs do nothing to fight the cause or problem of homelessness. They're just a way of saying to homeless people, "Go somewhere else. We don't want to look at you,"basically.
One particular set of spikes was outside a former night club in London. And a local group got sick of staring at them.
Leah Borromeo is part of the art collective "Space, Not Spikes" — a group that's fed up with what she describes as "hostile architecture."
"Spikes do nothing more than shoo the realities of poverty and inequality away from your backyard — so you don't have to see it or confront what you can do to make things more equal," Borromeo told Upworthy. "And that is really selfish."

"Our moral compass is skewed if we think things like this are acceptable."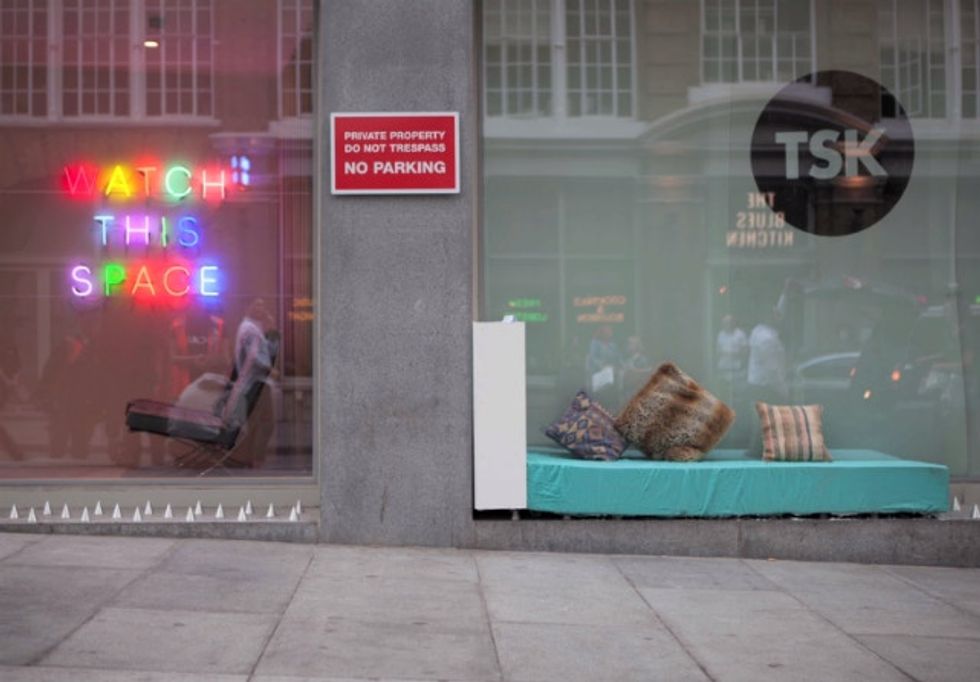 A bed covers up spikes on the concrete.
The move by Space, Not Spikes has caused quite a stir in London and around the world. The simple but impactful idea even garnered support from music artist Ellie Goulding.
"That was amazing, wasn't it?" Borromeo said of Goulding's shout-out on Instagram.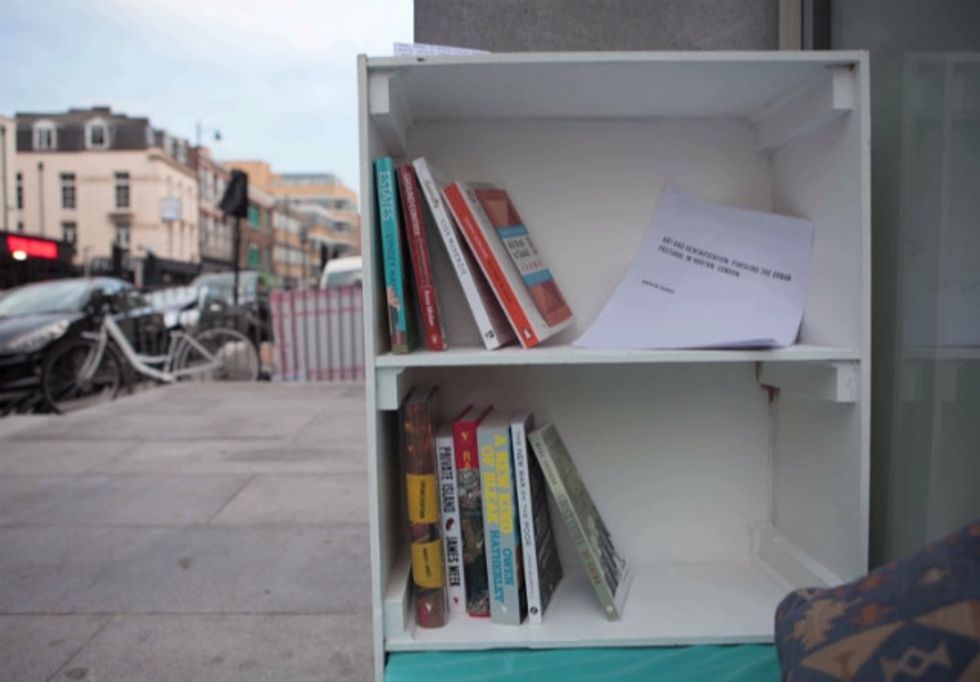 Artist's puppy books and home comforts.
"[The project has] definitely touched a nerve and I think it is because, as a whole, humans will still look out for each other," Borromeo told Upworthy. "Capitalism and greed conditions us to look out for ourselves and negate the welfare of others, but ultimately, I think we're actually really kind."

"We need to call out injustice and hypocrisy when we see it."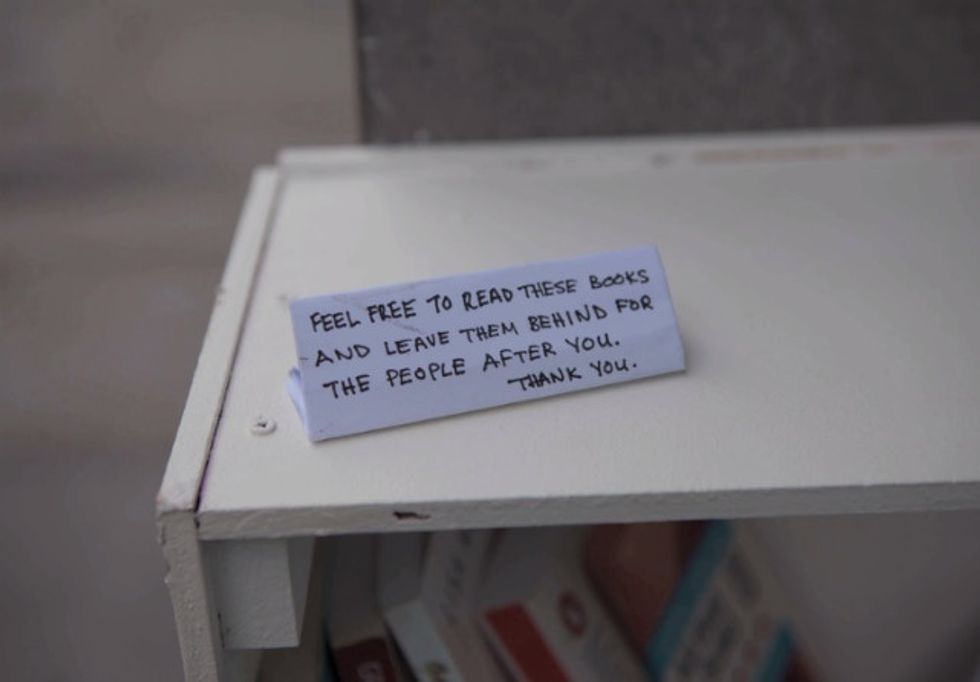 A message to offer support in contrast with current anti-homeless laws.
These spikes may be in London, but the U.S. definitely has its fair share of anti-homeless sentiment, too.

Spikes are pretty obvious — they're a visual reminder of a problem many cities are trying to ignore. But what we can't see on the street is the rise of anti-homeless laws that have cropped up from sea to shining sea.
Legislation that targets homeless people — like bans on panhandling and prohibiting people from sleeping in cars — has increased significantly in recent years.
For instance, a report by the National Law Center on Homelessness & Poverty that analyzed 187 American cities found that there's been a 43% hike in citywide bans on sitting or lying down in certain spaces since 2011.
Thankfully, groups like "Space, Not Spikes" are out there changing hearts and minds. But they need our help.
The group created a video to complement its work and Borromeo's hoping its positive underlying message will motivate people to do better.
"[The world] won't always be happy-clappy because positive social change needs constructive conflict and debate," she explained. "But we need to call out injustice and hypocrisy when we see it."
Check out their video below:
This article originally appeared on 07.24.15
Pop Culture
"I was only 3, but I recognized something was up."
via YouTube/ClubRandom
Julian Lennon, son of Beatle John Lennon and his first wife, Cynthia, had a candid, two-hour conversation with Bill Maher on a recent episode of his "Club Random" podcast. During their intimate talk, Julian discussed his complicated feelings about being the subject of one of The Beatles' most famous songs, "Hey Jude."

"Hey Jude" was written by Paul McCartney while driving to the Lennons' house to comfort them after John Lennon left Cynthia for Yoko Ono in 1968. The song is credited to the Lennon-McCartney songwriting partnership, which by '68 mainly had splintered.
The song was initially called "Hey Jules," but McCartney changed the name to Jude because he thought it was "a bit less specific."
When asked about being the subject of such a popular song, Julian Lennon had his reservations.
"I'm thankful for the song without question. The other real thing is that people don't really understand that that's a stark and dark reminder of actually what happened with the fact that dad walked out, walked away, left mum and I," Lennon told Maher.
"You know, that was a point of complete change and complete disruption and complete darkness and sadness. I mean, I was only 3, but I recognized something was up, you know," Lennon continued. "Yeah, it was heartbreaking, heartbreaking. So, it's a reminder of that time and that place. So, I get both sides of it, but a lot of people don't necessarily understand there's a dark, you know, the yin and the yang of that song."
As a massive Beatles fan, Maher failed to realize the song's impact on Lennon's life. "I feel stupid not seeing that before you had to explain it to me, but I get it," Maher said.
Education
There's a good reason for the update. But it's jarring, to say the least.
Get stories worth sharing delivered to your inbox
Pop Culture
To no one's surprise Adelman did not like these answers.
Joy
The way he talks about "Flower"—his nickname for his wife—is a testament to lasting love.
Health
This could save the life of you or someone you love.
Most abusers don't start their relationships by hitting their partners. That's why early warning signs are vital to recognize.

I know two women who recently left abusive partners. Both men seemed sweet and likable—even gentle—each time I saw them. Both had some lovely qualities as people and even as partners. And both turned out to be controlling, increasingly abusive partners behind closed doors.
The thing about domestic violence is that most people don't enter into relationships with someone who abuses them from the get go. It's often like the analogy of the frog in boiling water. If you place a frog into a pot of boiling water, it'll jump right out. But if you put it in a cool pot and gradually increase the temperature, the frog won't recognize that it's being slowly cooked until it's too late.
Abuse usually comes on gradually, with plenty of opportunity to manipulate and forgive and justify the water getting warmer. That's why many stay in abusive relationships far longer than they should.
A domestic violence counselor suggests a simple test to help identify potential abusers early in a relationship.
Rob Andrews is a domestic violence counselor in Australia. He told ABC News that he advises people to use what he calls the "No Test" to identify potential red flags early on in a relationship.
"The No Test is basically to watch out for the way your partner responds the first time you change your mind or say no," Andrews said.
"While expressing disappointment is OK, it's not the same as annoyed. Annoyed is 'how dare you,' a sign of ownership or entitlement."
Ownership, entitlement, control—these are red flags that often lead to increasingly abusive behavior. And though women can definitely be abusers, the reality is that women are much more likely to be the victims of domestic violence and male abusers tend to be more dangerous to their partners.
"A lot of the women who will present to services will see themselves as part of the problem," Andrews said. "They'll ask themselves why they're always attracted to abusive men, blame themselves for not being assertive enough, blame themselves for pushing their partner's buttons, causing their anger."
"With the No Test, we're not trying to give women knowledge that they didn't already know," he said, "but when they see it in black and white in front of them like that, they realize they of course have the right to say no, that they aren't to blame."
Andrews describes our patriarchal history as "the nut of the problem."
Andrews said that some people erroneously tell women that they should just be more assertive with their partners, letting them know they won't stand for controlling or abusive behavior, but that's not always the best tack to take.
"Being assertive with a man who's threatening to bash you is not a very good idea," he said. "It almost comes from what I'd call 'deficit thinking,' that somehow these women need to be trained up so that the people won't abuse them. The only person who can stop the abuse is the person who is doing the abusing."
Andrews works with men who are struggling with their own behavior and want to change. He has them think about what kind of man they really want to be and work with them to align their behavior with that vision.
"I hear a lot of people saying how it's so hard for men now, it's all so confusing," he said. "It's very easy to be a man. Just be polite and respectful to people, it's not that difficult really."
"But in saying that," he added, "we are to some extent dealing with 2,000 years of history of women being a second-class citizen. That's the nut of the problem and we've got to keep chipping away at it."
This article originally appeared on 02.11.19
Get stories worth sharing delivered to your inbox