Pop Culture
Jennifer Garner got adorably surprised by childhood crush, Donny Osmond, for her 50th birthday
Just thinking he'd sent her a video had her stunned. Then he showed up in the flesh.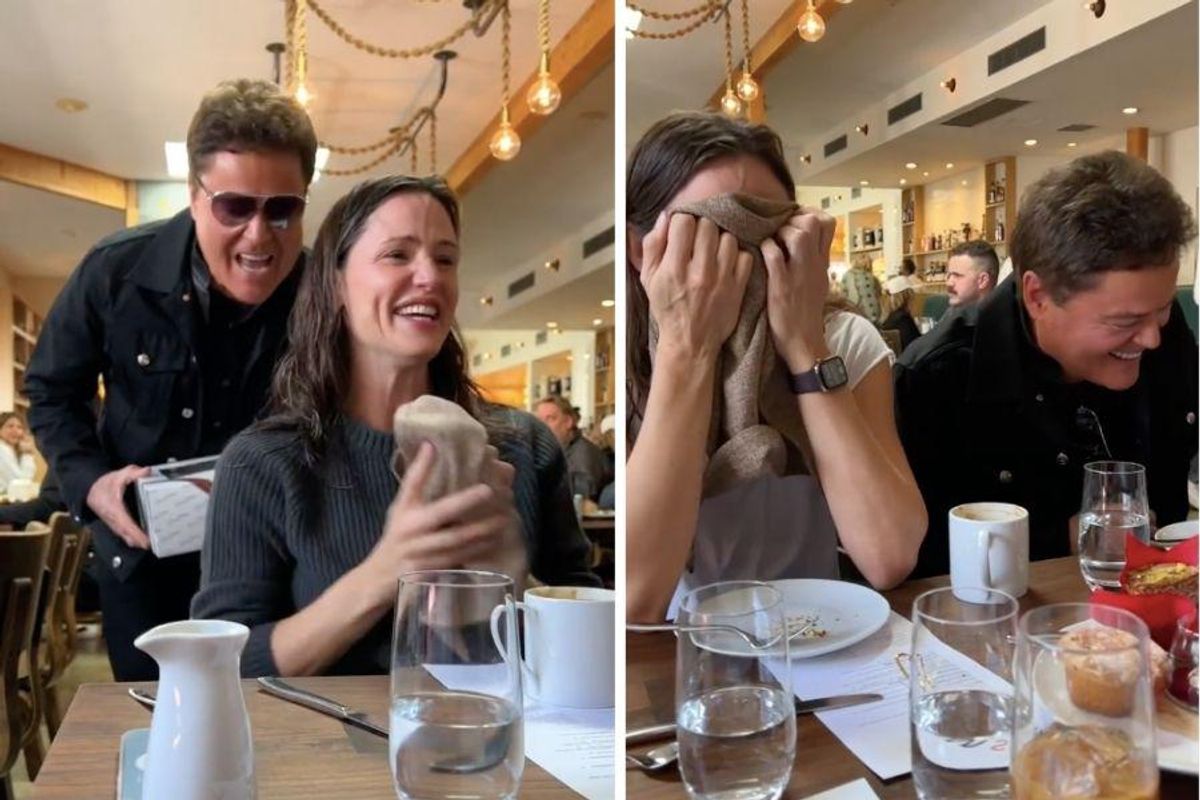 Jennifer Garner is beloved as an actress and a human being for her genuine relatability. She manages to maintain superstar status while staying seemingly grounded in the real world, which is a tricky balance. From her funny "pretend cooking show" videos to her simple service suggestions any of us can do (such as making cookies for frontline medical workers or making Ziploc bags of essentials to give away to people in need), Garner seems like the kind of person anyone would love to hang out with or be neighbors with.
She's also someone who has the means to buy pretty much anything she wants, so a gift would have to be pretty special and unique to blow her away. Something thoughtful. Something she couldn't just go to a store and purchase. Something that she wouldn't expect.
Something like her childhood celebrity crush dropping in to surprise serenade her.
---
In all the glitz and glamour of Hollywood, it's easy to forget that celebrities are just people, most of whom didn't grow up in the world of the rich and famous. Garner had a "normal" childhood in West Virginia, growing up as a middle child of working parents who took the family to church on Sundays and Garner to ballet class (which she loved). When she decided to become an actress, she had to work as a waitress to make ends meet.
And like most of us, she was starry-eyed about certain celebrities. Born in 1972, Garner is right in the prime Gen X age group where Donny Osmond held practically god-like status. The "Donny & Marie" show was a staple across America, and Donny Osmond was the heartthrob of an entire generation in the late '70s and early '80s—including, apparently, Jennifer Garner.
Garner shared a video on Instagram of a pre-birthday surprise in which she's sitting in a restaurant, holding a phone in one hand, with her other hand over her mouth. Donny Osmond is singing to her for her birthday on a video, and she's visibly stunned.
What she doesn't know is that Donny Osmond is there in the restaurant. He walks up behind her and starts singing in real life, and Garner just melts right into her hands.
Watch:
"My first (pre)birthday surprise was a doozy—the one and only, legend in his own time, object of my childhood adoration and devotion—@donnyosmond showed up to knock my purple socks off," she wrote. "He took an hour and a half of his day to sit with me, sing my favorites, and to give me a master class on how to be a class act. Thank you, Donny. 💜 Hi, @marieosmond. ☺️ I hope to meet you someday, Debbie. ♥️ " (Debbie is Donny Osmond's wife of 44 years.)
The "I'm so hot, can I just take my sweater off" comment is the perfect example of Garner's genuine relatability. She's been in award-winning shows, she's walked the red carpet, she's been married to celebrities—and yet Donny Osmond joining her for her birthday blew her away.
Garner is all of us in this video, living out a childhood dream she probably never imagined could possibly come true. (Also, how about that singing voice she's been sitting on? Dang.)
Happy 50th, Jennifer Garner! So happy you got to celebrate another trip around the sun with so much joy.