More
Clever dad does a hilarious photo shoot with his premature baby acting like a grown man.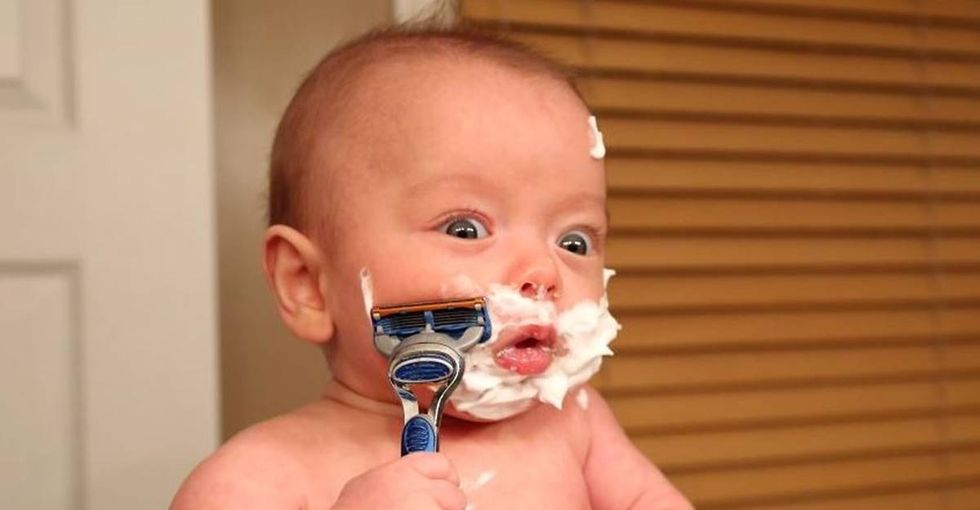 The photos showed the newborn pulling off sweet moves on a skateboard, doing flips off a diving board, and playing baseball — all things that a newborn could never do without the aid of MacMillian's incredible Photoshop skills.
Recently, MacMillian and his wife had a second child, a baby boy named Ryan, who was born nine weeks premature and spend the first six weeks of his life in the NICU. After Ryan was released from the hospital, MacMillian wanted to do another photo shoot like he did with Ella.
"We joked that he wasn't premature just 'advanced,'" MacMillian told Bored Panda. So he came up with the idea of photographing Ryan doing adult things.
"Close shave!"
"I'm gonna be ripped on the first day of preschool!"
"No pain, no gain!"
"Off to the salt mines!"
"Who wants a leg?"
"She looks a few quarts low."
"I caught one thiiiiiiiis big!"
"Lumberjackin'!"
"It's tough to bluff Cookie Monster."
"Blowing the leaves."
Creating the elaborate scenes was no easy task. MacMillian had to make props and get the lighting and framing in order before introducing a newborn baby into the mix.
For the bench press shot, MacMillian hung his camera and the barbell from a rig to make it look like baby Ryan was really pumping iron.
After taking shots of Ryan, MacMillian then took photos of the objects the baby couldn't hold, like the axe or the fish on the line. He then edited the elements together in Photoshop while making sure he cut himself out of the picture.
"I'm curious to see what Ryan thinks of them 18 years from now when he's actually grown up," MacMillian told Bored Panda.