Inclusivity
Team USA heptathlete Chari Hawkins on overcoming anxiety and making 'strong sexy' for women in sports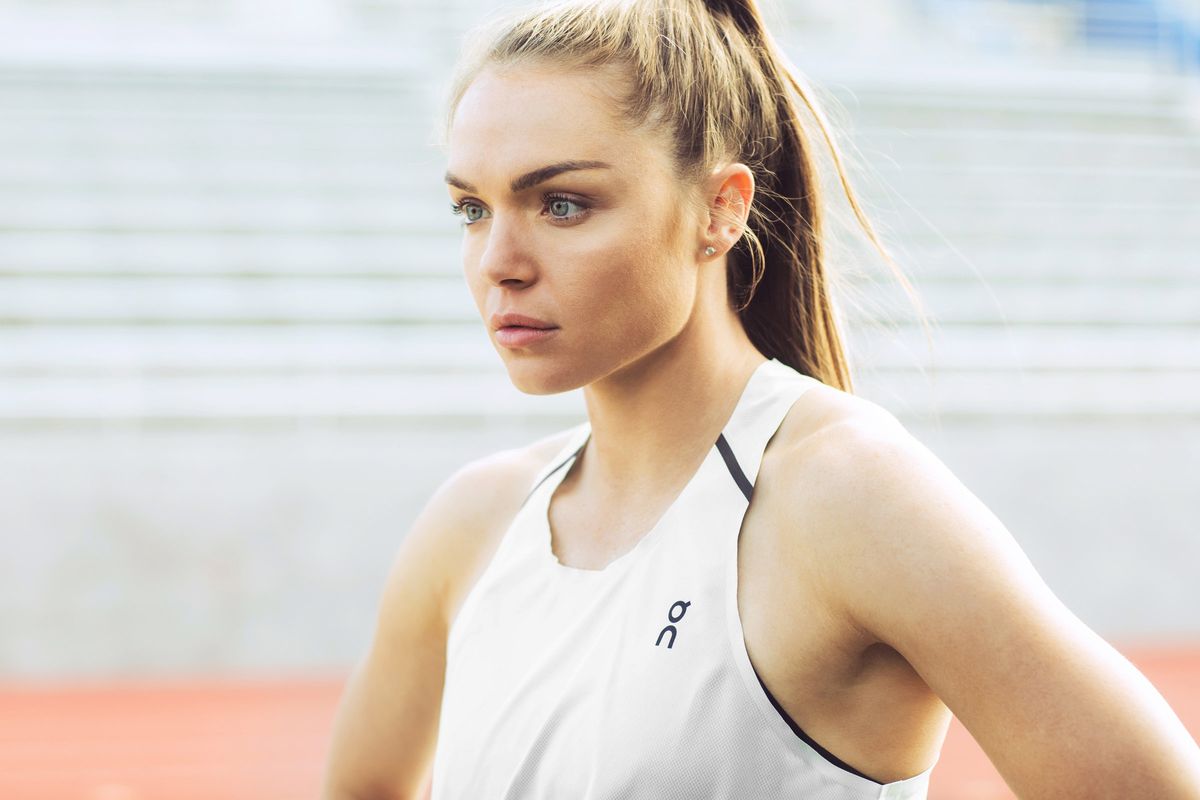 Chari Hawkins - The Pursuit of Progress | Onwww.youtube.com
On the surface, Team USA heptathlete Chari Hawkins has it all: She's aiming for a spot in the 2020 Summer Games in Tokyo, she's mentoring young female athletes, and recently became sponsored by On running shoes.

But her path to success hasn't been an easy one. Hawkins sat down with Upworthy to talk about how she works to overcome self-doubt and anxiety, body issues facing female athletes, and what messages she's hoping to pass to other young women.
---
Upworthy: Most people naturally assume high-performance athletes have an abundance of confidence. You're open about your own challenges facing anxiety. What has that dynamic been like?
Chari Hawkins: When I was in college I used to try to injure myself because I didn't want to run. When it came to competing I realized I didn't like it. I finally started to ask myself questions: Why am I feeling this way and what can I do to fix it? I had been making my personality and performance connected into one thing. The person who I am was tied to how I performed. I started realizing that competitive track is something that I love to do but it's not who I am.
Now that you've had success on the international stage, what kind of anxiety do you face and what are some of the ways you cope with it?

Last week, I found a tip to deal with anxiety. I was coming up on a big practice where it was a really hard workout and I was silly nervous for it. I was starting to get butterflies in a negative way. Before practice, I was getting a sports massage. They are brutal. I decided if I could take that pain I could take the pain of my workout the next day. I started visualizing my race model for the next day, my pace, I was working with the pain that I was feeling. I was able to get through it a lot better. I wasn't as squirmy. The next day, it was my most successful workout ever. It was almost as if I had already experienced it. When I started feeling pain or anxiety in my workout, I pushed past it in my head. Afterward, I was thinking of how it could help people in areas outside of sports. like if you were at a public speaking event.
You've faced some uphill battles on the road to success. How close did you come to quitting and what made you push forward?
A few years ago, I kind of knew I wasn't going to be good enough for the Olympics. My coach told me, 'I think you're done.' I had been questioning myself. Still, I knew that I had more in me. I did a lot of research and found a college and decided to get my masters degree. I decided to run for the school. I decided I'm going to work and not have one day where I don't work as hard as I possibly can. I'm not going to go without fighting as hard as I possibly can. That's exactly what I did. Got enough sleep, put the right kinds of food in my body. I was working on getting faster, stronger, but also on my physical recovery. Just making strides in so many areas. It took me from 25th in the nation to 3rd. I honestly truly believe that it's because I made a promise to myself to give everything I could. I wasn't necessarily born for the Olympics. Now, even looking back, I see girls that go to national and become all-American. I didn't actually go until my third year. I definitely was not as naturally gifted. If I can have my mindset on 'I am going to the Olympics,' not 'I hope to go to the Olympics.' My eyes were just so focused. This is an actuality. You don't need to be a freak athlete.
As a competitive athlete, and especially as a woman, you face enormous pressure to maintain a certain image while also competing at the highest level.

Body image can get in the way of happiness for both men and women. It's that way in all aspects of life but especially for athletes and track and field athletes. One thing I've learned is how much genetics come into play. I'm kind of a very soft athlete naturally. I'll be at my very strongest and I'll kind of look like I'm a little bit out of shape. It doesn't define myself as a person or how I view myself as a human being. I have incredibly broad shoulders, which helps me throw. I have an incredibly short torso but I've learned how much it helps me with hurdles. Your body may not look like "her" body but she may not be able to do the things you can do. It's all about doing your best to stay healthy and letting your body so that it can.
You have very supportive fans but other high-profile women in competitive sports have famously been the target of sexism and online bullying. What's your experience with that been like?
Someone via social media told me that I needed to lay off the cheeseburgers because they didn't see any abs popping through. I learned the hard way about two years ago, I ate nothing about vegetables. It wasn't about anything other than I wanted to look good in my uniform. I was getting outside compliments but my performance went downhill. If I wanted to achieve my goals, my goal was to get better at this sport that I love to do, not be unhappy with my body and performance. Our bodies are capable of so much we just have to appreciate them and take care of them.
Recently, you became one of the first athletes sponsored by On running shoes. I'm a competitive long-distance runner and full-disclosure where On running shoes. The first time I wore them I honestly wondered if they were "legal" for competitions because of the edge they seemed to give me.
Yeah, I thought the same thing! The first time I wore On during a race, my feet felt like they were on fire but in the best possible way. It's something I would proud to get behind. Our shoes and apparel can express so much about who we are but it's also about being comfortable, being functional and being healthy.
You've spent time mentoring young runners through the Girls on the Run organization. What have you been able to pass along through your own trials and triumphs?

It's been such an incredible experience. Every single day they got a little better. The day I spoke to them, the subject was joy and all the things that bring them joy. Every time they ran a lap they got a bracelet. They wrote something on a board that brought them joy. What an incredible practice. Running isn't a punishment. At the same time, they don't have to be average. Running can kind of help you become your own empowered self. They don't need to fit any mold.
Chari Hawkins is currently training in preparation for a potential role with Team USA in the Tokyo 2020 Summer Games. You can follow her on Instagram and Twitter.