Heroes
Bill Nye just gave a blistering, adults-only lesson on climate change.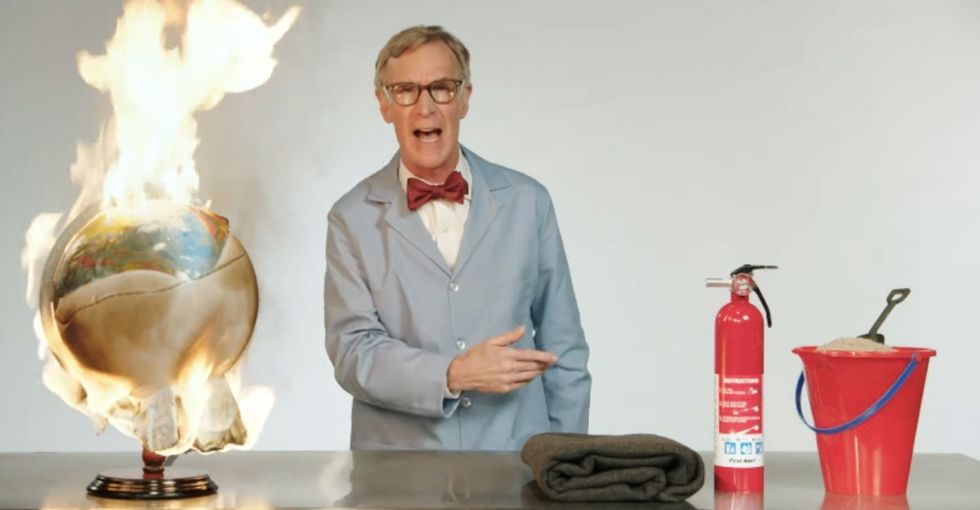 Bill Nye the Science Guy's primary audience is all grown up—and so is his lesson for today.
Bill Nye is known for his educational science show for children, which aired on public television through most of the 1990s.
But the kids who made up his primary audience demographic are all adults now. And Nye has a strong message for those who have decided in their adult years to ignore the vast majority of scientists and deny that global warming and climate change need our immediate attention.
---
Last Week Tonight host John Oliver featured Bill Nye in segment on climate change and the Green New deal, and Nye's brief lesson on global warming proved to be a hilarious and cathartic reflection of the way many of us feel in the current political climate.
Nye says it's time to "Grow the f**k up."
Oliver had already brought in Nye earlier in the segment to explain carbon pricing, and he wrapped up the whole shebang by asking Nye to provide an "enjoyable, lighthearted demonstration" on the urgency of taking action on climate change.
"Safety glasses on," began Nye. "By the end of this century, if emissions keep rising, the average temperature on Earth could go up another four to eight degrees."
"What I'm saying is," he continued, pointing at blow torch a globe, "the planet's on f**king fire."
Once he had the world going up in flames, Nye pointed to a blanket, a fire extinguisher, and a bucket of sand and explained, "There are a lot of things we could do to put it out. Are any of them free? No, of course not! Nothing's free, you idiots! Grow the f**k up."
Bill Nye's clearly had it up to here with the people who are skeptical about saving the planet from imminent doom.
"You're not children anymore," continued Nye. "I didn't mind explaining photosynthesis to you when you were twelve. But you're adults now, and this is an actual crisis. Got it?"
Nye then removed his eyewear. "Safety glasses off, motherf**kers."
John Oliver joked, "We've all broken Bill Nye. And I for one am absolutely on board with his new gritty reboot."
Oliver isn't the only one. This segment has been viewed on YouTube more than 1.4 million times in one day.
The whole segment about climate change is definitely worth watching, but to see Bill Nye's burning planet demonstration, head to minute 18:15 and enjoy.