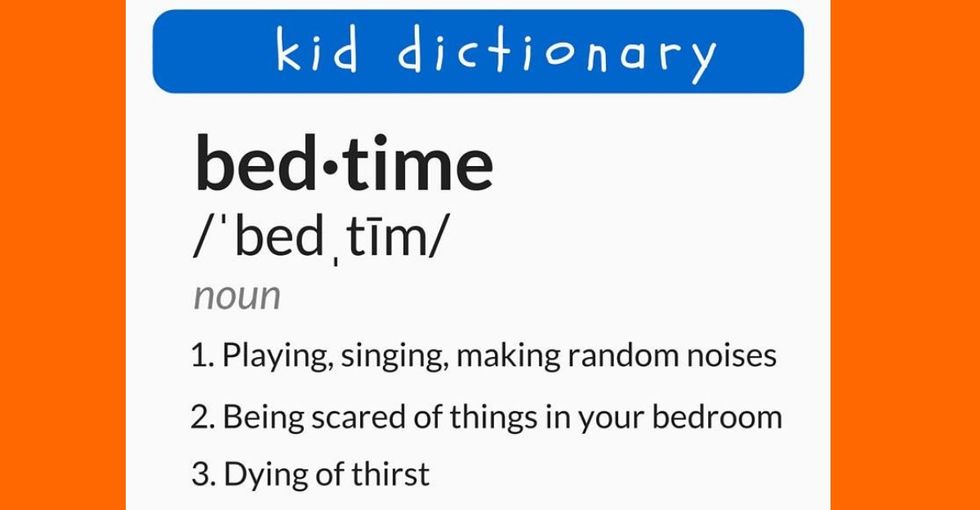 Few aspects of parenting unite the masses like bedtime.
Sure, there are some superhuman parents who manage to wrangle their offspring into bed with a minimal amount of effort and agony. But then there are the rest of us.
If the idea of putting your loinfruit down for the night causes you to twitch uncontrollably, these tweets are for you.
---
Let's start with the big picture. If "drunk, rabid chimpanzees" is not a relatable description of bedtime with small children at your house, please teach us your ways.
I've never herded a bunch of drunk, rabid chimpanzees, but I have gone through a bedtime routine with small childre… https://t.co/45wZA7E3MS

— Goldfish and Chicken Nuggets (@Goldfish and Chicken Nuggets)1536275743.0
It's all about routine, right? That's what the experts say. This color-coded diagram of a typical bedtime routine seems accurate:
Relate? #parenting #bedtime #nottired https://t.co/hF71g9gL4o

— TheSchoolRun Parent (@TheSchoolRun Parent)1536260468.0
It's a good idea to start the routine with a story, which can be a super sweet bonding time, and also feel like it takes a million bajillion years.
I'm the Michael Jordan of skipping parts of a kid's bedtime book.

— Simon Holland (@Simon Holland)1535940735.0
Then there's the lullaby. Or lullabies plural, until you end up singing whatever song comes into your head because OMG KID, JUST GO TO SLEEP.
"Mama, one more lullaby?" "I can't think of any more- GOODNIGHT!" "pleeeasse?" *sigh* ummm "Tommy used to work on t… https://t.co/Jkj4cJvGB8

— RachRiot (@RachRiot)1536774892.0
You think you're done. But then comes the philosophy portion of the evening, where your kid who couldn't tell you a single thing they learned in school that day suddenly becomes super deep and inquisitive.
Now you find yourself torn between encouraging their curiosity and wanting to leave the damn room.
My kid will not go to bed until she has a chance to ask me about every single thing that has ever happened since th… https://t.co/5OTPuWemyS

— Mommy Owl (@Mommy Owl)1536372800.0
Finally, there's the dehydration phase of the night. You: "Goodnight!" Them: "Must . . . have . . . water . . ."
Why is it that during the day the children complain that they are tired but when it's bedtime they are wide awake a… https://t.co/CcFWyKLk8O

— ᗩ ᒪ E ᙭ I S ᕼ. (@ᗩ ᒪ E ᙭ I S ᕼ.)1536473798.0
Seriously. YOU'VE HAD ENOUGH WATER.
Unless you've screamed "YOU'VE HAD ENOUGH WATER!" at midnight don't talk to me about how tired you are.

— No Idea: Daddy Blog (@No Idea: Daddy Blog)1535132754.0
After a few kids, you get wise to the water thing and use it as a science lesson.
1st kid at bedtime: I'm thirsty. Me: *fetches cup after cup of water* 4th kid at bedtime: I'm thirsty. Me: It'll… https://t.co/OiJHdP82dG

— Mama Needs a Nap by Lauri Walker (@Mama Needs a Nap by Lauri Walker)1536773527.0
That seems like it should be it right? Routine done, kid falls asleep?
But oh no. Kids like to get creative.
Me: It's bedtime. Only come out for an emergency. 33_Footsteps: Okay, daddy. 33_Footsteps, five minutes later: Dad… https://t.co/8MuBJpE6R7

— Why does Rick Healey say just the worst thing? (@Why does Rick Healey say just the worst thing?)1535931711.0
What the heck are you doing in your bed, kid?
And check this out. You know how sometimes you could swear your kids are doing all of this on purpose?
Well, apparently sometimes they are.
i'm putting the kids i babysit to bed and one of them looks at me and goes "tonight is the night" and i'm like ???… https://t.co/JKlBGoXOx5

— jamie 🌙 (@jamie 🌙)1536370739.0
This is the kind of thing that makes us suspicious on the rare nights when bedtime actually runs smoothly. It's also what makes us age 10 years every night.
Beginning of bedtime VS by the time kid finally falls asleep https://t.co/QaFiINRYgH

— B O L L O C K S (@B O L L O C K S)1536515728.0
Sometimes the funniest things aren't even trying to be funny. May I present the most obvious study result in the history of study results?
Putting Kids To Bed Early Improves Mom's Mental Health, Study Says https://t.co/DENK7udSbj

— Tia Didmon (@Tia Didmon)1536762828.0
Okay, Sherlock. If it were only that simple. Case in point:
A fun thing you can do is tell your kids it's bedtime and then tell them it's bedtime again and again until you're levitating with rage.

— TheMotherOctopus (@TheMotherOctopus)1535249799.0
All is not lost, however. This mom figured out a genius parenting hack to get kids to bed lickety-split:
Want to get your kids to bed without a fight?? Tell them to clean something. It's amazing how quickly they become… https://t.co/BzO7DGyltU

— Moms Of The Whine Table (@Moms Of The Whine Table)1536776840.0
Now let's say you do finally get them to sleep (probably by lying in bed with them because who are we kidding). That's when your own body inevitably betrays you as you attempt to leave without waking them.
Based on what it sounds like when I try to leave my child's room after I get them to sleep, my knees are filled wit… https://t.co/OyUWyU9LDS

— Scary Mommy (@Scary Mommy)1536714661.0
Ah, bedtime. After three kids, I think I've figured out why it's such a chaotic mess. Kids simply operate on a completely different set of definitions than we do. It's the only explanation.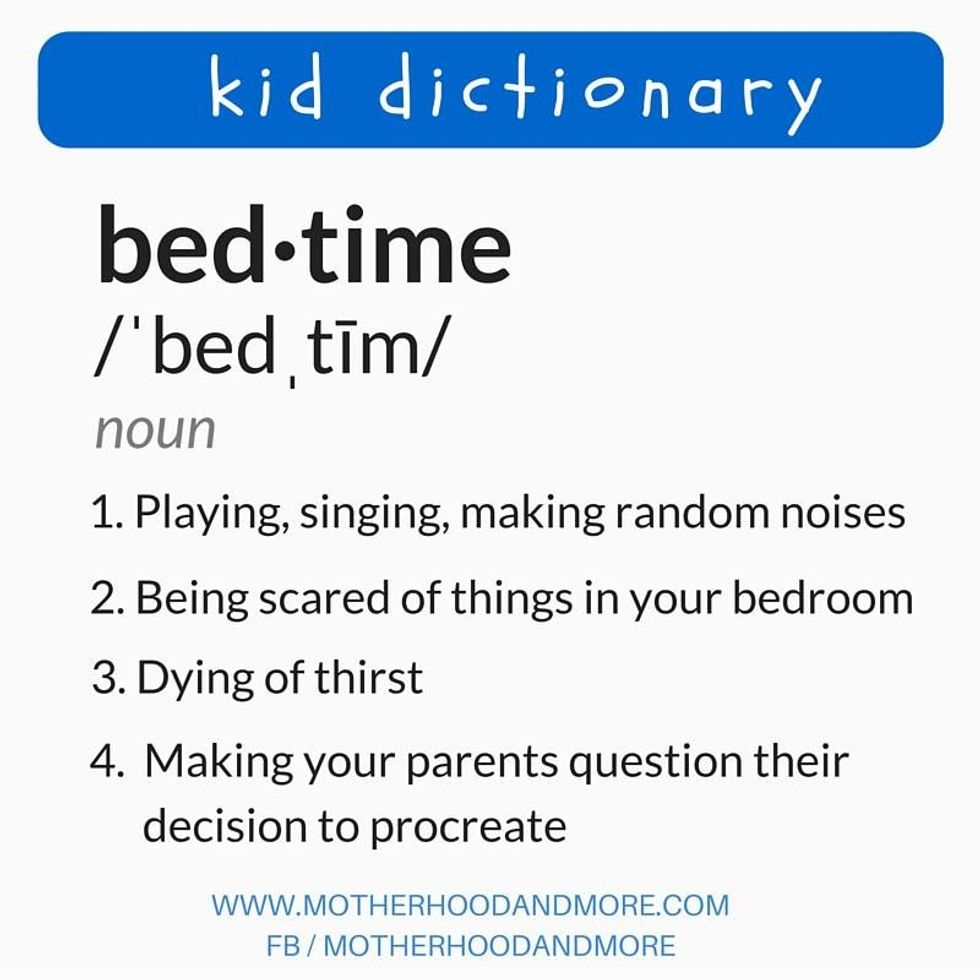 Image via Annie Reneau/Motherhood and More
It's a good thing those little buggers are so darned cute. (Especially when they're asleep.)