Identity
It's okay to have "curly hair."
It never fails. After a tragic mass shooting, social media is filled with posts offering thoughts and prayers. Politicians give long-winded speeches on the chamber floor or at press conferences asking Americans to do the thing they've been repeatedly trained to do after tragedy: offer heartfelt thoughts and prayers. When no real solution or plan of action is put forth to stop these senseless incidents from occurring so frequently in a country that considers itself a world leader, one has to wonder when we will be honest with ourselves about that very intangible automatic phrase.
Comedian Anthony Jeselnik brilliantly summed up what "thoughts and prayers" truly mean. In a 1.5-minute clip, Jeselnik talks about victims' priorities being that of survival and not wondering if they're trending at that moment. The crowd laughs as he mimics the actions of well-meaning social media users offering thoughts and prayers after another mass shooting. He goes on to explain how the act of performatively offering thoughts and prayers to victims and their families really pulls the focus onto the author of the social media post and away from the event. In the short clip he expertly expresses how being performative on social media doesn't typically equate to action that will help victims or enact long-term change.
Of course, this isn't to say that thoughts and prayers aren't welcomed or shouldn't be shared. According to Rabbi Jack Moline "prayer without action is just noise." In a world where mass shootings are so common that a video clip from 2015 is still relevant, it's clear that more than thoughts and prayers are needed. It's important to examine what you're doing outside of offering thoughts and prayers on social media. In another several years, hopefully this video clip won't be as relevant, but at this rate it's hard to see it any differently.
Joy
Irene and Tony Demas regularly traded food at their restaurant in exchange for crafts. It paid off big time.
The grilled cheese at Irene and Tony Demas' restaurant was truly something special. The combination of freshly baked artisan bread and 5-year-old cheddar was enough to make anyone's mouth water, but no one was nearly as devoted to the item as the restaurant's regular, John Kinnear.
Kinnear loved the London, Ontario restaurant's grilled cheese so much that he ordered it every single day, though he wouldn't always pay for it in cash. The Demases were well known for bartering their food in exchange for odds and ends from local craftspeople and merchants.
"Everyone supported everyone back then," Irene told the Guardian, saying that the couple would often trade free soup and a sandwich for fresh flowers. Two different kinds of nourishment, you might say.
And so, in the 1970s the Demases made a deal with Kinnear that he could pay them for his grilled cheese sandwiches with artwork. Being a painter himself and part of an art community, Kinnear would never run out of that currency.
Little did Kinnear—or anyone—know, eventually he would give the Demases a painting worth an entire lifetime's supply of grilled cheeses. And then some.
One day, Kinnear brought in some works from a friend by the name of Maud Lewis. Despite living in abject poverty and suffering from challenging health conditions, Lewis would create colorful, cheerful paintings using whatever materials she could get access to, be that leftover paint used for boats or discarded wooden boards.
According to Good News Network, Kinnear and Lewis had made their own trade: some painting supplies in exchange for a few of her pieces, which were brought to the restaurant.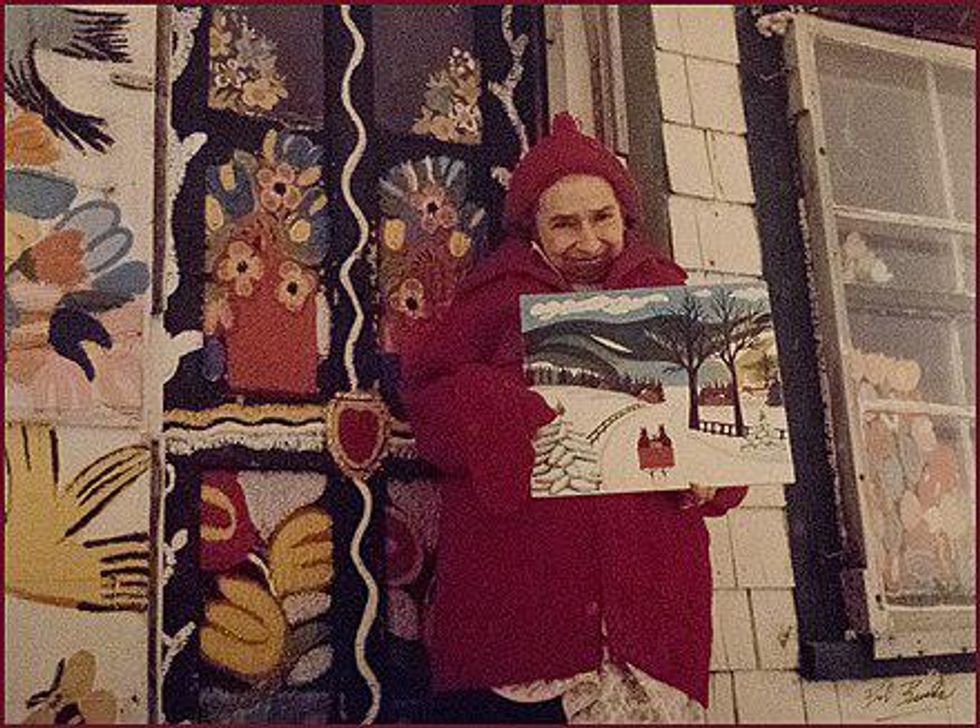 A picture of Maud Lewis holding one of her works.
One painting in particular struck the then-pregnant Irene in a profound way—a cheery image of an old black pickup truck cruising through a neighborhood, complete with a bright yellow house with a flower-lined yard.
Because of the pure innocence expressed in the piece, Irene thought a child might have created it. She told the Guardian, "I just sat there in silence for quite a while. I'd never ever seen any art like that before. At first I thought they might be playing some sort of trick on me."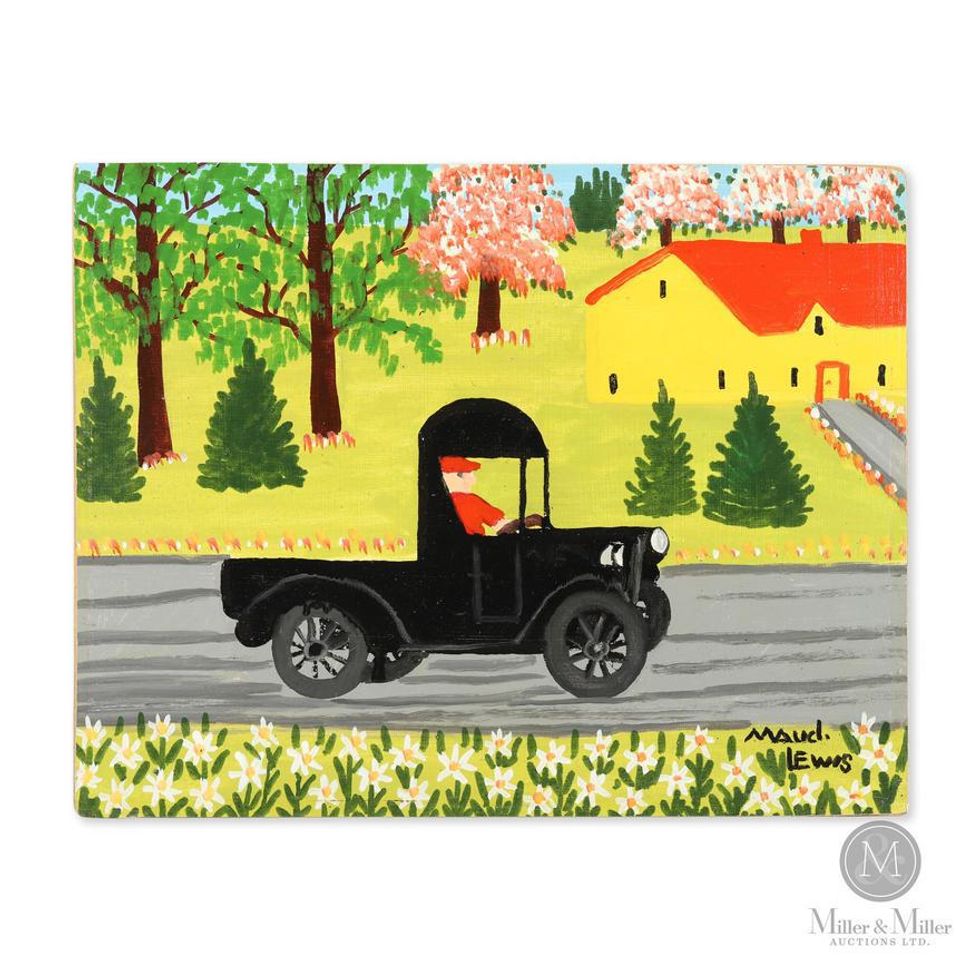 Lewis would often repeat happy themes throughout her work.
images4-cdn.auctionmobility.com
Nevertheless, Irene selected the work and hung it in her expected son's bedroom, where it remained for 50 years.
As an artist, Lewis never reached acclaim while she was alive, but over the years her art has made its way into the spotlight and there was even a romantic biopic made about her, starring Sally Hawkins and Ethan Hawke.
The movie caused Lewis' work to "double and triple in value" according to Ethan Miller, chief executive officer and auctioneer at Miller & Miller Auctions in New Hamburg, Ontario, who noted that the truck painting in particular was a rare piece.
Soon, the Demases realized that they owned the work of a now-famous painter and they put the work up for sale. It was subsequently auctioned off for $350,000. The letters written between Kinnear and Lewis—also sold at auction—were bought for $70,000. Not bad for free grilled cheese.
Painting swapped in 70s for grilled cheese sandwich serves up windfall https://t.co/LC0teC431o

— The Guardian (@guardian) May 8, 2022
Not only do the Demases have an exciting new chapter of possibilities in their lives, but an artist has received long overdue recognition. Talk about a win-win situation.
Get stories worth sharing delivered to your inbox
Get stories worth sharing delivered to your inbox