More
A construction worker made this life-sized 'Where's Waldo?' cutout for hospitalized children to follow and play along.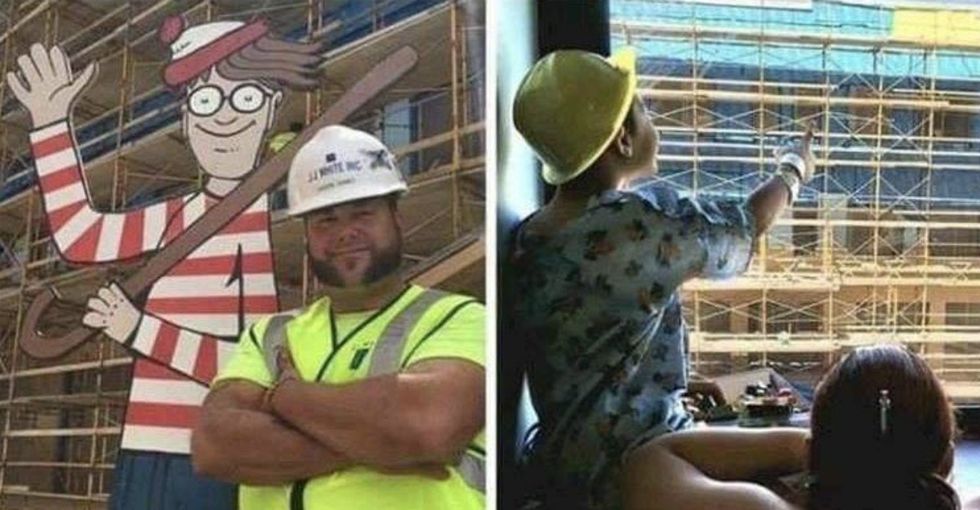 Where's Waldo? The children in an Indiana children's hospital have the answer, thanks to construction worker Jason Haney.
When a new wing of Memorial Children's Hospital (now known as Beacon Children's Hospital) in South bend, Indiana was under construction in 2016, Haney hid an eight-foot cutout of the elusive literary figure in various parts of the structure under construction.
The children had the task of finding Waldo from the windows of their hospital rooms next door.
---
As soon as Waldo was spotted, Haney would move the cutout to a different location.
Now that the wing of the Hospital has been completed, Waldo is still on display for children to enjoy.
Haney understands the importance of bringing cheer into children's lives, as they have first-hand experience with childhood illness.
Haney's daughter, Taylor, received care at a different children's hospital after she had a stroke in utero. When she was three, they were told that Taylor would not learn past a third-grade level due to the brain damage. According to Haney, "We were shocked, but the brain is amazing, and it righted itself." Taylor has since graduated high school with honors, and was accepted into Ball State University.  
Taylor even had a hand in Waldo's creation. She helped Haney paint the 50-pound cutout and move it on weekends when no one was working.
Haney was floored by the response Waldo received while the project was underway.  "I can't believe a simple piece of wood can bring so much happiness," he said in an interview with TODAY.
"The other day a girl who is about 10 years old was getting chemo, and you could just see her eyes light up when she met Jason,'' said Heidi Prescott, a spokesperson for the hospital. "You would've thought he was the biggest rock star. What Jason is doing is far and above what any construction worker would normally do."
"You walk into the pediatrics unit and you ask the kids, 'Where's Waldo?', and we have seen children in the play area or their rooms run up to the window and look out,'' Prescott said. "It really helps take their mind off what they're going through for a couple minutes, and it's been very heartwarming."
But this elaborate game of Where's Waldo didn't just bring joy into the children's lives – it made strangers on the internet smile as well. Reddit's faith in humanity was restored:

Haney, himself, was impressed by the outpouring of support on Reddit and had this to say:

To donate to, or get involved with Beacon Children's Hospital, click here.