A boy was bullied for making his own Tennessee Vol's shirt. Now it's the school's official logo.
It all started with an amazing teacher.
09.09.19
Jerry Seinfeld once perfectly described the arbitrary nature of being a sports fan, saying:
"Loyalty to any one sports team is pretty hard to justify, because the players are always changing, the team can move to another city. You're actually rooting for the clothes, when you get right down to it."
Seinfeld is right in saying that being an obsessive sports fan can be a little silly, but he misses the wonderful feeling of community created among people who root for the same clothes.
---
Over the weekend, fans of the University of Tennessee were a perfect example of the great things that can happen when fans get together.
Recently, an unnamed boy at Altamonte Elementary School in Altamonte Springs, Florida, told his teacher, Laura Snyder, that he wanted to wear a Tennessee Volunteers shirt for the school's college colors day.
"This particular child came to me and told me that he wanted to wear a University of Tennessee shirt, but he didn't have one," she wrote on Facebook. "We discussed that he could wear an orange shirt to show his spirit. He told me every day leading up to it that he had an orange shirt that he was going to wear.
On college colors day, the boy proudly wrote his orange shirt and then made it "official" by drawing a U of T logo on a piece of paper and attaching it to his orange shirt.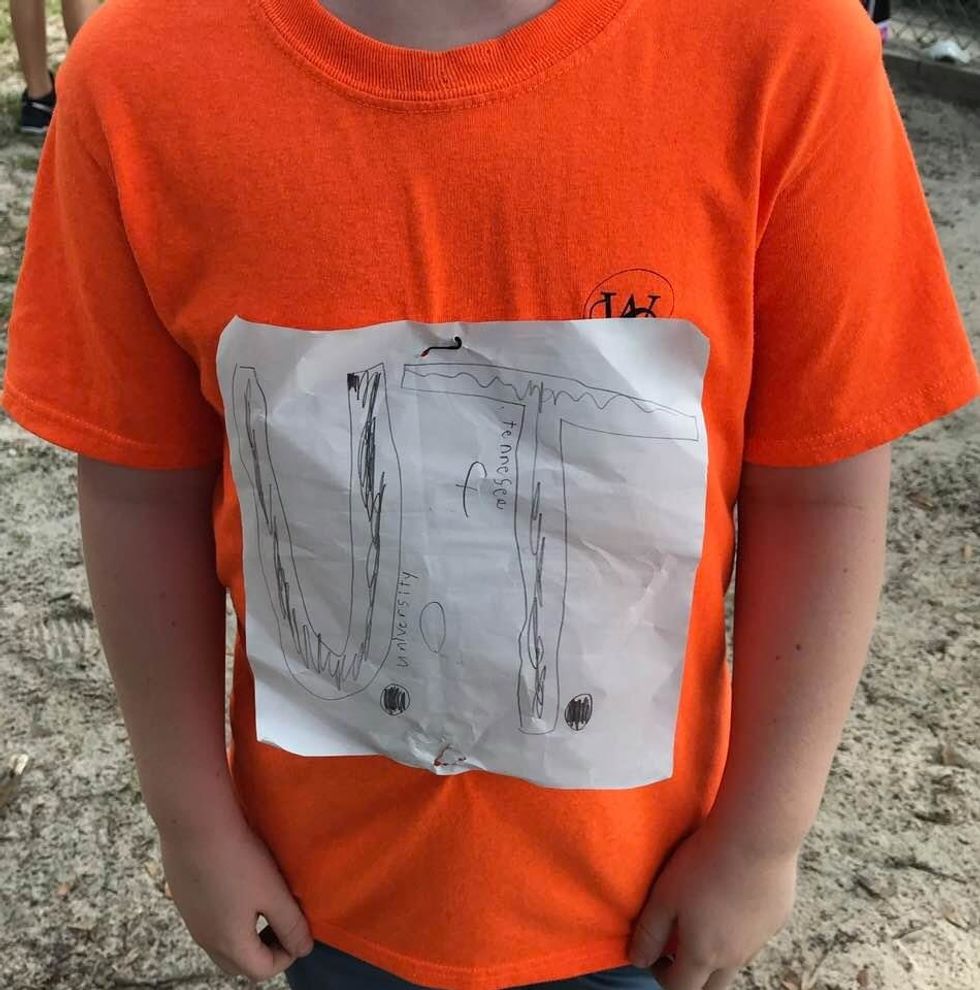 via Laura Snyder / Facebook
Unfortunately, the child's clever display of ad-hoc ingenuity didn't sit well with some of the girls at his school.

"After lunch, he came back to my room, put his head on on his desk and was crying. Some girls at the lunch table next to his (who didn't even participate in college colors day) had made fun of his sign that he had attached to his shirt. He was DEVASTATED," the teacher wrote.
The amazing teacher decided to buy her student a Tennessee Volunteers shirt and reached out to her followers on social media to see if anyone had any UT connections to make things "a little extra special."
The post went viral among Volunteer fans and UT sent a care package to her class room to support the young fan.
I was touched to learn of a young Florida school student's heart for the University of Tennessee, and I LOVED his imagination behind designing his own shirt. So many of us admire his love for UT and it's awesome to see everyone step up to send him some UT gear!#EverywhereUT pic.twitter.com/83YqjzBxag
— UT Interim President Randy Boyd (@UT_President) September 5, 2019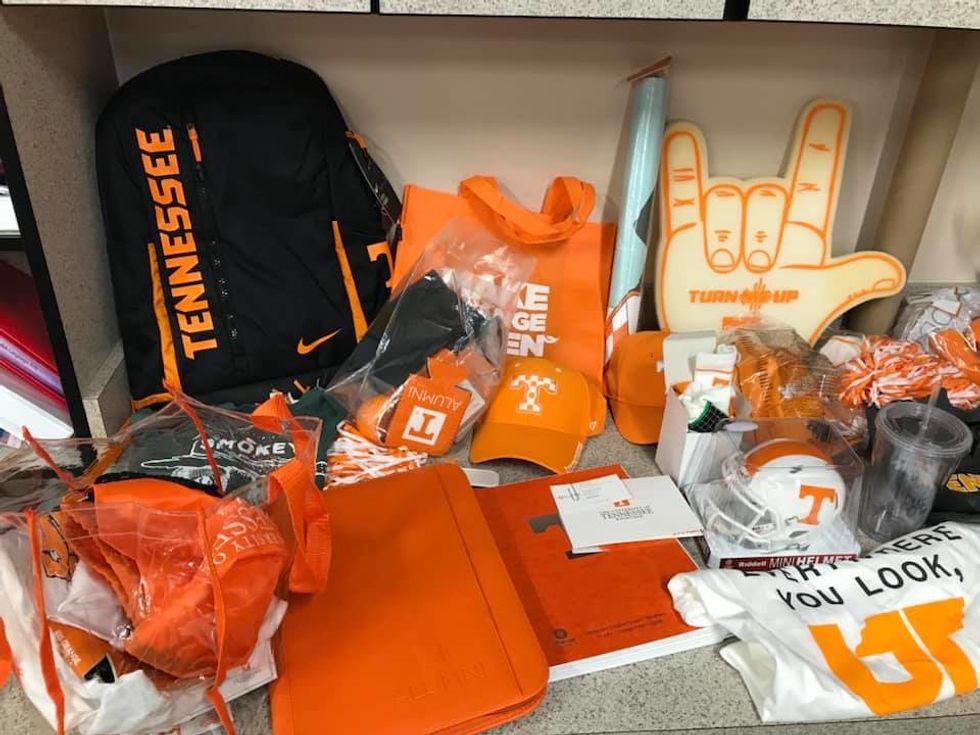 via Laura Snyder / Facebook
"My student was so amazed at all the goodies in the box. He proudly put on the jersey and one of the many hats in the box. All who saw had either goosebumps or tears while we explained that he had inspired and touched the lives of so many people … My student got to pass out UT swag to his classmates. They were ecstatic!!" the teacher wrote.

The moving gesture by the school didn't stop there. The team used the boy's design to create an official UT shirt with proceeds going to STOMP Out Bullying, a national non-profit organization that is dedicated to eradicating bullying of all forms.
So many people went to the site to buy a shirt, the site crashed.
The gesture from the school and her son's teacher was too much for the boy's mother.
"I am overwhelmed by the love I feel from this extended community and the pride I feel for my son and for being a VFL," she wrote.
"Every comment, item sent, and action taken on behalf of my son will never be forgotten and hopefully will serve as inspiration for him throughout his life."
popular