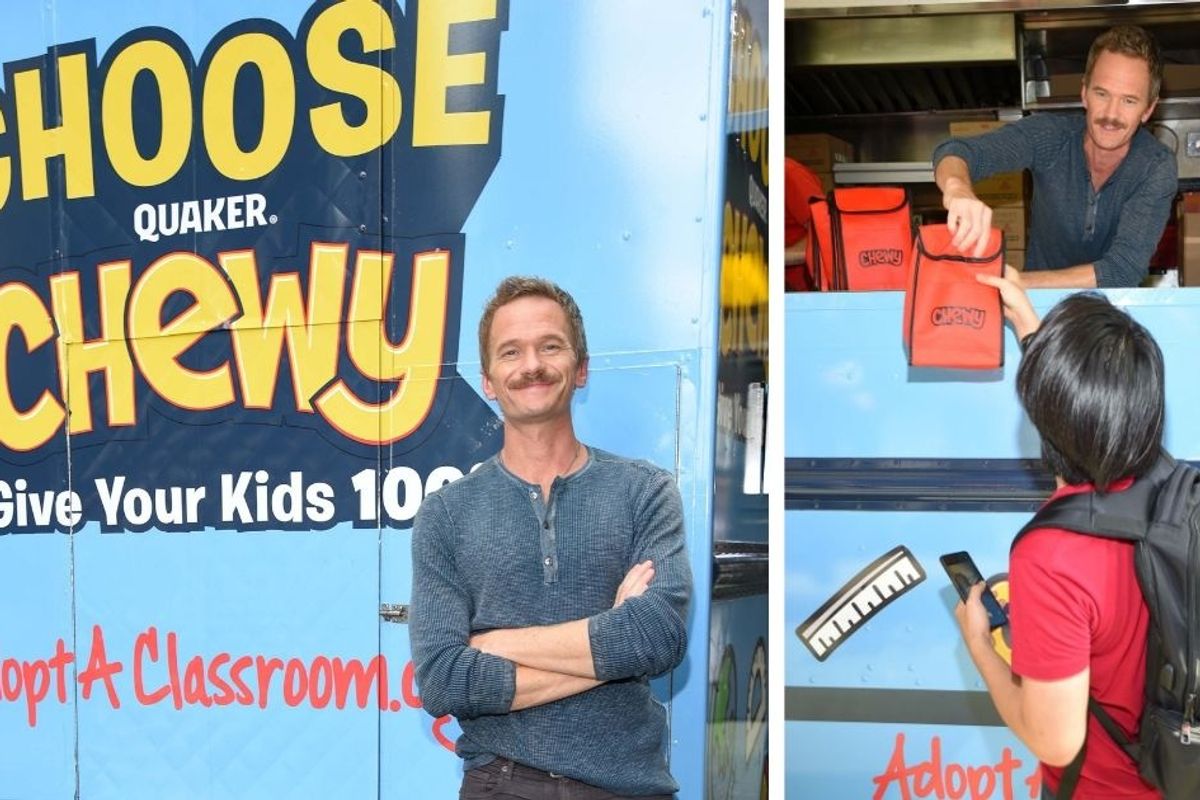 Courtesy of Quaker Chewy
Neil Patrick Harris is known for his diverse talents as an actor, singer, dancer, producer, emcee, writer, and even magician. Dude's got serious skills.
Off screen and offstage, he's also known for his diverse philanthropy, lending his fame and resources to various causes including cancer and AIDS research, green building initiatives, clean water access, hunger, LGBTQ support, and books for children in low-income communities.
I recently spoke with Harris and asked him how he chooses what charities to support. He said that his personality doesn't really lend itself to choosing a singular cause—for him, it's more about the integrity of a charity. "I'm interested in knowing what organizations are actually giving a large percentage of what they get back to the actual charity itself," he says. "And then getting to know the people behind the charity. I'm kind of a stickler for authenticity in that way."
---
This month, Harris is partnering with Quaker Chewy granola bars and AdoptAClassroom.org to help teachers get supplies for their classrooms. According to AdoptAClassroom's website, 92% of classrooms have students whose families cannot afford school supplies, and teachers and principals often end up filling the gap out of their own pockets. The non-profit organization helps provide supplies for schools in need.
Throughout the month of September, Quaker will donate $1 of every Quaker Chewy purchase, up to $250,000, to AdoptAClassroom.org. To process the $1 donation from your purchase, go to choosechewy.com and enter the UPC code of your Quaker Chewy package. (You have to enter your birthdate to access the UPC code page, just FYI.) On the same page, you can also enter a favorite teacher in a drawing for a $500 gift card.
Harris says he decided to lend his voice to this partnership because he's invested in education and in "teachers being treated with the respect that they deserve." His own kids—twins Harper and Gideon, who will turn nine in October—are another reason.
"I'm a parent with kids who are an appropriate age for Quaker Chewy bars as a wholesome snack," he says, noting that the bars are a more nutritious and convenient alternative to many snacks they could eat in New York. "And they love them. They're all about the chocolate chip," he says, adding, "I like that they like the chocolate chip, because I'm all about the peanut butter."
Harris slips into humor naturally, but he's serious about helping teachers. He says that hosting an awards event for teachers really drove home how much educators sacrifice in their careers.
"Teachers are so giving and selfless," he says, "and even dig out of pocket to get pencils and Kleenex and things that kids need because they're passionate about their job. And they're not acknowledged enough for it. So the fact that people can buy Quaker Chewy bars, go to choosechewy.com and put their UPC code, and then start giving money towards an organization that gives to teachers—that seems like the least we can do."
Harris and his husband, David Burtka, make a point of including their kids in their charity work, which Harris has said helps give them "a valuable and much-needed perspective on life." After chatting a bit about parenting, I asked him what the hardest part of raising kids has been so far. His answer undoubtedly rings true for most parents:
"I'm having to realize that the only certain thing is uncertainty. Just when I feel like I've figured out the crawling thing, they walk. And just when I figure out the walking thing, the talk. And just when I figure out the talking thing, they disagree. They're just constantly phasing up, and just when I think I've figured out the new phase, there's a newer phase. And that's been the most complicated thing, because I assumed some of my strengths would be in my wisdom and perspective, but my wisdom and perspective continues to change...I just feel like you wind up growing together and learning together and figuring it all out. And that makes everyone stronger. Part of being a parent is being willing to acknowledge that you're imperfect, and that you're trying to figure it all out together."
Thank you for that, NPH. And thank you for acknowledging the needs of teachers and classrooms, giving us an easy way to help, and generally being an awesome role model for all of us.