GoFundMe Heroes
50 years ago, a Californian saved 70,000 acres of redwoods. Now he wants to photograph the park he helped preserve.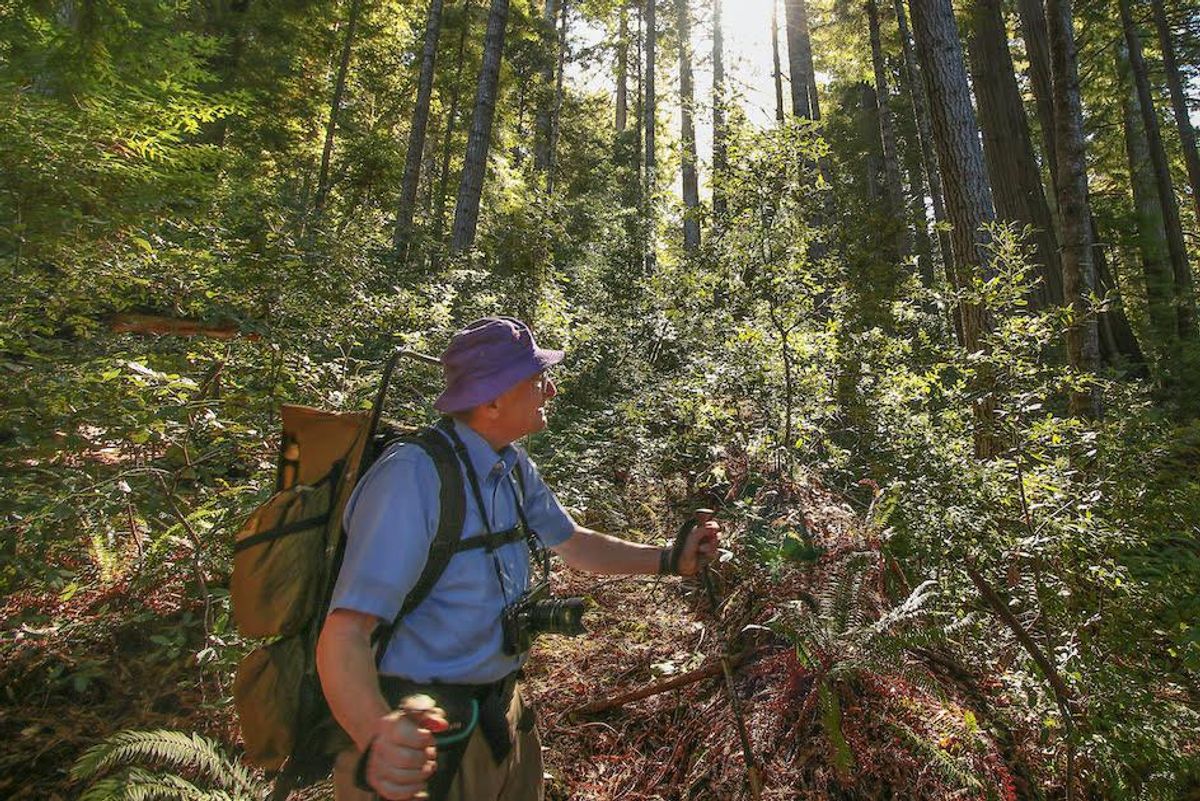 Photo credit Ally Gran
True
Ask about Dave Van de Mark in the communities bordering Redwood National & State Parks, and many people will tell you that the seventy-nine-year-old photographer is a living legend.
In June of 1963, as a fresh-faced twenty-year-old, Dave traveled from Southern California to work at a sawmill in Humboldt County. That summer dramatically changed his life and set Dave on a path that helped establish one of America's most beloved national parks.

"On only my second day on the job, I inquired as to where the trees being milled came from," Dave says. "I was quickly told I shouldn't ask such questions!"
Intrigued by his co-workers' evasive responses, Dave began looking for his own answers.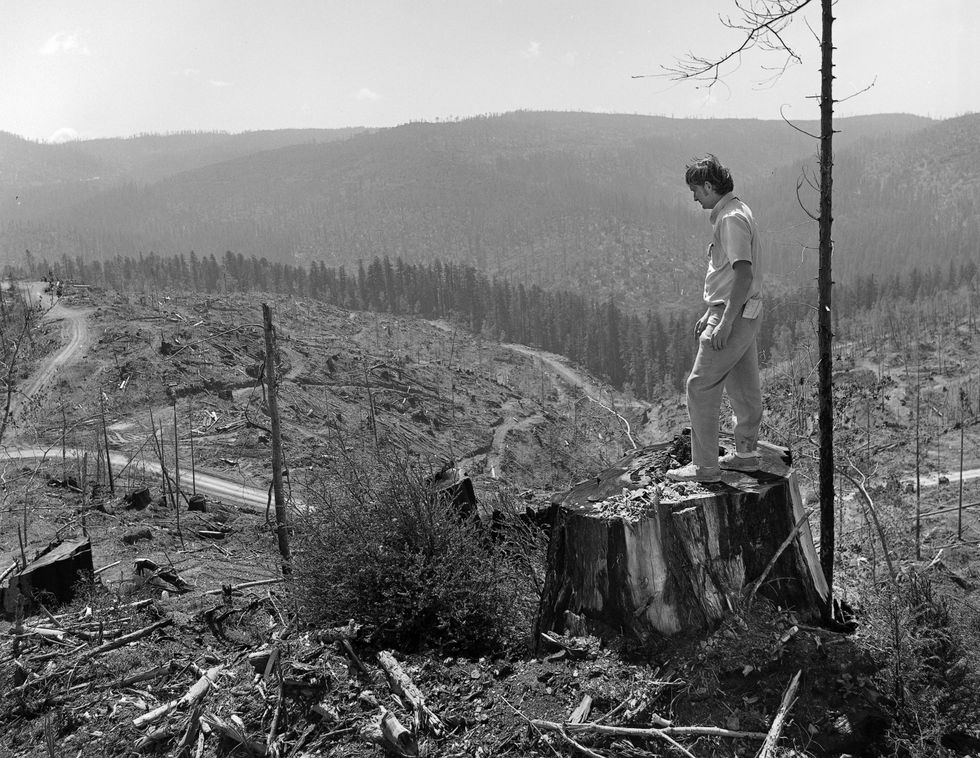 Photo credit Dave Van de Mark
"I explored like crazy, gaining strength as I hiked very long distances....I found extensive areas outside the existing state parks that were beautiful. I also saw them being logged rather brutally and I didn't like it."
A series of pivotal events further strengthened Dave's resolve to save the old-growth forests. He began hearing about the discovery of some of the tallest redwoods near Orick, California, which prompted discussions in the community for a national park. At the same time, he'd decided to take up photography and began documenting his long hikes through the forest. He also attended a meeting with some of the area's most active conservationists who took him under his wing. "Lifelong friendships developed on the spot!" Dave says.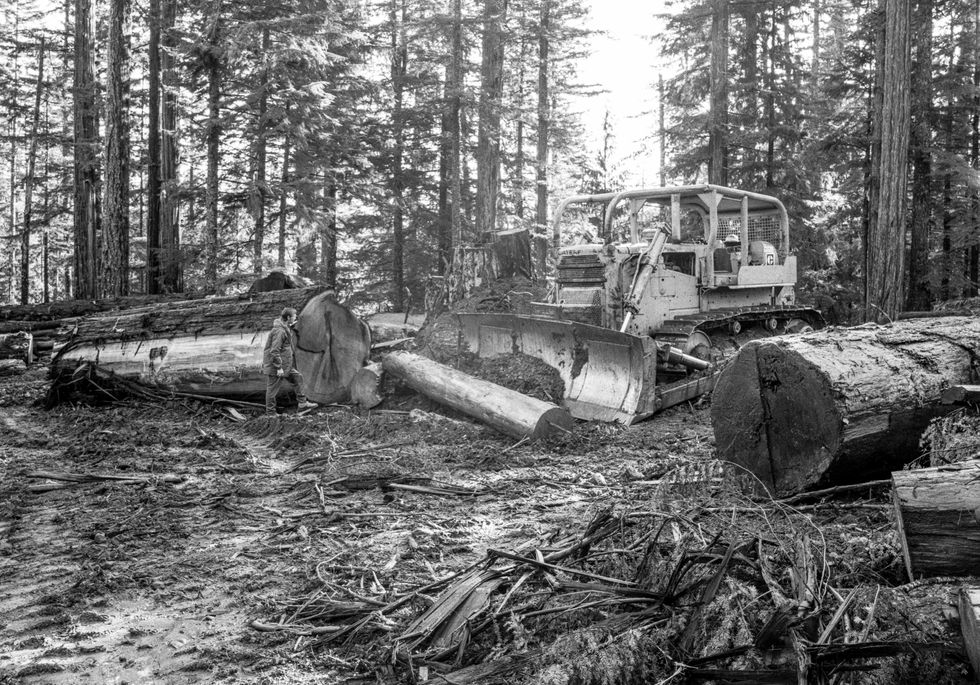 Photo credit Dave Van de Mark
According to a GoFundMe campaign for Dave, he trespassed on private timber land, chartered airplanes to fly over clear cuts, slept on stream banks, and walked over a thousand miles to capture over 5,000 photographs.These photos of redwood destruction were sent all around the world and began raising much needed awareness that the old-growth forests were rapidly disappearing, and that more parks needed to be created.
"As soon as the timber companies knew the efforts to create a park were gaining steam," Dave says, "so were their efforts to log and impact places we were pushing for. They said only a small buffer was needed around the newly discovered tallest trees. That, coupled with almost complete opposition to a 'grand' park by local media and government, meant we faced virtually total opposition locally."
Increased notoriety came with increased risk for Dave. "I was really well known and received some verbal threats right to my face at a public hearing, and was often worried about being harmed arriving late at night to my isolated little home."
By then, nearly 90% of the redwood old-growth had been cut down. So, despite the threats, Dave and his fellow conservationists knew something more urgent had to be done. With help from university professors, Dave collected data on the scientific and aesthetic value of the redwoods. Thanks to the Sierra Club and national papers like the San Francisco Chronicle and New York Times, this information, coupled with Dave's photos, were able to reach a much larger audience.
Public support grew quickly. Over the next two years Dave and his team participated in all Senate and House hearings regarding redwood conservation, and ensured that congressional members could see the destruction with their own eyes. It all paid off. After years of immense effort, Redwoods National Park was established in 1968.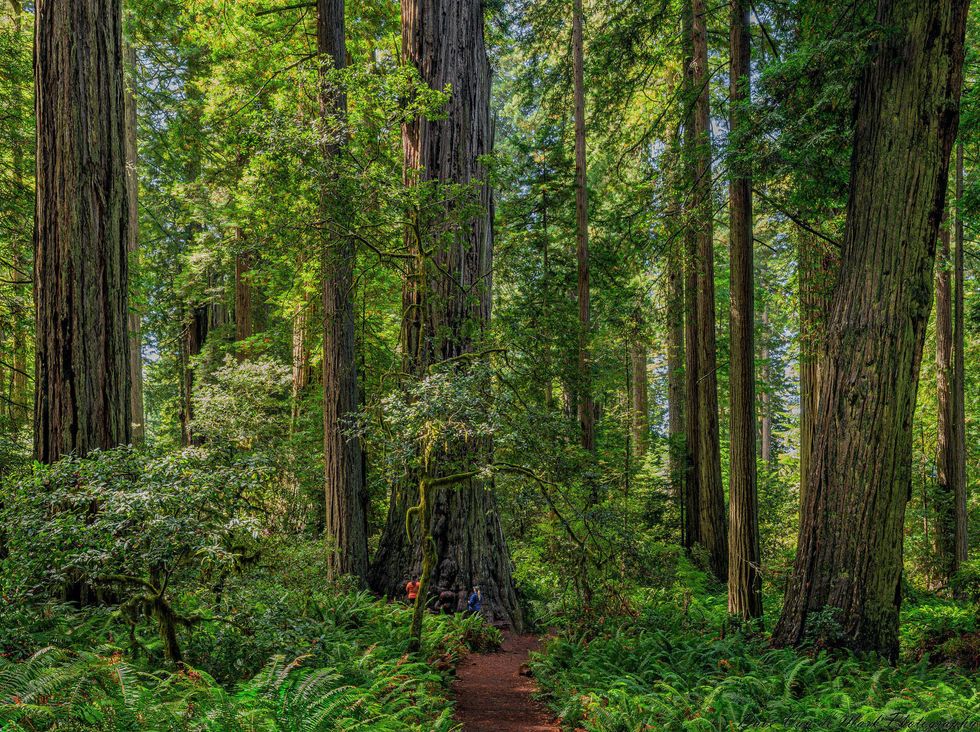 Photo credit Dave Van de Mark
Now, at seventy-nine, the legendary activist wants to revisit and photograph the areas he helped protect. And this GoFundMe will help him realize this dream.
"I have been back to areas heavily impacted by logging and that is precisely the reason for my "Fifty Years Later Project" – to allow me to have the ability and the equipment to visit and record the beautiful changes that have taken place over a half-century, before I'm too old and unable to do it. It is very heartening to see places that were eroding so badly and threatening the tallest trees, now stabilizing."
"Dave was instrumental in establishing the park, and continues to help us decades later with his photo project," says Steve Mietz, Superintendent of Redwood National and State Parks.
Christine Walters, an administrative assistant at RNSP, echoes that sentiment. "Without Dave Van de Mark...it's very possible there would never have been a Redwood National Park."
Unfortunately, Dave is struggling to find the resources to complete his dream project. His friend Ted Humphrey, who started the GoFundMe, writes "Now it is time for us to give back and thank Dave for his conservation and protection of the redwood forest. This project is a once-in-a-lifetime chance to show, through the eyes of the photographer that helped protect it, what 50 years of conservation can do at Redwood National & State Parks."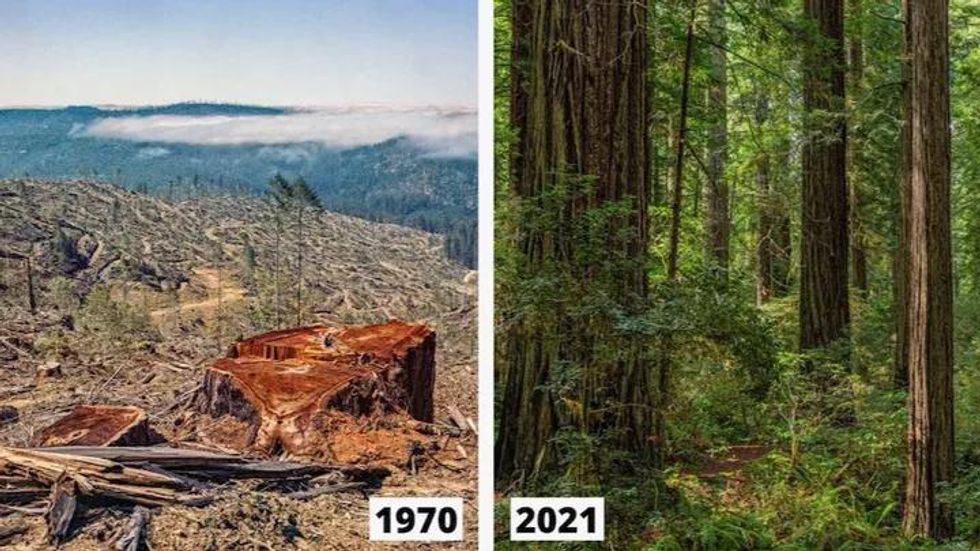 Photo credit Dave Van de Mark
When asked what advice Dave has for those fighting to save and protect old growth forests today, he offers, "Just persevere and don't ever compromise your values and be as bold as you can be."
For more information and to help Dave Van de Mark complete his life's work of documenting the forests he helped protect, please visit his GoFundMe.
Do YOU have an idea for a fundraiser that could make a difference? Upworthy and GoFundMe are celebrating ideas that make the world a better, kinder place. Visit
upworthy.com/kindness
to join the largest collaboration for human kindness in history and start your own GoFundMe.