popular
16-year-old Cornelius Fredericks was suffocated to death in foster care for throwing a sandwich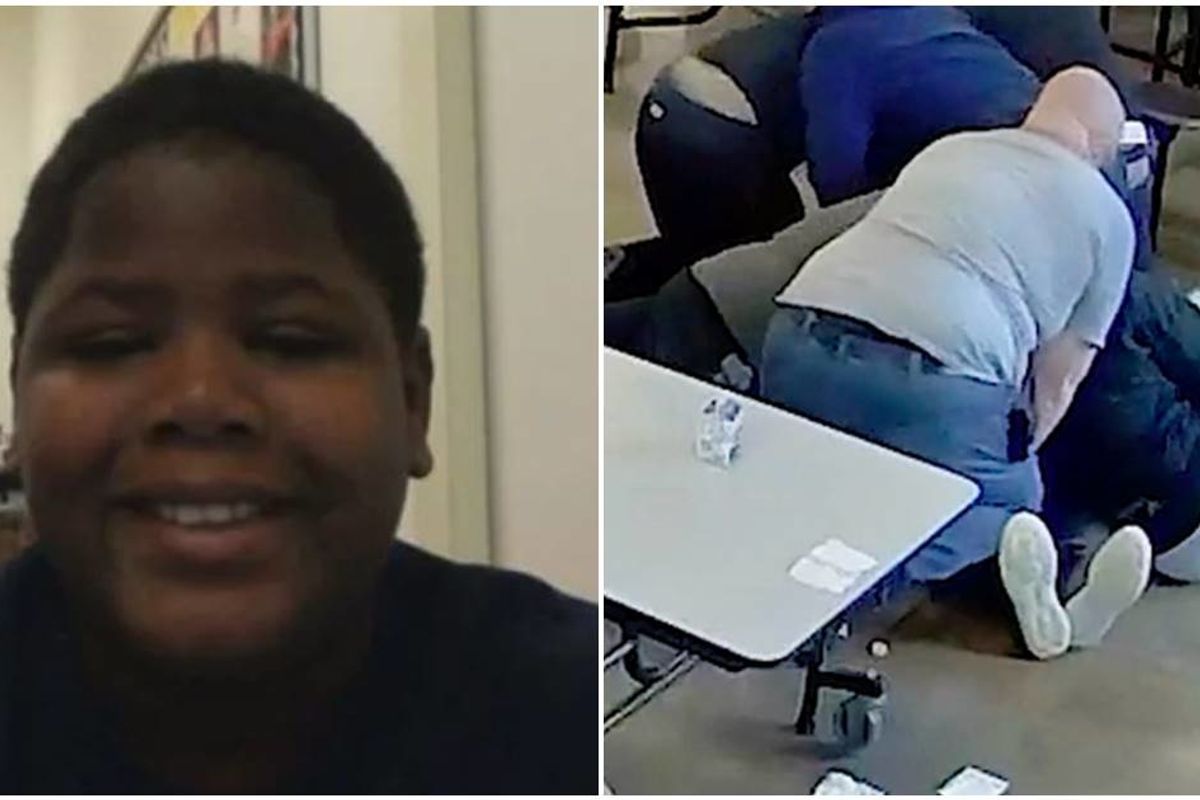 via MLive / YouTube
Cornelius Fredericks, a 16-year-old boy, was placed in the Lakeside Academy, a Michigan facility for teenagers with behavioral problems, by the state's foster care system after his mother died and father was sent to prison.

On April 29, he was sitting at a table during mealtime and threw a sandwich at another child at the facility. Fredericks was thrown to the ground by staff members, restrained for by six to seven people, including two on his torso, for approximately 12 minutes.
The civil lawsuit filed by Frederick's family claims that while he was being restrained he cried out, "I can't breathe."
---
While being restrained, Fredericks suffered cardiac arrest. He was taken to a local hospital and pronounced dead three days later. It was discovered at the hospital that he tested positive for COVID-19.
Here's video of the entire incident, the footage is disturbing.
Video shows restraint of Cornelius Fredericks who died after incident at youth facility (FULL VIDEO)www.youtube.com
"He was suffocated for an excess of 10 mins and left to lie on the floor lifeless with no one providing any medical care or treatment, including the nurse," Geoffrey Fieger, an attorney who represents the Fredericks estate, said according to Buzzfeed.

"The nurse just stood over his lifeless body and provided no help whatsoever to Cornelius other than calling 911," Fieger added.
Sequel Youth and Family Services, the owner of Lakeside Academy, told CNN that the staff's actions were not in line with the facility's restraint policy.
"The restraint was not conducted in accordance with our policies and training," a spokesperson said. "At Sequel, it is our policy to only use restraints as an emergency safety intervention in two situations: 1) when a student exhibits imminent danger to self and 2) when a student exhibits imminent danger to others, and in those cases to use the minimal level of intervention possible."
Three staff members at the facility Michael Mosley, 47, and Zachary Solis, 28, and Heather McLogan, 48, were arraigned on charges of involuntary manslaughter and child abuse.
The way #CorneliusFredericks was pushed down, jumped on top of by 6-7 other people and held down until he was uncon… https://t.co/QimEoISk2z

— 尺乇刀乇ムムり乇 ☒ (@尺乇刀乇ムムり乇 ☒) 1594325871.0
According to the Kalamazoo Department of Public safety, there had been numerous calls about the facility in the weeks before the murder. "There was a pattern of it being out of control," Assistant Chief David Boysen said. "There had been a spike in calls from there lately."

After facility staff learned that Fredericks had COVID-19 it was discovered that nearly 40 of the residents and nine staffers tested positive for the virus.
On May 1, the facility housed 124 boys.
After Frederick's death, the facility lost its contract with the state to care for youth in the state's foster care and juvenile justice systems and its license to operate.
The death of Cornelius Fredericks is another in the tragic list of Black people being murdered while being restrained by authorities.
Why was he taken to the ground for throwing a harmless sandwich? Why was he restrained for 12 minutes? How come no one listened when he screamed, "I can't breathe?" Why does everyone just stand around him doing absolutely nothing for a few minutes after they realize he isn't conscious?