Heroes
Covid-sniffing dogs just started working at Miami airport and they're incredibly accurate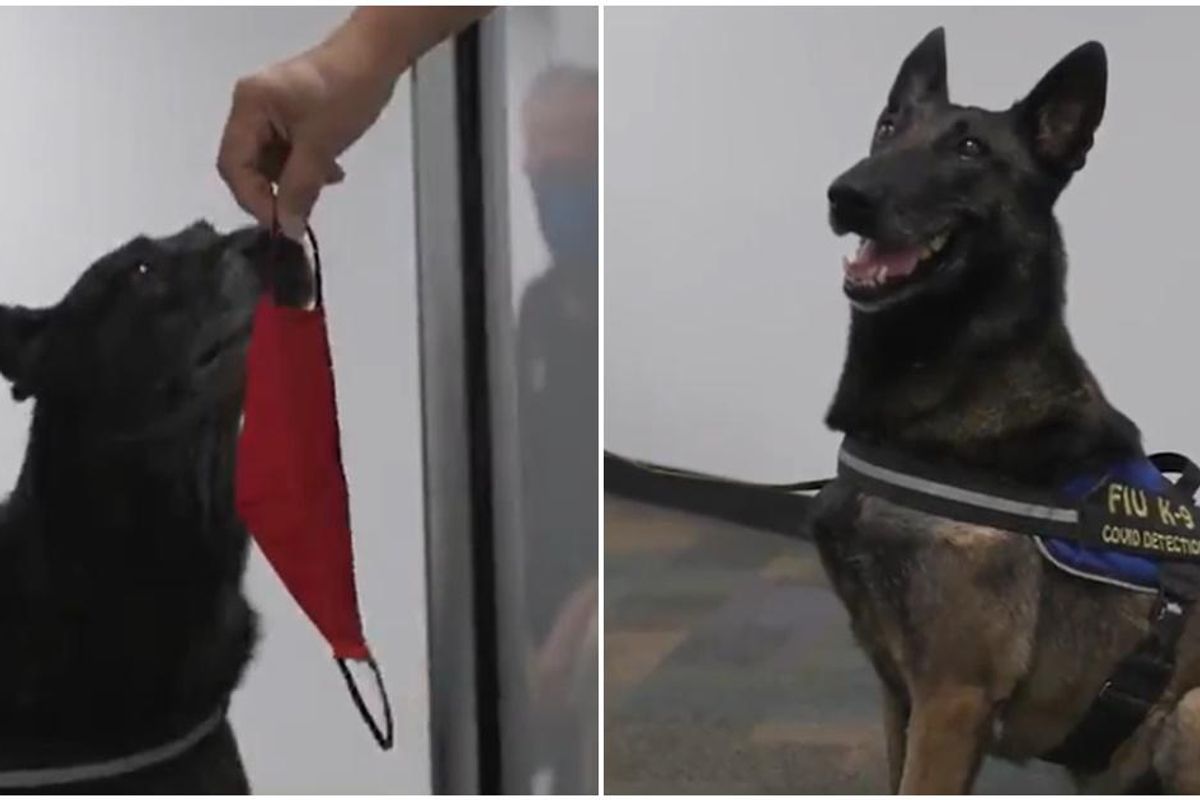 via Florida International University
A new 30-day pilot program at the Miami International Airport has enlisted man's best friend to help stop the spread of COVID-19. Cobra and Beta are among the world's first canines trained to sniff out the virus and they are using their skills to detect potentially infected travelers before they board flights.

"We're blessed in Miami-Dade County to have the first COVID-sniffing dogs — actually, we have a couple of them — and it's the first airport anywhere that's utilizing this type of technology in our four-legged friends," Miami-Dade Commission Chair Jose "Pepe" Diaz said, adding that they're a "big win for the community."
Early studies show they're incredibly good at their new jobs.
---
"The dogs are 97% accurate," an airport official said. "I mean, it's the same as a PCR test, so it's a great thing." The dogs have been trained to detect the scent of COVID-19 on face masks and when they come across the virus, they jump to alert their handlers.
The dogs are part of a program with Florida International University (FIU) and were taught to detect the virus by smelling face coverings from recovering COVID-19 patients at the Baptist Health South Florida hospital.
Researchers used ultraviolet light on the masks to kill the virus without eradicating its smell. Then the dogs were exposed to masks with and without the virus to learn how to differentiate between the two.
The dogs' trainers say they're one of the most reliable ways to detect the virus and they will not need special training to recognize new variants.
"The dogs generalize odors, so … the dog will pick up the different variants," FIU Provost Kenneth Furton said.
Although the research on dogs and COVID-19 isn't robust, there have been a few reports of dogs getting the virus. But according to the Centers for Disease Control, COVID-19 doesn't pose much of a risk to them.

"Of the pets that have gotten sick, most only had mild illness and fully recovered," the CDC says on its website. "Serious illness in pets appears to be extremely rare."
If this pilot program is successful it could be a huge win for public health. COVID-sniffing dogs could be used at just about any large gathering of people to detect those with the virus. Authorities could pull aside those who set off a dog's covid senses and they could be given a rapid test to confirm the results.
Cobra and Beta are able to detect the smell of COVID-19 because they have a sense of smell that is so developed it's nearly impossible for humans to imagine.
It's estimated that dogs can smell anywhere from 1,000 to 10,000 times better than humans. They have 100 million sensory receptors in their nasal cavities compared to a human's six million. The area of the canine brain that processes scent is 40 times larger than that of a human.
Let's hope that the test goes well and that man's best friend can give us one more option to protect ourselves from the coronavirus.