popular
A dog in Colorado is delivering groceries to his elderly neighbor with respiratory problems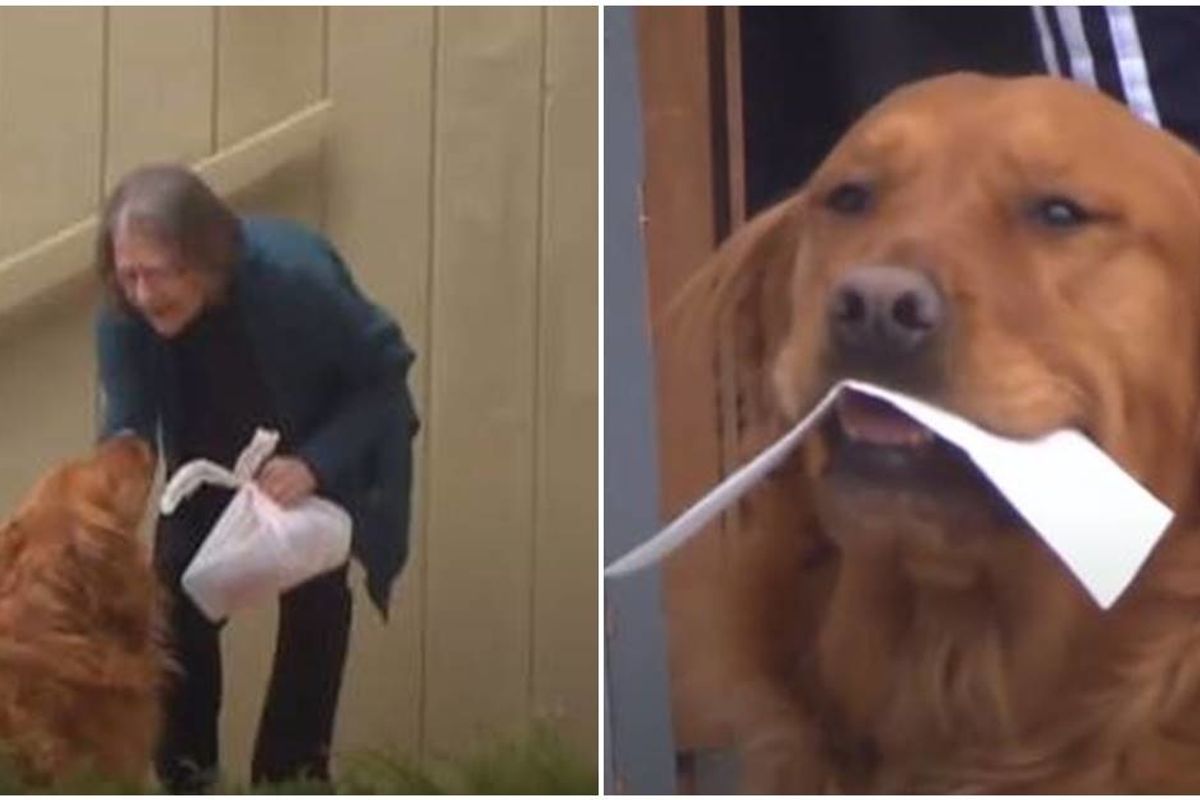 via KKTV
A dog in Colorado is doing his part to help during the coronavirus pandemic. Sunny, a golden retriever, has been delivering groceries to his neighbor, Renee, while she self-isolates.

Sunny's owner, Eveleth, and Renee have lived next to each other for over a decade.
Renee has respiratory problems so she uses an oxygen tank. The COVID-19 virus is especially deadly for people with respiratory problems because it creates inflammation and fluid build-up in the lungs.
People with chronic respiratory issues have some of the highest mortality rates from the COVID-19 virus.
---
The delivery process is simple: Eveleth sends Sunny over to Renee's house to get her shopping list. After Eveleth returns from the store, she gives Sunny the grocery bag and he delivers it next door to Renee.
"She got the list, she gave it to Sunny, Sunny brought it to me," Eveleth told KKTV. "I went to the store, got her her groceries, and he delivered them all to her."
Sunny has been making deliveries to Renee since the virus began to spread in the U.S. a few weeks ago.
"What a wonderful thing, just a sweet thing," Renee said. "So he started doing the schlepping, back and forth. It's been fun, it's been a real treat." Sunny seems to enjoy it, too. Renee gives him the equivalent of a doggy tip after each successful delivery by asking, "Who's a good boy?" and giving him a rub down.
Golden retrievers are bred to be bird dogs so they are great at fetching and returning items to people. The breed is eager to please so they are popular service dogs and often used on search and rescue teams. So delivering groceries comes naturally to dogs like Sunny.
Sunny's regular visits are also a great pick me up for Renee, who lives alone. "Little things like Sunny coming over to visit is nice and it makes you feel good," Renee said. "It's a way of communicating."
Plus, Sunny is safe for Renee to be around because dogs can't get COVID-19 or pass it to humans.
"There is no evidence that a dog, cat or any pet can transmit COVID-19," the World Health Organization said in a statement. "COVID-19 is mainly spread through droplets produced when an infected person coughs, sneezes, or speaks."
Eveleth hopes that the story of Sunny and Renee gives people something to smile about in these trying times.
"Anybody can do something small, that can be so helpful," she said.
The story of Renee and Sunny is a great example of neighbors helping each other in a crisis. It goes to show that even when people practice social isolation they can also help each other if they get a little creative. It also helps to have an amazing golden retriever like Sunny.