More
Heaven on Earth: This new theater in Texas is dog-friendly and serves all-you-can-drink wine.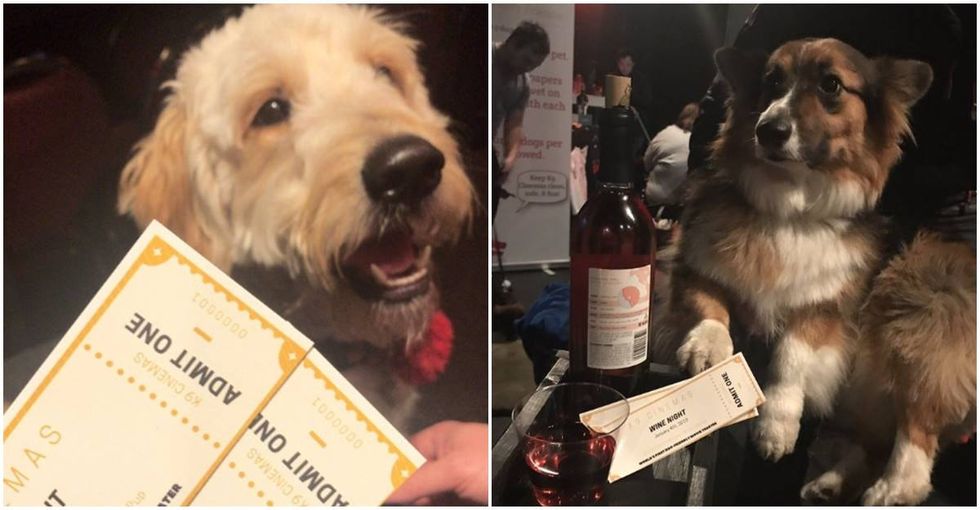 Eric Lankford, 29, a self-described "serial entrepreneur" has brought together three things that always deliver pure bliss: wine, dogs, and movies.
(Well, unless you drink too much cheap wine, your dog yaps incessantly, or bought tickets to see "The Hustle.")
---
In December 2018, Lankford opened K9 Cinemas, the world's first movie theater for dogs, and it serves unlimited wine.
The idea came to him after he got Bear, an Australian Eskimo puppy, in  2017. "I simply want to make other people as happy as Bear makes me," Lankford says on the K9 Cinemas Facebook page.
"When our customers come through our doors it's nothing but smiles and laughter. Do those same people have a ton of stress and problems at home or work? I bet they do."
"But when they're at K9 Cinemas snuggling up with their fur baby to a classic movie that all seems to fade away if only for a moment," he continued. "And to me that was worth building K9 Cinemas."
[rebelmouse-image 19561920 dam="1" original_size="1000x1000" caption="K9 Cinemas / Yelp" expand=1]K9 Cinemas / Yelp
The theater seats 30 humans who are allowed to bring in up two dogs each. Tickets cost $15 for humans 21 and over and that includes endless wine. Those who are under 21 are free and pay just $5 per pooch.
The theater shows older films that are dog-themed and family-friendly except for Saturdays when it screens an R-rated film. Each film includes an intermission so the doggies can get outside for a bathroom break.
The theater is also a great place for people with service dogs to take their pooches without having to worry if there will be an issue with theater staff or other patrons.