Well Being
Woman asks Twitter for 'the best thing you learned at therapy' and the responses are life-changing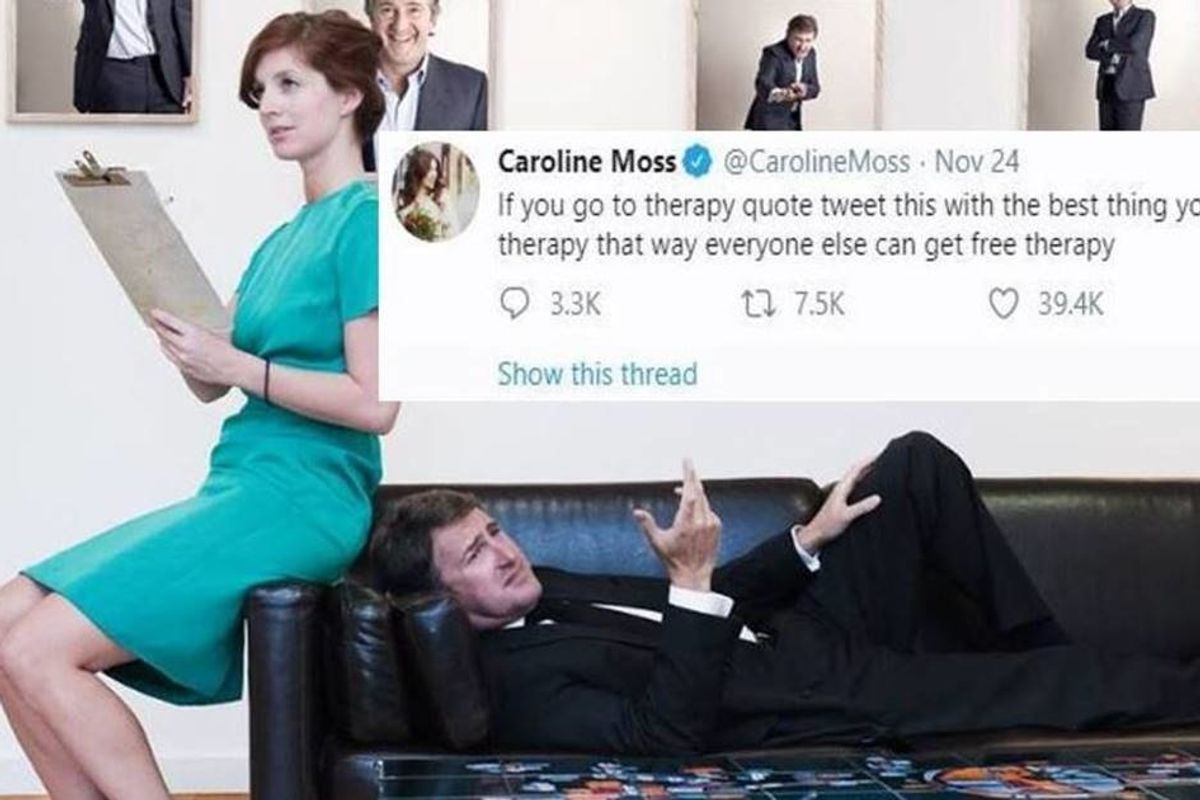 There is a mental health crisis in America. While the general public is increasingly aware of the benefits of seeking treatment for mental health, many don't have access to the system.

According to The National Council, 42% of Americans say that cost and poor insurance coverage is the number one barrier to getting help.
---
Fifty-three million American adults (21%) have wanted to see a professional but were unable to for reasons outside of their control.
To help people with mental health issues author Caroline Moss asked her Twitter followers to provide some free advice by sharing "the best thing you learned at therapy."
If you go to therapy quote tweet this with the best thing you learned at therapy that way everyone else can get free therapy
— Caroline Moss (@CarolineMoss) November 24, 2019
Moss is the writer of two books in her "Work It, Girl!" series and has written for The New York Times, New York Magazine, Cosmopolitan, The Hairpin, and VICE.
She received over 1,000 responses and many were about learning how to have a better relationship to one's thoughts and emotions.
Here are some of the most powerful responses:
It's okay not to be in control of absolutely every single tiny thing.

It is okay to accept help, especially when it isn't the type of help you were anticipating.

Breath. Focus.

What do you actually want from this scenario?
— Becs Cameron (@Pixies_Grace) November 25, 2019
"The problem is you are thinking rational when you are dealing with somebody who is irrational."
— Danny Deraney (@DannyDeraney) November 25, 2019
If you can imagine the worst thing, you can imagine the best thing. Both things are imaginary. Say outloud verbally the positive outcome, repeat until it feels more real.
— Jill (@OLCVTA) November 25, 2019
Don't react. Sit with it until you know what you feel. Sit with it.

Oh, if you do something to elicit a response from someone else, you are engaging in negative behavior. If you do something to respond to your needs, you're doing something positive.
— Annalee Gulley (@annaleegulley) November 25, 2019
Not a lesson I can articulate, but the question which prompted hours upon hours of introspection and thought: "Do you have an identity separate from your trauma?"
— carly madison taylor (@carma_t) November 25, 2019
Your thoughts/feelings/impulses are not you. They're neurological phenomena you've been conditioned to experience in response to stimulus. You can respond to them in one of four ways:
— josiah (@jgulden) November 25, 2019
• Reactively indulge them
• Reactively suppress them
• Consciously engage with them (if useful)
• Consciously release them (if not useful)

Reactive response are generally a product of trauma, but your agency to choose another response is largely a product of mental habits.
— josiah (@jgulden) November 25, 2019
Someone told me that Kristen Bell's therapist told her that honesty without tact is cruelty and I wrote it on a Post-It and keep it on my desk 😂
— Ester Bloom (@shorterstory) November 25, 2019
Every behavior is a need trying to be met.
— Katie Gallagher (@miskaten) November 25, 2019
Avoid saying "should". It's too easy to fall into pressuring yourself and pushing yourself too much. Reframe and rephrase.

"I should exercise" ➡️ "I like how I feel after exercise", "I should do laundry" ➡️ "I want clean clothes"
— 🦋 Katie 🦋 (@kappatau314) November 25, 2019
Thoughts aren't facts.
— carrie oakey (@carrioakee) November 25, 2019
The #BestThingATherapistSaid to me was to break everything down into smaller pieces. No, smaller. No, even smaller. The first step to taking a shower is walking to the bathroom.
— Susanna K. (@superflippy) November 25, 2019
Someone's very best effort at loving you still may not be the thing that you need. it doesn't mean they're not trying hard enough, or don't love you enough. It means that's all they're capable of doing. And you have to decide if that's what you're willing to live with.
— K J (@kjones912) November 25, 2019
Never compare yourself to other people but even more importantly never compare yourself to fantasy versions of how your life would've turned out had you made a different choice. That's the most dangerous mind game of all.
— Ron Drescher (@rondrescher) November 25, 2019
You don't have to believe every thought that enters your head.
— Kate Arends (@witanddelight) November 25, 2019
Also:

Anger is pain pretending to be powerful.

Behind every complaint is a desire. Say what you desire instead.

The brain is like a wheat field. Old pathways are worn and easy to tread. You have to choose a new path again and again before it becomes the easier one to walk.
— Catherine W-L (@CatherineLynneW) November 25, 2019
I told my therapist, after several weeks of anxiety reduction, that maybe I'm someone who never will be "happy". And she told me that happy people aren't continuously happy. Happy people just experience less anxious and depressed days, and that definition helped me reach "happy".
— Jess Ondras (@JessOndras) November 25, 2019
Anxiety is not intuition
— Hurricane Merry (@Merry_Quinn) November 25, 2019
Every emotion, chemically-speaking, lasts 90 seconds. If you keep engaging, the emotion will continue to "fire" and reset this. If you distract yourself, you can deactivate the initial reaction. This is helpful in processing trauma, in particular/ why grounding techniques work.
— Rachel Zader aka fake Jessica Jones (@RachelZader) November 26, 2019
Best therapy quote I've ever received?

"Stop trying to make people happy who clearly prefer to be miserable."
— Maggie RomComDojo (@RomcomDojo) November 25, 2019