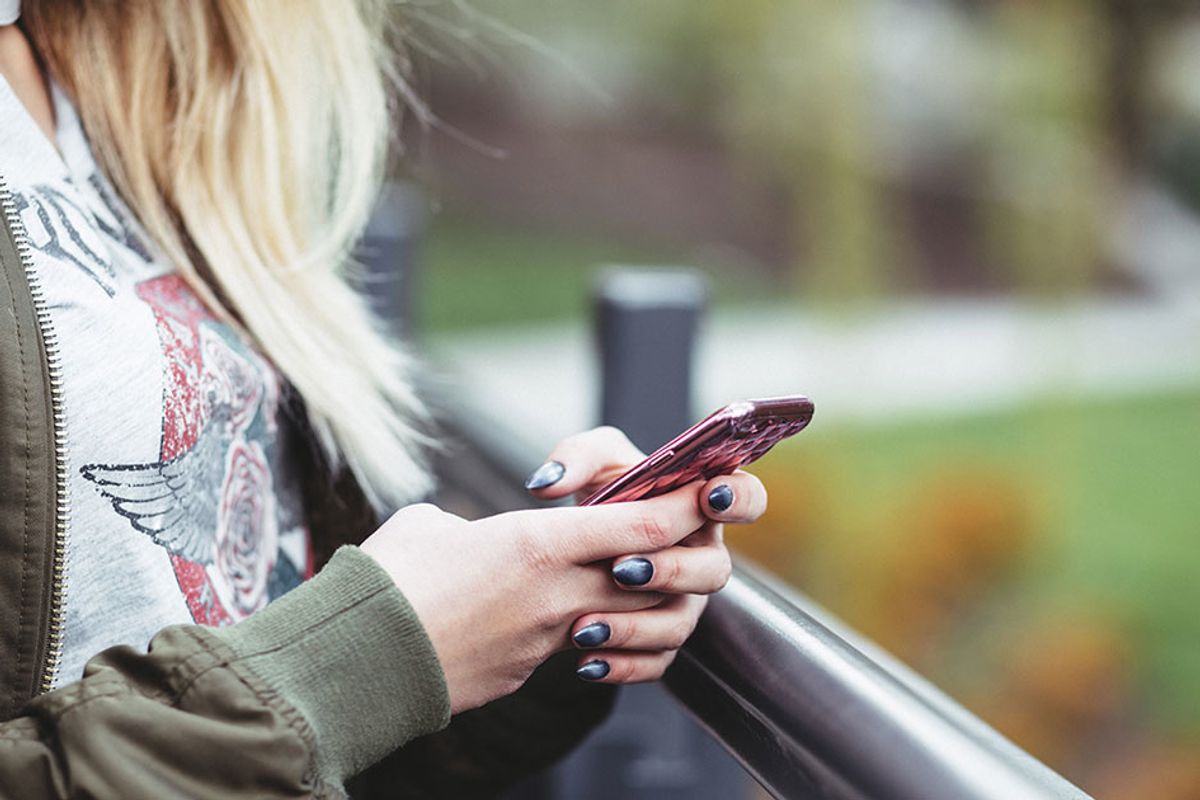 Photo by freestocks.org on Unsplash
Being a woman means living in constant fear of being sent a dick pic. They could come from anywhere at any time. You don't even need to be on a dating app. One day, you're minding your own business, then Bam! A dick pic just slid into your DMs on Twitter. You didn't ask for it. It's just there in full glory.
Now, all womankind has a new hero. Researchers at the University of Washington are working on an AI to detect and delete dick pics.
This is why we need more women in STEM.
It all started when Kelsey Bressler received an unsolicited dick pic on Twitter, and then posted about it. A friend approached Bressler about creating an AI that will detect, then delete dick pics before you get a chance to feel like your eyes need a shower. "When you receive a photo unsolicited, it feels disrespectful and violating," Bressler told the BBC. "It's the virtual equivalent of flashing someone in the street. You're not giving them a chance to consent, you are forcing the image on them, and that is never OK."
---
Nothing like waking up to an unsolicited dick pic 😐

— K E L S E Y (@K E L S E Y)1567275651.0
In order to test out the AI, the team set up an inbox on Twitter, then asked men to "send nudes for science." Pretty quickly, they had to shut down the inbox because it got flooded with responses.
I'm soliciting dick pics at the handle @showyodiq . This is not a joke. I am testing a filter that is under deve… https://t.co/P2Stekhh6y

— K E L S E Y (@K E L S E Y)1567695480.0
I've shut my DMs for now so that we can evaluate results and make some tweaks to the filter. Will let you know when… https://t.co/g6uQac57pZ

— safeDM (@safeDM)1567783136.0
The AI successfully has been able to spot 95% of "vanilla penis pictures" submitted to it, although it has been tricked a few times. "There was an entire penis coated in glitter, so it looked metallic," Bressler told Slate. "Someone submitted a picture of their penis in a little penis cage — didn't catch that one. And someone else put their penis in a hot dog bun."
The filter let one (caged) penis through . Works great on free range penises though! Testing is off to a great sta… https://t.co/ONVXMYpzif

— K E L S E Y (@K E L S E Y)1567716066.0
Bumble recently came out with a feature that detects dick pics and other inappropriate photos, but for the most part, tech companies haven't done enough to tackle the penis problem. "Our intent was to make something to prove it can be made," Bressler told Slate. "If it takes two random people coming in and making a solution, then we should ask, 'why aren't companies taking this more seriously?'" Bressler has been told to close her DMs, but it's not an adequate solution. [W]e should not have to shut ourselves off to the world because some people do not know how to behave," Bressler told the BBC.
Thank you to the dozens of folks who've suggested I close my DMs to prevent abuse. I know your heart is in the ri… https://t.co/LsbJ3O7pgZ

— K E L S E Y (@K E L S E Y)1567699100.0
Bressler isn't alone when it comes to receiving unwanted anatomical photos. According to You Gov, one in four millennial men have sent a dick pic at some point in their lives, and 24% of those men have sent dick pics without being asked to do so. Over half (53%) of millennial women have received a dick pic. And 78% of those women said the dick pic was unsolicited.

Technology has made it easier for men to assault women. It's about time we have the technology to keep women safe from being flashed.