Pop Culture
'Top Gun: Maverick' is apparently a total Gen X win and frankly, we deserve this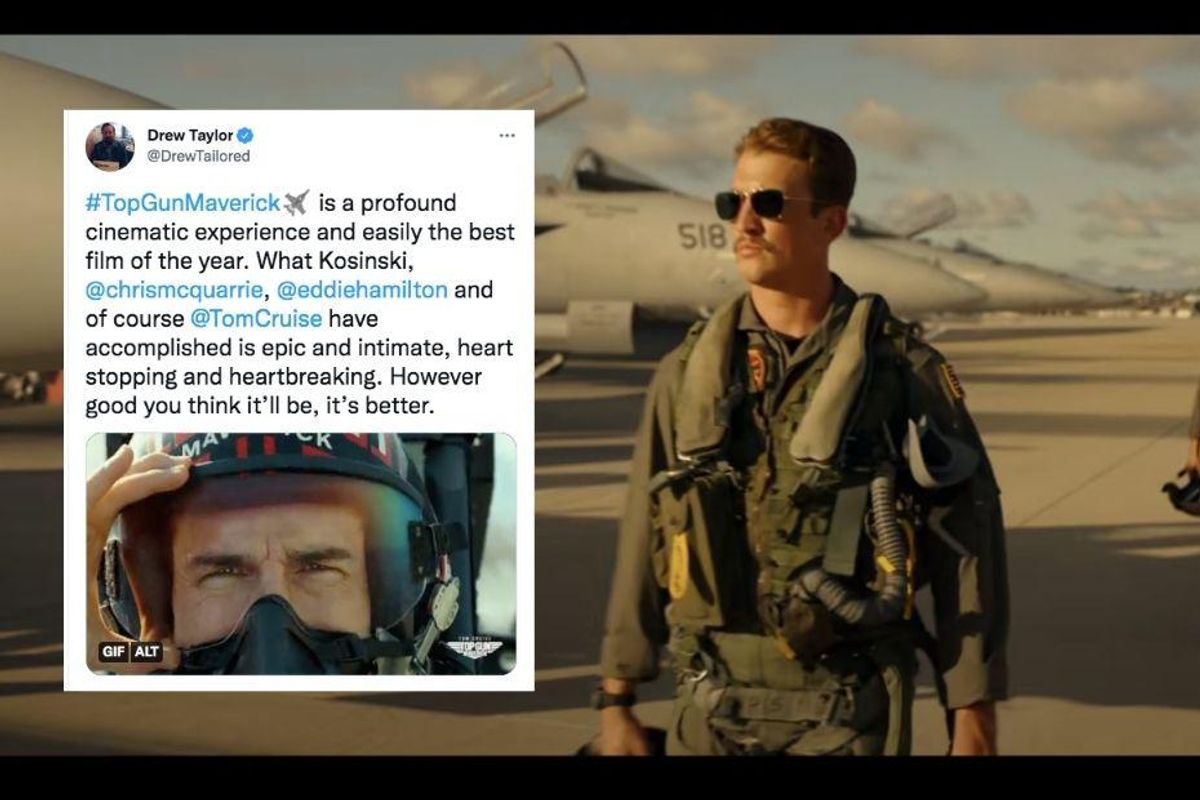 If you're anything like me, when you heard that a "Top Gun" sequel was being made nearly three decades after the original, you may have rolled your eyes a bit. I mean, come on. "Top Gun" was great, but who makes a sequel 30 years later and expects people to be excited? Especially considering how scrutinizing both audiences and critics tend to be with second films.
Then I saw a trailer for "Top Gun: Maverick," and was surprised that it looked … super not terrible. Then more and more details about the film emerged, then more trailers and behind-the-scenes footage were released, then early reviews started rolling in and … you guys. You guysssss. I don't know how the filmmakers managed to pull it off, but everything about this film looks absolutely incredible.
And frankly, as a member of Gen X who saw the original "Top Gun" at least a dozen times, I could not be more thrilled. We deserve this win. We've been through so much. Many of us have spent the better part of the past two decades raising our kids and then spent the prime of our middle age dealing with a pandemic on top of political and social upheaval. We've been forgotten more than once—shocker—in discussions on generation gaps and battles. So to have our late-'80s heartstrings plucked by an iconic opening melody and then taken into the danger zone in what reviewers are saying is the best blockbuster in decades? Yes, please.
---
I was concerned that "Maverick" might not be as good as the initial trailer looked, but the vast majority of film critics who have screened it have said it will exceed everyone's expectations. It got a five-minute standing ovation at the Cannes Film Festival over the weekend. More than one reviewer has used the word "perfect" to describe it. Seriously.
Check out this sampling of rave reviews:

"I'm stunned, STUNNED at how absolutely outstanding TOP GUN: MAVERICK is! Perfect pace, thrills, cast, chemistry!!!" – Rob Liefeld.
"As soon as #TopGunMaverick ended, I wanted to watch it again. And again. And again. One of the greatest sequels of all time." – Cameron Frew.
"Yes I'm gonna say it and I don't care who disagrees. #TopGunMaverick is a perfect movie. They don't make movies like that anymore. You wait and see. Your expectations of this movie should be higher than you think." – Kristian Harloff
"TOP GUN: MAVERICK is the perfect blockbuster. Not only did it feature dazzling aerial combat sequences, but I actually cried, it's that emotional. And call me crazy, but I humbly predict that it WILL land a Best Picture nod next year. It's not just THAT good, it's VERY good." – Jeff Sneider
Have you seen the trailer? You have to watch this trailer. (Goose's son. Oh. My. Gracious.)
I'm not a big fan of rah-rah military movies, nor am I a fan of testosterone-filled bro films. I'm not even a huge Tom Cruise fan, so the fact that I can't wait to see "Top Gun: Maverick" has come as a surprise to some people who know me. I can't help it. I loved the intensity and excitement of the original and from everything I've seen and read, this movie outdoes its predecessor in every way.
"Top Gun," only better? Be still my cynical Gen X heart.
To understand why this is a movie that must be seen in the theaters, check out how they had the actors actually go through naval training and fly in the fighter jets to film the action scenes. So incredible.
In theaters May 17. Can. Not. Wait.