More
This surprise Elton John duet with the actor playing him in a new movie is breathtaking.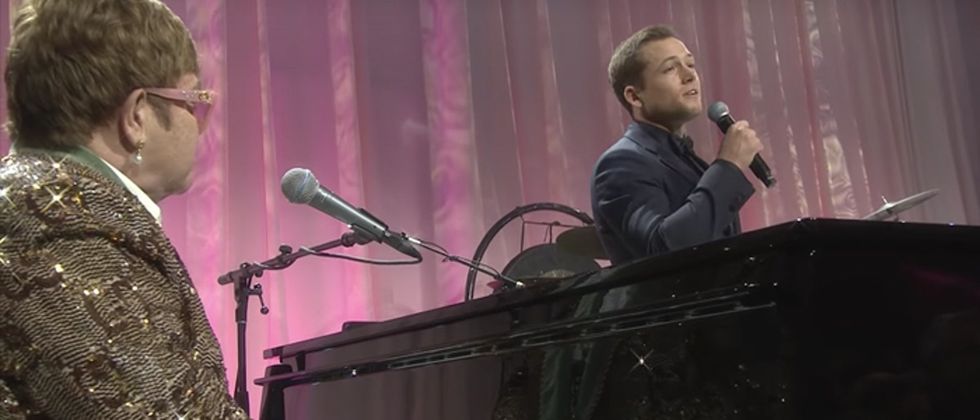 We're still glowing from the magic that was Bohemian Rhapsody but 2019 might have something even more special in store for music fans.
Dexter Fletcher, the same director who stepped in to save the troubledBohemian Rhapsody production, is behind Rocketman, which is being described as an "unconventional" take on the rise of Elton John's music career.
Back in November, we got a taste of what the movie might be like with this viral commercial highlighting some of Elton John's career milestones. That came right on the heels of the teaser trailerfor the film.
---
But the best evidence yet for the film's potential came in a real-life performance over the weekend.
As Slashfilm pointed out, while Remi Malek was being celebrated for mostly lip-syncing his way throughBohemian Rhapsody, fellow actor Taron Egerton has learned to sing in an eerily perfect imitation of Elton John for Rocketman.
Things got really incredible on Sunday when John hosted his annual fundraiser for HIV/AIDS research.
Youcan support the Elton John AIDS Foundation here.
Egerton was there in support and was asked to step up and deliver a performance of Elton John's classic song "Tiny Dancer." He agreed but on one condition: Only if Elton joined him on piano. The legendary musician agreed and magic ensued.
Seriously, this is amazing.
But think how strangely wonderful it must have been for Elton John himself, literally singing with someone who is a dead ringer for him, at least in vocal performance: