Identity
High school senior's viral yearbook quote is a masterclass on self acceptance
It's poignant on so many levels.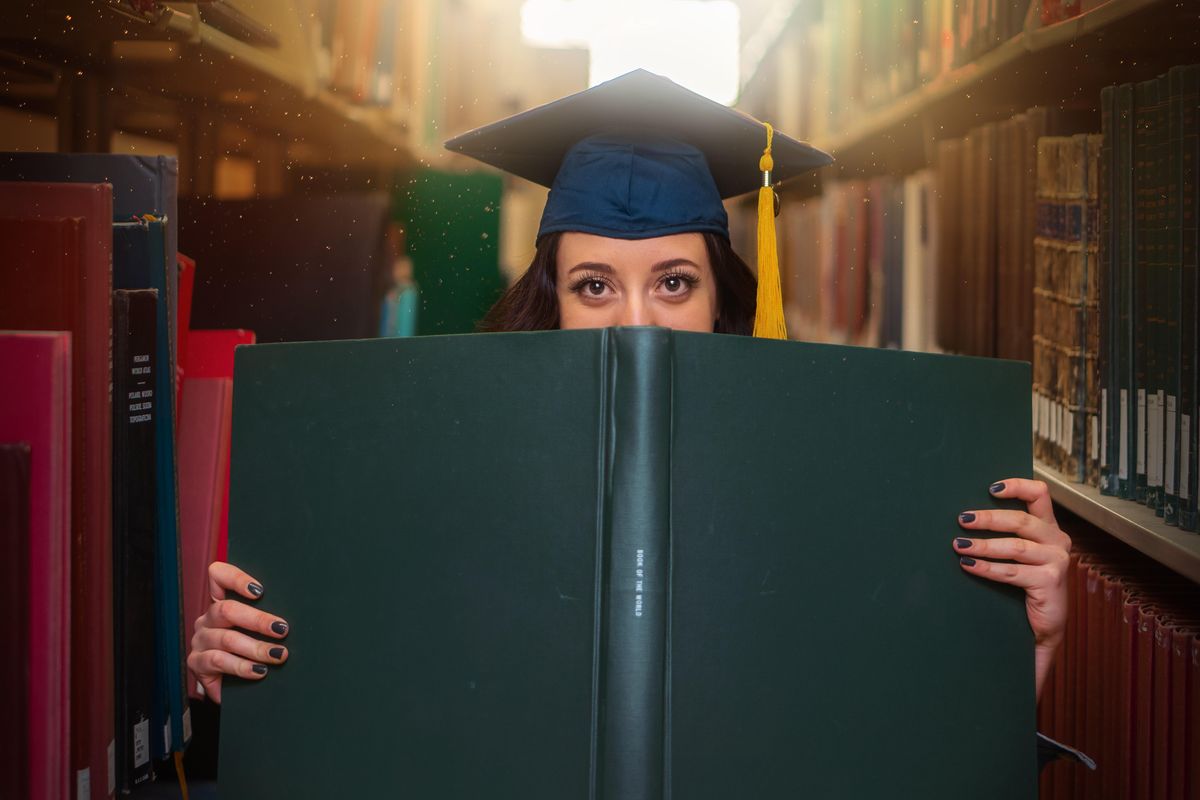 Remember your senior yearbook quote?

I remember mine. Like you (probably), I spent weeks wracking my very teenage brain about something special and clever to put down.
And then I had it: My school's quote had to do with what students' future plans were and, thinking myself particularly smart and charming, I'd written, "Mark plans to outwit cartoon animals." Not that great, right?
---
But it got even worse. Because my handwriting was so bad, the person in charge couldn't read what the heck I'd written. And so I spent the next two weeks trying to explain to anyone who'd listen that "Mark plans to go out with cartoon animals" was an embarrassing typo that did not at all speak to my social interests.
Sometimes yearbook moments don't turn out right. But one student recently got her clever quote completely perfect. She nailed it.
I hesitate to use the word "internet icon" more than once or twice a month — they come and go so fast! — but if anyone deserves the title, it's Krysta Montoya, an 18-year-old from New Mexico who went all in on her quote. I promise you, it is very good.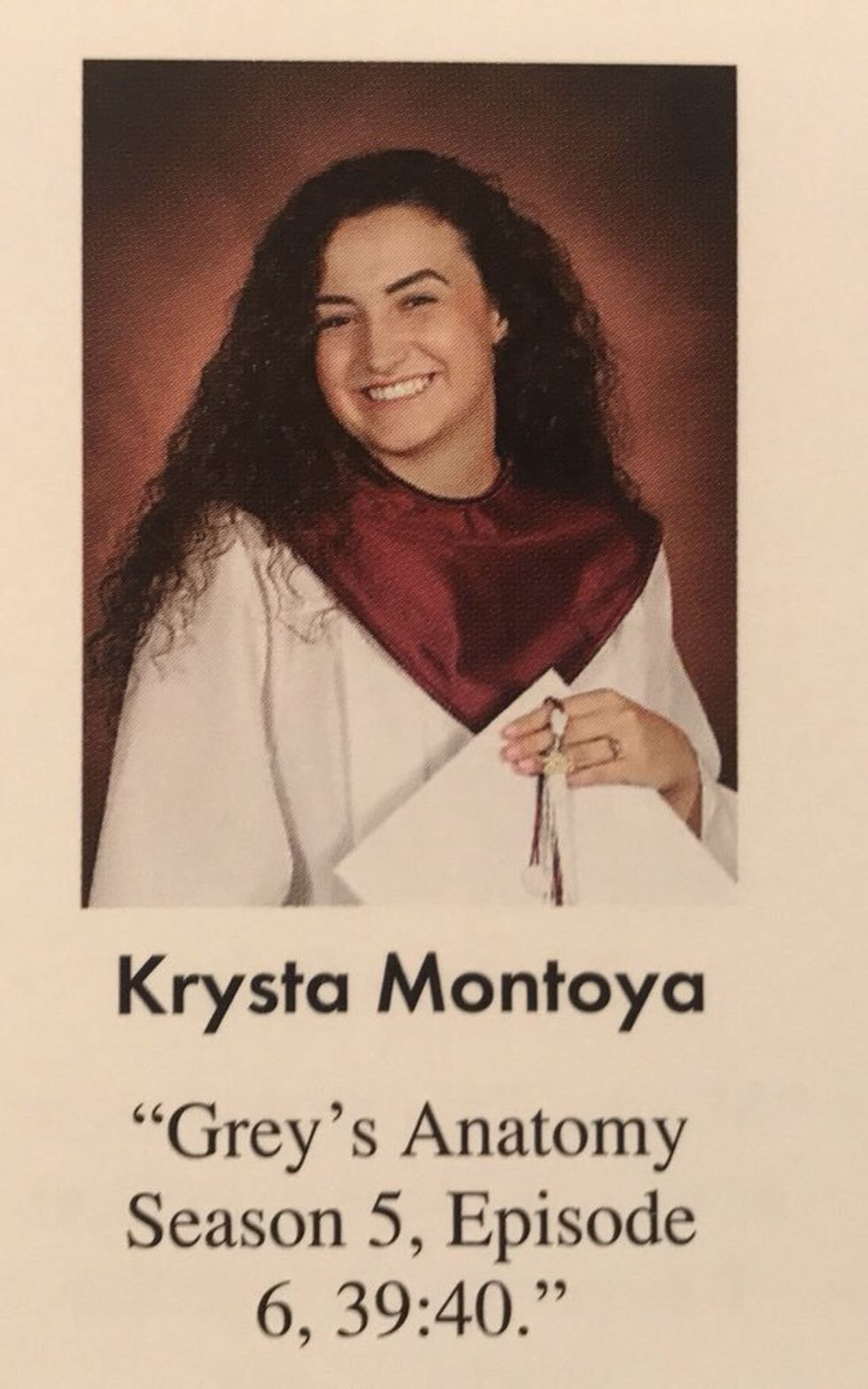 If you're not familiar with "Grey's Anatomy," it's that show about the hospital you probably shouldn't go to because everyone's too busy fighting and staring at each other sexily to actually save lives. (Sorry, but it's true.)
And because it's so rife with drama, this heavily coded message could be about any number of truly fantastic events that have happened in the show's many seasons.
Does it refer to the time that Christina Ricci unexpectedly showed up as a guest star? Or the time there was a ghost haunting the hospital? Or the time — OK, I might be remembering this incorrectly — someone actually stole a heart so she could keep the man she loved alive?
This quote is about so much more than that. And it's actually a beautiful message of self-love and acceptance.
No, you don't need to go through the entire series for the answer (could be fun, though). After people started asking, Montoya revealed on Twitter what the line actually meant.
And here's what I mean about it being iconic: It's meaningful, but it's also sassy AF, which is what the kids are saying these days, I think.
\u201cJust because everyone keeps asking me what my quote is. Here ya go.\u201d

— Krysta Ann\ud83e\udee0 (@Krysta Ann\ud83e\udee0) 1525116026
The scene is one in which character Erica Hahn realizes she's a lesbian. But Montoya wasn't using the quote to come out — or, as "Queer Eye" culture expert Karamo Brown would say, "let people in." Montoya, who often posts tweets of herself and her girlfriend, has been open about her sexuality since her freshman year.
But an opportunity to reaffirm herself using her favorite show? She wasn't going to let that pass by.
"I chose this as my quote because I feel some people do not accept who I am. I just wanted to basically make a bold statement," she told Business Insider. "I've lost some friends over my sexuality, but my family has always supported me."
The response to the quote has been overwhelming. And Montoya's using the opportunity to spread the word about living your best life.
Overall, Montoya is surprised by the reaction she's gotten. She says that she chose to code her message so school officials wouldn't cut it from the yearbook, but she didn't really expect anyone else to care. "A lot of friends I don't talk to came out and told me how cool and awesome it was!" Montoya tells Upworthy.
As for her peers who may not be so accepting? Montoya isn't bothered. Though she told BuzzFeed that her statement was bold in that it threw subtle shade at those who have never accepted her sexuality — some, she'd said, told her she'd be dating a guy by senior year — she believes that one can't live and die by the acceptance of others.
"I don't really need anyone's acceptance, just my family's," she says. "I'm happy with who I am. If my peers don't believe so, that's their choice."
And she's got a message for others who might be struggling with their own identities or figuring out how to be themselves: "Live your life, be happy," she says. "You are not living in this world to make anyone else happy but yourself. You deserve to be you, and you deserve to be the happy version of you."
Man, that would make a great senior quote, too.
This article originally appeared on 05.03.18