More
This debate over the minimum-wage is going viral after a blunt commenter set the record straight.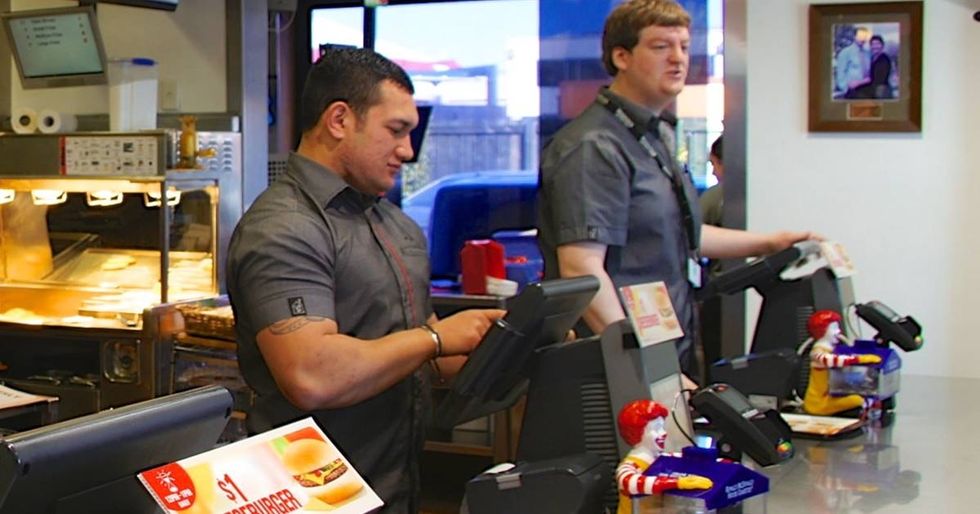 A Facebook discussion is going viral because of the blunt way a commenter set the record straight about minimum-wage workers.
The post, which can be found on the r/MurderedBywords subreddit, is the perfect reaction to someone making the popular, but incorrect, assumption that minimum-wage jobs are intended for teenagers.
It started with a commenter committing the "burger-flipper" fallacy.
---
"I have no problem with wage increases, but I don't really believe you should be able to make house payments flipping burgers and bagging groceries. Those jobs are meant to be teens first jobs to make some money and learn responsibilities, not create careers."
The "Murderer," as they are known on the subreddit, fired back with the original goal of the Labor Standards Act as stated by President Franklin Roosevelt in 1933:
"No business which depends for existence on paying less than living wages to its workers has any right to continue in the country." and "By living wages I mean more than a bare subsistence level — I mean the wages of decent living."
He then went into detail about the backbreaking work minimum-wage workers endure in one of America's most dangerous industries: fast food.
"It WAS intended that someone flipping burgers and bagging groceries should be able to afford a home. These jobs were NEVER intended to be for teens. Also, if teens are doing real work they deserve real wages, do you have any idea how common burns are in the fast food industry? How many back injuries there are from unloading trucks and stocking shelves at a grocery store? How about the sheer, unbridled psychological abuse heaped on retail workers by shitty customers? Why is someone risking 3rd degree burns from a paycheck (often to help their family because their parents aren't earning enough) not deserving of an honest days wage?"
The "Murderer" then got personal.
Your view is shitty, and its factually just plain wrong. You should feel bad for putting forth the effort to actually type this self-centered nonsense.
Here's the entire exchange: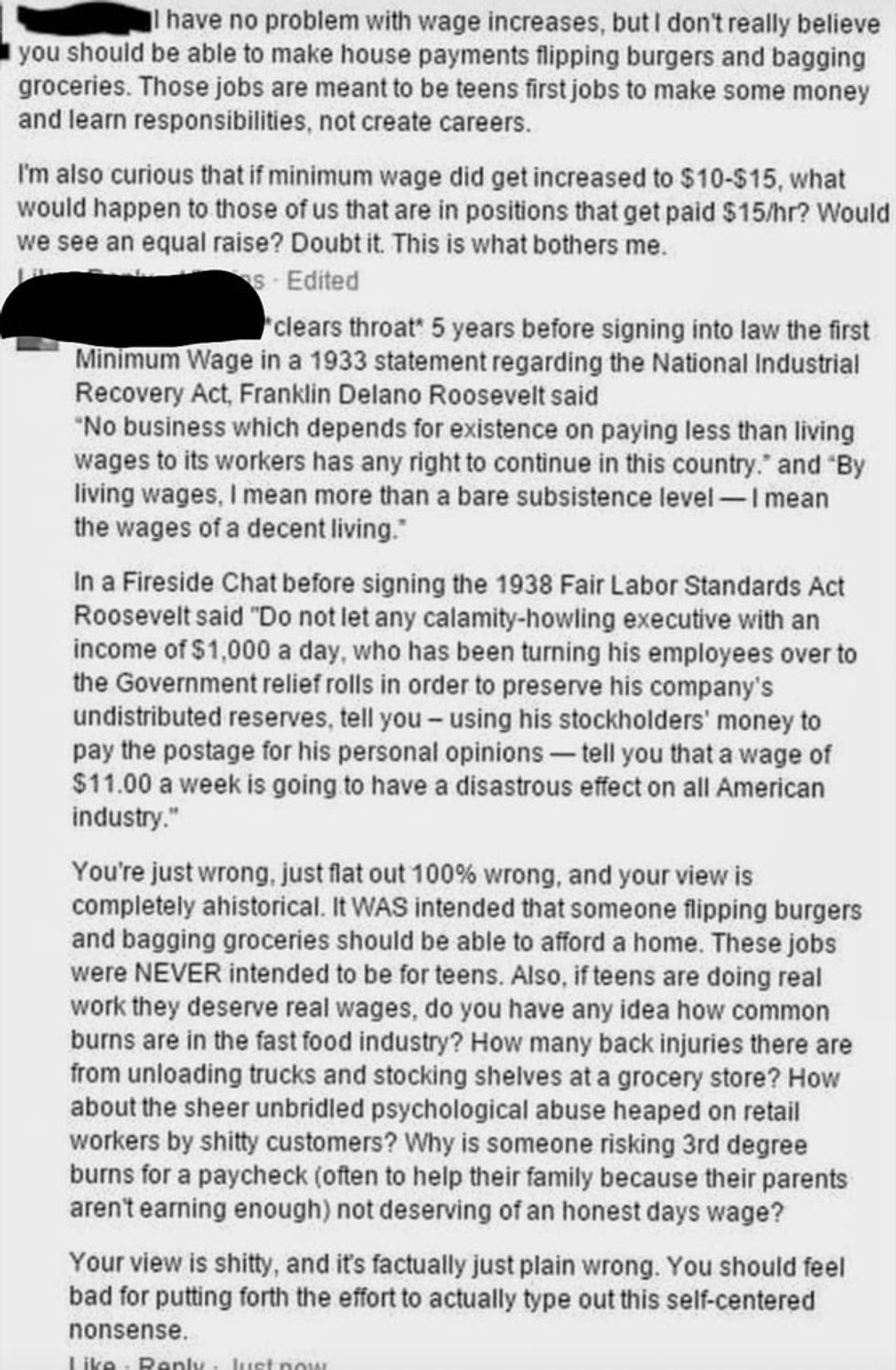 via Reddit.
Contrary to popular belief, minimum wage jobs aren't intended for teenagers. According to The New York Times, the average age of a minimum wage worker is 35, and 88% are at least 20 years old. Half are older than 30, and about a third are at least 40.
Minimum-wage employees aren't only in the fast food industry, they are childcare workers, home care assistants, cashiers, lifeguards, manicurists, card dealers, and janitors, to name a few.
As long as minimum-wage jobs are seen as "intended for teenagers," it's easier for the needs of low-income workers to be dismissed.
The federal minimum wage is just $7.25 an hour and hasn't risen since 2009. According to Business Insider, if the minimum wage had kept up with the American average wage growth today's would be $11.62.
There are five states that have no minimum wage requirements so workers receive the federal minimum. California, Massachusetts, and Washington are the states with the highest minimum wages in the country at $12 and the District of Columbia's is $13.25.
Several cities have recently gone to a $15 minimum wage, including Seattle and San Francisco.
Studies show that minimum wage increases are often accompanied by a small increase in unemployment, but the impact is generally positive for the economy. Minimum-wage earners see an increase in buying power, employers enjoy less turnover, and people become less reliant on public assistance.
However, preliminary studies show that raising the minimum wage as high as $15 may not benefit all minimum-wage workers. A study out of Seattle found that increased labor costs forced some employers to redistribute work hours based on experience.
After the minimum wage increase, employees who worked the most in the months leading up to the change saw a $84 a month raise on average, while those who worked less saw only a $4 more a month.
Inexperienced workers fared the worst by being priced out of the job market altogether.
"For folks trying to get a job with no prior experience, it might have been worth hiring and training them when the going rate for them was $10 an hour," Jacob Vigdor, an economist at the University of Washington, told The New York Times.
As with any public policy, the minimum wage isn't an exact science. Lawmakers and labor advocates have to settle on a number that's right for the region and its economic realities so workers get the greatest benefit.