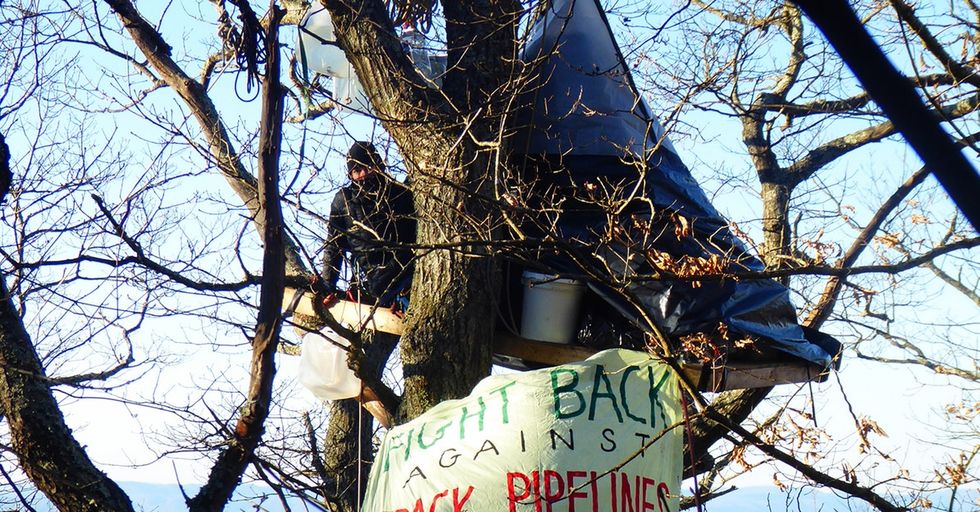 When Abigail peeks out from her perch — a wooden platform dangling high in a tree on a mountain ridge in West Virginia — she sees a nearly picture-perfect landscape.
She points out roaming farm animals and watches cars drive the few country roads that border the Jefferson National Forest. "The sunsets are incredible," Abigail describes. "And it's pretty peaceful when the winds aren't too strong."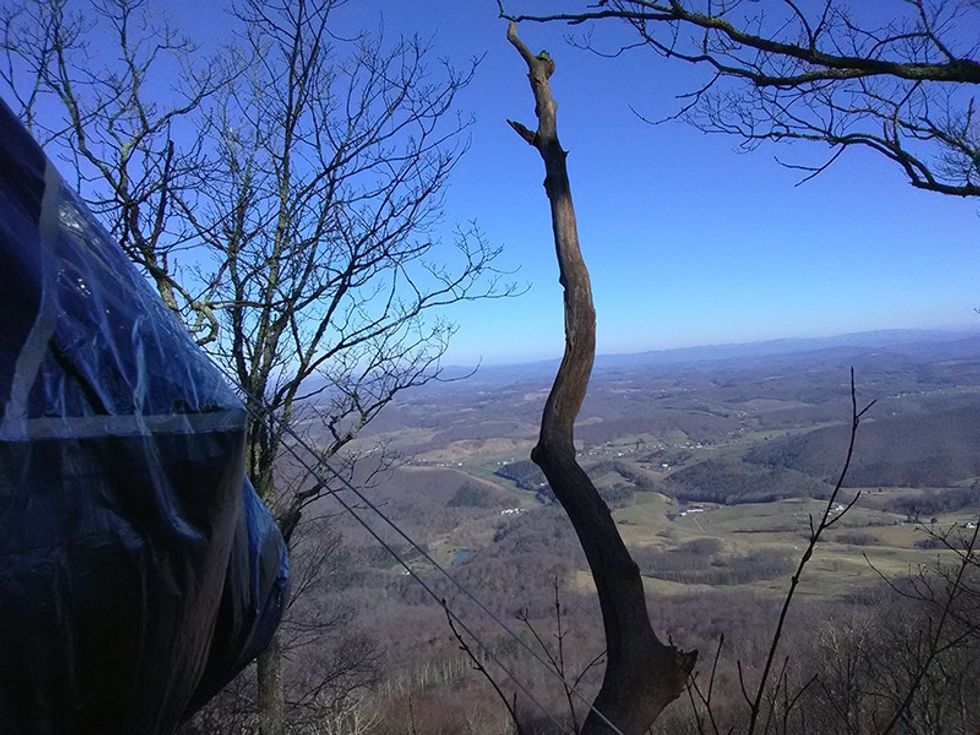 Photo courtesy of Appalachians Against Pipelines.
Local supporters have been so grateful for the tree-sitters that just a couple weeks ago, they held a spaghetti dinner fundraiser in support.
That evening, dozens of folks gathered in a church basement to eat, talk with friends and neighbors, and contribute to the cause on Peters Mountain. Crabtree's granddaughters ran a table complete with markers and construction paper where well-wishers could write thank-you notes to be delivered up the ridge.
Up in her oak tree, Abigail recounts tales of the past three years, which she has spent opposing this pipeline.
"It got to the point where we had tried all these options to fight this," she reports. "We talked to our representatives. We tried running our own candidates. We wrote letters to the editor. We had people sign petitions. Didn't work, didn't work, didn't work. This is the only thing I feel like I have left."
This fight comes at a time of widespread and increasing resistance to pipelines and other destructive fossil fuel projects around the country and the world.
Just east of the MVP route, folks are fighting the Atlantic Coast Pipeline, a natural gas pipeline that — among a multitude of other issues — has a compressor station planned for Union Hill, Virginia, a community built by the descendants of freed slaves.
Down in Louisiana, the Bayou Bridge Pipeline is scheduled to cross 700 bodies of water, including a reservoir that supplies drinking water to the United Houma Nation and 300,000 Louisiana residents. This is the tail end of the Dakota Access Pipeline, which thousands protested last year at Standing Rock.
The list goes on: Mariner East 2, Rover, Line 3, Trans Mountain. But so do the stories of people rising up in the face of this ongoing destruction of land and communities.
"I don't have a lot to lose being in this tree," Abigail shares, as she settles into her sleeping bag for another night on the mountain. "But as a young person and person from this region, I do have a lot to lose with this pipeline."
Peters Mountain treesit in path of Mountain Valley Pipeline - with drone footage

Check out this drone footage of the tree sit! There's also footage here of trees being felled in the snowstorm on Monday right up to the base of the sit.Currently, the only thing physically standing in the way of pipeline construction is the treesit on Peters Mountain. People in trees are doing what our "representatives" and "regulators" refuse to do — they're protecting land, water, and communities of Appalachia from corporations that believe their money gives them the right to pillage this land and pollute our water.Please donate to support pipeline resistance in Appalachia: bit.ly/SupportMVPResistance

Posted by Appalachians Against Pipelines on Tuesday, March 13, 2018
For updates from resistance to the Mountain Valley Pipeline, follow Appalachians Against Pipelines and Farmlands Fighting Pipelines on Facebook. To learn about some of the other pipeline fights mentioned here, follow No Bayou Bridge, Makwa Initiative, and Camp White Pine.