Culture
Tennessee Cracker Barrel refuses service to pastor-cop who preaches that LGBTQ people should be executed.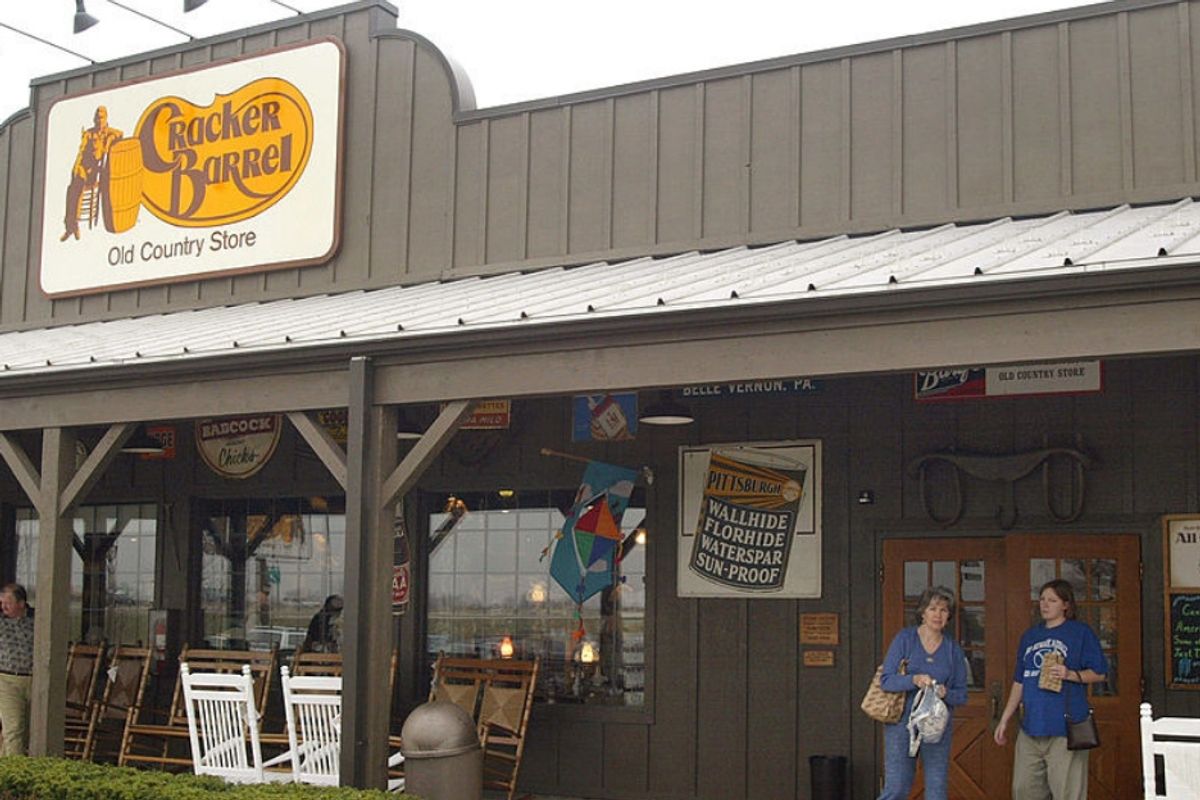 Tim Boyle/Getty
If you wonder why the LGBTQ community holds Pride parades, look no further than Grayson Fritts.
If you don't know who Grayson Fritts is, here's a brief intro:
He's a pastor. He's a police officer. And he is on video screaming from the pulpit that the government should kill gay people.
That's not an exaggeration.
In a video of a fist-pounding sermon at All Scripture Baptist church in Knoxville, Tennessee, Fritts said that police should round up people at Pride parades, put them through a quick trial, and then put them to death.
---
"The Bible says the powers that be are ordained of God," he said, "and God has instilled the power of civil government to send the police in 2019 out to these LGBT FREAKS and arrest them. Have a trial for them, and if they are convicted then they are to be put to death…do you understand that? It's a capital crime to be carried out by our government. Not Christians...unless you're a policeman. Know what I mean? If you're a policeman it should be your responsibility to carry these things out."
Just FYI, this man was named "Detective of the Month" in 2017. Let that sink in for a hot second.
"Pride parades?" he continued. "Hey, call the riot teams. We got a bunch of 'em, Get the patty wagon out here, we got a bunch of 'em going to jail, we got a bunch of them that we're gonna get convicted because they've got their pride junk on and they're professing what they are, that they're a filthy animal. After this onslaught, where the government's arresting them and carrying out God's laws and they're all dead…"
And that's only part of it. You can watch five minutes of the sermon here, though I don't actually recommend it.
🚨NEW VIDEO: @knoxsheriff's Detective Grayson Fritts - also a pastor - calls for the government to arrest and EXECUT… https://t.co/bXxAostfBw

— The Tennessee Holler (@The Tennessee Holler) 1560381570.0
P.S. The church's website states that the church is "a family integrated church, meaning children of all ages are welcome in our services." So presumably, this extremist, violent hate speech was being delivered to children as well as adults. Lovely.

Grayson Fritts and his church planned a meeting for June 29 at a Cracker Barrel in Cleveland, Tennessee. The restaurant said, "Nope."

The church website lists a "Small Town Soul Winning" event for June 29 in Cleveland, Tennessee, about 80 miles southwest of Knoxville. Presumably, that's why Fritts and members of his church were planning an event at the local Cracker Barrel in town.
But according to Knox News, Cracker Barrel has turned away Fritts and his gang, citing the chain's zero-tolerance policy for "discriminatory treatment or harassment of any sort."
Cracker Barrel said it told the church it couldn't hold its event at their restaurant. "We disagree strongly with their statements of hate and divisiveness," the restaurant chain said in a statement. "We serve everyone who walks through our doors with genuine hospitality, not hate, and require all guests to do the same."
For the folks who would say, "But isn't that just Cracker Barrel discriminating against Fritts for his religious beliefs?" No. If the restaurant had said he and his fellow "Christians" couldn't eat there because they were Christian, that would be religious discrimination. It is Fritts' discrimination, hate speech, and advocating of violence that violates the company's policy of service, not his stated religious affiliation.
Businesses have the right to refuse service to customers that pose a threat other customers. No doubt, LGBTQ people eat at Cracker Barrel. Would you feel safe in an enclosed space with a presumably armed man who believes—and tries to convince others—that you should be put to death?
In a capitalist society that values free speech, businesses taking a stand can be a powerful statement.
We can debate all day long about whether hate speech should be protected under the First Amendment, but as of now, it is. One could make the argument that Fritts was inciting violence with his speech—which would make such speech not protected—but the fact that he was advocating for the government to do the violence and not for citizens to take it upon themselves may legally shield him from that argument.
I know that seems weird, but such are the realities of free speech.
However, the First Amendment only protects us from the government squashing our freedom of expression. It does not mean that a business or private entity can't decide that someone's speech is too heinous to allow in their space. Speech is not protected from other people calling you out on what you say. It's not protected from businesses or institutions deciding you're too much of an a-hole to do business with.
No one needs to be tolerant of dehumanization. No one needs to be tolerant of someone calling for innocent people's deaths because of who they are attracted to. No one should stand for that, ever.
Good for Cracker Barrel for making it clear that there is no place for such hatred at their tables.