Democracy
Ted Cruz tried to lecture Australia on vaccinations. It didn't end well for him.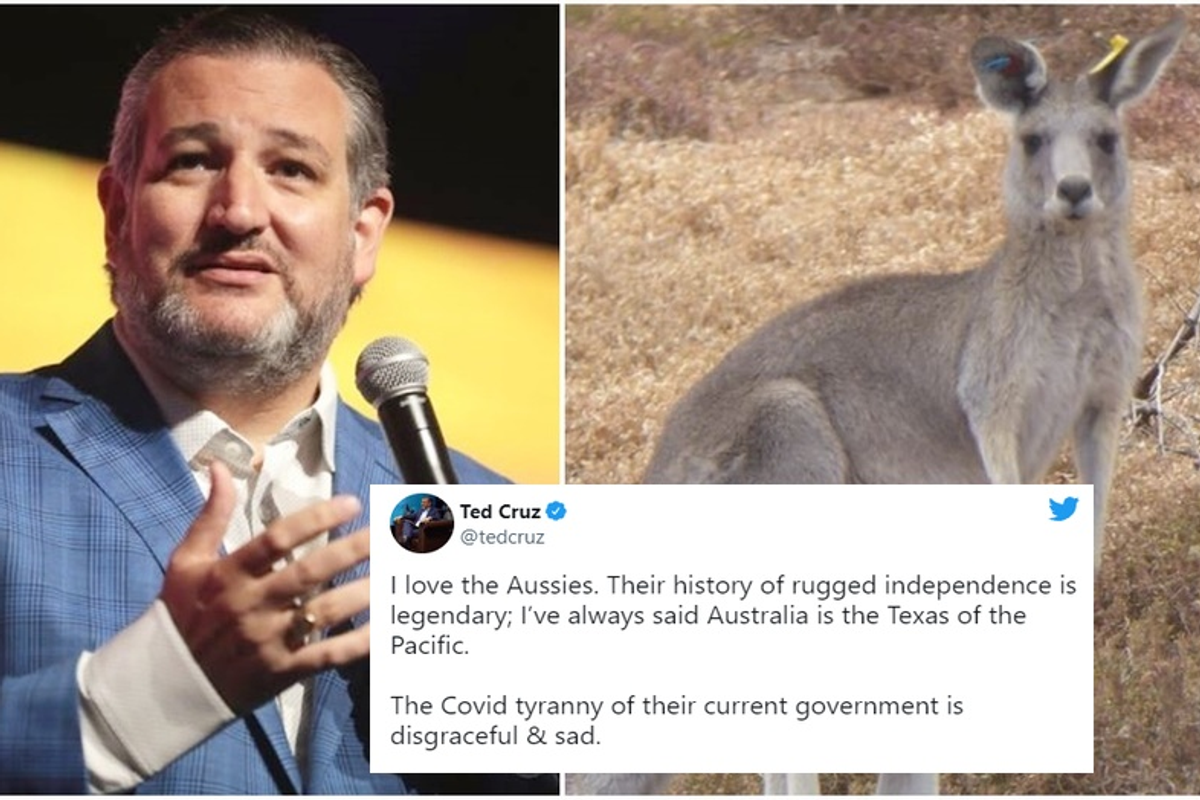 via Gage Skidmore/Flickr and Terry Morgan/Flickr
Conservative media in the United States has painted Australia as a state on the brink of authoritarianism due to strict COVID-19 protections in some parts of the country. These news outlets appear to be using the country as an example of what can happen in America if liberal politicians go unchecked.

Fox News' Tucker Carlson ran a story on Australia earlier this month claiming the country "looks a lot like China did at the beginning of the pandemic." He ended it by saying that "what's happening in Australia might be instructive to us in the United States" and that things can "change very quickly" and become "dystopian and autocratic."
Carlson provides zero reasons why Americans should be fearful of becoming an autocratic country due to COVID-19, beyond the idea that "things can change very quickly" so his appeals sound a lot more like fear-mongering than genuine concern.
---
Florida governor Ron De Santis–whose state's COVID-19 death rate is some 50 times Australia's–suggested that the U.S. should reconsider its diplomatic relations with Australia, asking whether it was freer than China.
While conservative media in the U.S. bemoans the state of Australia, people living Down Under don't care much for their concerns. Polls show that the vast majority of Australians support vaccine mandates, presumably because they don't want their fellow countrymen to die.
Texas Republican Senator Ted Cruz got in on the Australia bashing last week when he posted a tweet featuring a video of Australia's Northern Territory Chief Minister Michael Gunner announcing the country's latest vaccine mandates.
Gunner had announced that anyone who serves the public in hospitality, gyms, retail or any other customer-facing industries must get their first coronavirus vaccine within a month or face a $3,750 (5000 Australian dollars) fine.
"I love the Aussies. Their history of rugged independence is legendary; I've always said Australia is the Texas of the Pacific," Cruz wrote before adding, "The Covid tyranny of their current government is disgraceful and sad. Individual liberty matters. I stand with the people of Australia."
Gunner responded to Cruz on Twitter, educating him on the effectiveness of vaccines and how compared to Australia, Texas is a complete disaster when it comes to protecting people from the virus.
G'day from Down Under @tedcruz. Thanks for your interest in the Territory. I'm the Chief Minister. Below are a few… https://t.co/kOI3wRqTtb

— Michael Gunner (@Michael Gunner) 1634528825.0
"Hey Ted Cruz, g'day from the Northern Territory in Australia. Here are some facts. Nearly 70,000 Texans have tragically died from COVID. There have been zero deaths in the Territory. Did you know that?" he wrote before adding, "Vaccination is so important here because we have vulnerable communities and the oldest continuous living culture on the planet to protect. Did you know that?"
He then added, "We don't need your lectures, thanks mate. You know nothing about us. And if you stand against a life-saving vaccine, then you sure as hell don't stand with Australia. I love Texas (go Longhorns), but when it comes to COVID, I'm glad we are nothing like you."
The difference between Texas and Australia is staggering when it comes to the number of people who've died due to COVID-19. Australia has a population of 25.7 million and has had 147,275 total cases and 1,558 total deaths due to COVID-19.
Texas, on the other hand, has a similar population of 29 million but has 3,474,092 cases and 68,043 fatalities. That's more than 45 times the death rate.
Cruz can bash Australia all he wants, but if he actually loved the people of Texas, he'd care a bit more about their health. Few people have much use for liberty when they're dead or stuck on a ventilator.