Ryan Reynolds is a funny guy.
People in LA are deathly afraid of gluten. I swear to god, you could rob a liquor store in this city with a bagel.

— Ryan Reynolds (@Ryan Reynolds)1483813666.0
Really, though. His jokes alone are a good reason to join Twitter.
I'd walk through fire for my daughter. Well not FIRE, because it's dangerous. But a super humid room. But not too humid, because my hair.

— Ryan Reynolds (@Ryan Reynolds)1441992788.0
But behind the laughs, the "Deadpool" star lives with a more sobering reality: the daunting effects of anxiety.
Reynolds has opened up about living with anxiety before. But in a new interview with The New York Times, the actor shed even more light on what he's experienced living with the mental health condition and how he copes with its at times devastating hold.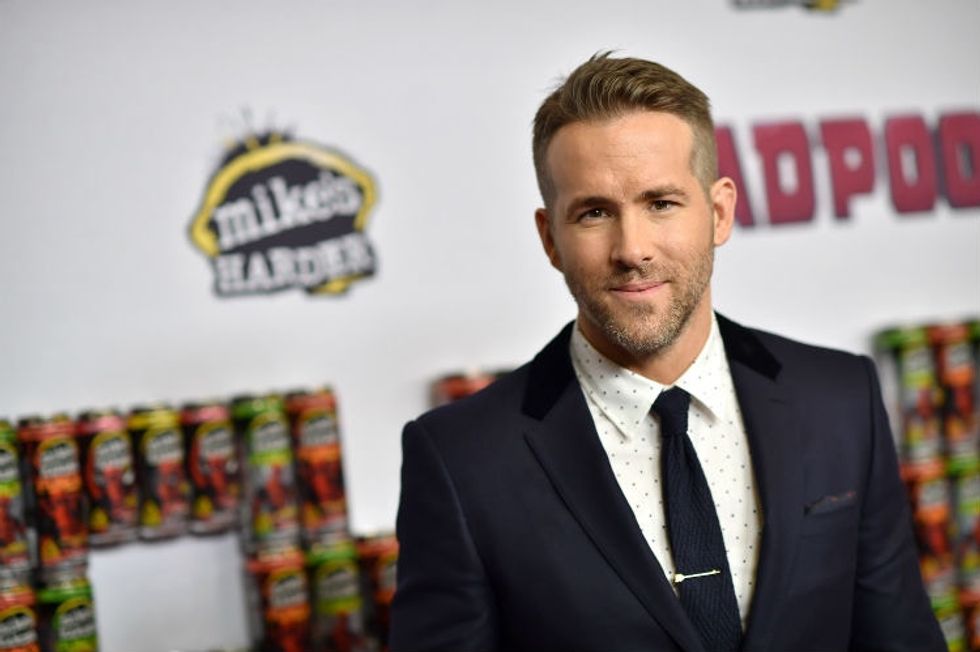 Photo by Dimitrios Kambouris/Getty Images.
<h2>"I have anxiety," Reynolds <a href="https://www.nytimes.com/2018/05/02/movies/ryan-reynolds-deadpool-2.html" target="_blank">explained to The Times</a>. "I've always had anxiety."</h2><p>"Both in the lighthearted, 'I'm anxious about this,' kind of thing,'" he continued, "and I've been to the depths of the darker end of the spectrum, which is not fun."</p><p>Reynolds isn't alone at the darker end of that spectrum. <strong>About 18.1% of adults in the U.S. — 40 million people — <a href="https://adaa.org/about-adaa/press-room/facts-statistics" target="_blank">live with an anxiety disorder</a></strong>, according to the Anxiety and Depression Association of America. The organization reports it's the most common form of mental illness in the country. </p><p>Though occasional bouts of anxiety are a normal part of being human, the <a href="https://www.mayoclinic.org/diseases-conditions/anxiety/symptoms-causes/syc-20350961" target="_blank">Mayo Clinic notes</a> that "people with anxiety disorders frequently have intense, excessive, and persistent worry and fear about everyday situations."</p><p><strong>Reynolds believes his anxiety stems, at least in part, from his childhood in Vancouver, Canada. "</strong>Our father was tough," he <a href="http://variety.com/2017/film/features/ryan-reynolds-deadpool-golden-globes-1201951103/" target="_blank">told Variety</a> in 2016: </p><blockquote>"He wasn't easy on anyone. And he wasn't easy on himself. I think the anxiety might have started there, trying 
to find ways to control others by trying to control myself. At the time, I never recognized that. I was just a twitchy kid."</blockquote><p class="shortcode-media shortcode-media-rebelmouse-image"><img type="lazy-image" data-runner-src="https://assets.rebelmouse.io/eyJhbGciOiJIUzI1NiIsInR5cCI6IkpXVCJ9.eyJpbWFnZSI6Imh0dHBzOi8vYXNzZXRzLnJibC5tcy8xOTUzMjg5MS9vcmlnaW4uanBnIiwiZXhwaXJlc19hdCI6MTYyNDcyMTM0MX0.ltLZ9rNgxgGhCEF6lkwVWt7-xe5ooE5h40ox0bmjRXw/img.jpg?width=980" id="7e434" class="rm-shortcode" data-rm-shortcode-id="ea4e4ce580f91caf28b1ebdae0103a79" data-rm-shortcode-name="rebelmouse-image"><small class="image-media media-caption" placeholder="add caption...">Photo by Matt Winkelmeyer/Getty Images.</small></p><p><strong>As an adult, he said his anxiety has manifested in many ways. </strong>He used to wake up in the dead of night, gripped with irrational panic over his future. When he starred on the ABC sitcom <a href="https://www.imdb.com/title/tt0137330/" target="_blank">"Two Guys, a Girl and a Pizza Place"</a> two decades ago, he'd often warm-up the live studio audience — not to selflessly loosen up fans, but to re-focus "the energy of just wanting to throw up," he <a href="https://www.nytimes.com/2018/05/02/movies/ryan-reynolds-deadpool-2.html" target="_blank">told The New York Times</a>.</p><p>The actor can remember self-medicating in his early 20s as an attempt to avoid the symptoms associated with anxiety, saying, "I was partying and just trying to make myself vanish in some way."</p><h2>Reynolds plans on doing many of his upcoming "Deadpool 2" promo interviews in character — <em>not</em> to get laughs, he explained, but to temper his anxiety. </h2><p>Even after decades in the spotlight, the actor's anxiety elicits a unique kind of dread before interviews and talk show appearances. Emulating Deadpool's sardonic stage presence helps him feel a bit more comfortable.</p><p>"When the curtain opens, I turn on this knucklehead, and he kind of takes over and goes away again once I walk off set," he <a href="https://www.nytimes.com/2018/05/02/movies/ryan-reynolds-deadpool-2.html" target="_blank">told the Times</a>. "That's that great self-defense mechanism. I figure if you're going to jump off a cliff, you might as well fly."</p><p>Reynolds also uses a meditation app, <a href="https://www.headspace.com/" target="_blank">Headspace</a>, to stay calm and — after years of living with anxiety — confidently reminds himself ahead of appearances that the awful feelings will soon pass. </p><p><strong>If you're in Reynolds' boat, there's no need to feel helpless.</strong> Everyone's anxiety is different, so there's not a one-size-fits-all approach to treatment, but the Mayo Clinic has some advice for those living with its effects: Take part in activities you enjoy, avoid drugs or alcohol (which can worsen symptoms), and consider reaching out for help from a medical professional.</p><p><em>To learn more about anxiety, visit the <a href="https://www.mayoclinic.org/diseases-conditions/anxiety/symptoms-causes/syc-20350961" target="_blank">Mayo Clinic's website</a>.</em></p>