More
The time has come to defend women's right to choose.
It's been a tough start to 2017 for abortion rights.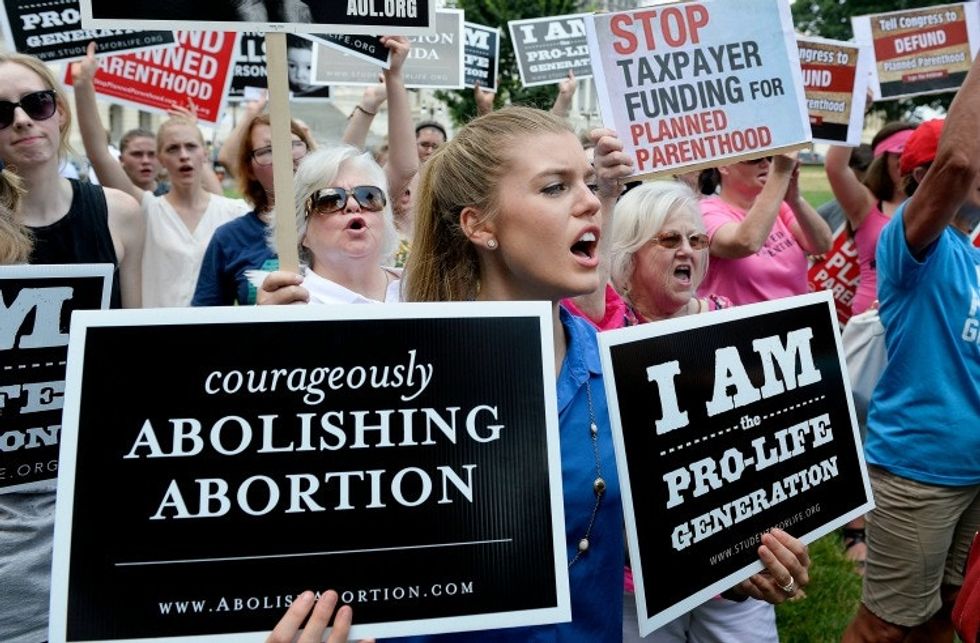 Just days into office, President Trump reinstated the Reagan-era "global gag rule" that strips aid to nongovernmental organizations that offer (or even discuss) abortion services with patients. On Jan. 24, the House of Representatives approved a bill that would make the anti-abortion Hyde Amendment permanent. Trump's choice for secretary of Health and Human Services is staunchly anti-choice. And Rep. Steve King (R-Iowa) introduced a "heartbeat" ban on abortion (almost certainly meant to provoke a legal challenge to the Supreme Court's Roe v. Wade decision).
<h2>Like I said, it's been a <em>tough</em> start to the year for abortion rights — and it's only January. </h2><p>With so much happening all at once, it's easy to feel lost and unsure how best to show your support. Luckily, there are ways. Many ways. </p><p>First off, it's important that those of us who support reproductive rights recognize that we're not alone. <strong>According to the <a href="http://www.pewforum.org/2017/01/11/public-opinion-on-abortion-2/" target="_blank">Pew Research Center</a>, the majority of Americans (57%) believe abortion should be legal in all or most cases, the highest level of support in more than 20 years.</strong></p><p>So let's say that you're part of that 57%. Now what? </p><h2>Here are nine real things you can do and groups you can support in the fight for abortion rights in the U.S.</h2><h2>1. Support national and local abortion funds by donating or participating in fun fundraising campaigns.</h2><div id="d7776" class="rm-shortcode" data-rm-shortcode-id="WMG0B81559346736"><blockquote class="twitter-tweet twitter-custom-tweet" data-twitter-tweet-id="824432930881761280" data-partner="rebelmouse"><div style="margin:1em 0">From Kelsea: Ending Stigma Requires Unconditional Support https://t.co/Z2X6auTvQ4 @AbortionStories @NCAbortionFund… https://t.co/FSonEGmIg3</div> — NNAF Abortion Funds (@NNAF Abortion Funds)<a href="https://twitter.com/AbortionFunds/statuses/824432930881761280">1485395102.0</a></blockquote></div><p>Most people who want to support family planning, abortion rights, and factually accurate sex education donate to Planned Parenthood. And that's great! Keep doing that! But if you want to support an organization specifically to help make <em>abortion</em> more accessible, you should check out the The <a href="https://abortionfunds.org/individual-membership/" target="_blank">National Network of Abortion Funds</a> (NNAF). Abortion funds help individuals who need abortions, but can't afford them, pay for them. When you donate to the NNAF, your money is going directly to help people exercise their constitutionally protected right to an abortion.</p><p>In the past, people have found creative ways to help fundraise for abortion funds. For example, there's the <a href="http://tacoorbeerchallenge.tumblr.com/how" target="_blank">Taco or Beer Challenge</a> modeled after the Ice Bucket Challenge. Another fun way to help is by signing up for events like the annual <a href="https://org2.salsalabs.com/o/6713/p/salsa/donation/common/public/?donate_page_KEY=13925" target="_blank">National Abortion Access Bowl-a-Thon</a> (which will be back this April).</p><div><div class="push-wrapper--mobile" data-card="image" data-reactroot=""><img type="lazy-image" data-runner-src="https://assets.rebelmouse.io/eyJhbGciOiJIUzI1NiIsInR5cCI6IkpXVCJ9.eyJpbWFnZSI6Imh0dHBzOi8vYXNzZXRzLnJibC5tcy8xOTQ3Mjc1My9vcmlnaW4uanBnIiwiZXhwaXJlc19hdCI6MTYwMjg0MDU1NX0.V3xDAvKd_tw_Qbhc_aqa-EKGk-fJ5fHRdLVStstSLD8/img.jpg?width=980" id="c4e64" class="rm-shortcode" data-rm-shortcode-id="b9e7703a91391f08687eada25a69302d" data-rm-shortcode-name="rebelmouse-image"><div class="image-caption"><p>A graphic from the 2016 TOBC. Image from <a href="http://tacoorbeerchallenge.tumblr.com/shareable">NNAF/Tumblr</a>.</p></div></div></div><p>The NAFF centers around tenets of intersectionality, autonomy, collective power, and compassion for people in need of abortion. The group provides support to around 70 organizations throughout the country (many of which you can <a href="https://abortionfunds.org/need-abortion/" target="_blank">donate to directly</a> if you'd like — they'd probably appreciate that).</p><h2>2. Support reproductive rights and abortion advocacy organizations.</h2><p>There is a long list of groups fighting for safe, legal, and accessible abortion throughout the U.S. — some better known than others. Of course, there's <a href="https://www.istandwithpp.org/" target="_blank">Planned Parenthood</a> (a group that seems to be <a href="https://www.istandwithpp.org/defund-defined" target="_blank">under near constant attack</a> from anti-choice politicians), <a href="http://www.prochoiceamerica.org/" target="_blank">NARAL Pro-Choice America</a>, the <a href="https://prochoice.org/about-naf/support-naf/" target="_blank">National Abortion Federation</a>, and the <a href="https://www.reproductiverights.org/our-issues/abortion" target="_blank">Center for Reproductive Rights</a>.</p><div id="7d647" class="rm-shortcode" data-rm-shortcode-id="CRXOGJ1559346736"><blockquote class="twitter-tweet twitter-custom-tweet" data-twitter-tweet-id="824320436704083971" data-partner="rebelmouse"><div style="margin:1em 0">No matter who you are or where you live, you can resist attacks on our health, rights &amp; communities:… https://t.co/yTfHgNEJk0</div> — Planned Parenthood Action (@Planned Parenthood Action)<a href="https://twitter.com/PPact/statuses/824320436704083971">1485368281.0</a></blockquote></div><p>Other organizations to consider supporting include the <a href="http://now.org/issues/abortion-rights-reproductive-issues/" target="_blank">National Organization for Women</a>, the <a href="http://www.aclu.org/ReproductiveRights/" target="_blank">American Civil Liberties Union</a> (ACLU), <a href="http://allaboveall.org" target="_blank">All* Above All</a>, <a href="http://www.aisfor.org/donate/#sthash.Tj70bZOL.dpbs" target="_blank">A is For</a>, <a href="https://www.yourbackline.org/" target="_blank">Backline</a> (known for their <a href="https://www.yourbackline.org/find-support/talkline/" target="_blank">national pregnancy talkline</a>), the <a href="http://seachangeprogram.org/our-work/" target="_blank">Sea Change Program</a> (a group working to reduce stigma), <a href="http://urge.org/" target="_blank">Unite for Reproductive &amp; Gender Equality</a> (URGE), the <a href="http://blackrj.org/" target="_blank">National Black Women's Reproductive Agenda</a>, the <a href="https://www.lilithfund.org" target="_blank">Lilith Fund</a> (helping abortion-seekers in Texas find access), <a href="http://www.dktinternational.org" target="_blank">DKT International</a> (the largest family planning organization in the developing world), the <a href="http://www.havencoalition.org/" target="_blank">Haven Coalition</a> (a New York-based group providing travel and lodging assistance for women traveling to New York for an abortion), the <a href="https://donate.nwhn.org/donate" target="_blank">National Women's Health Network</a>, the <a href="http://wgnrr.org/" target="_blank">Women's Global Network for Reproductive Rights</a> (WGNRR), <a href="http://www.ipas.org/" target="_blank">Ipas</a> (a group dedicated to ending preventable deaths and disabilities from unsafe abortion), <a href="https://www.pciglobal.org/violence-against-women/%20" target="_blank">PCIGlobal</a> (a group focused on ending physical, sexual, and mental violence against women), and the <a href="https://latinainstitute.secure.nonprofitsoapbox.com/donate" target="_blank">National Latina Institute for Reproductive Health</a>.</p><h2>3. Participate in abortion storytelling campaigns.</h2><p>You or someone you know has almost certainly had an abortion. While the "1 in 3" estimate that's often tossed around is <a href="https://www.washingtonpost.com/news/fact-checker/wp/2015/09/30/the-stale-claim-that-one-in-three-women-will-have-an-abortion-by-age-45/?utm_term=.e8db8ccb171b" target="_blank">almost certainly a bit high</a>, the fact is that abortion is more common than you probably think. Unfortunately, abortion remains pretty stigmatized by society, and that's why it's so important that those who are willing and able to speak up about their experiences do so. </p><div id="d64be" class="rm-shortcode" data-rm-shortcode-id="E628KG1559346736"><blockquote class="twitter-tweet twitter-custom-tweet" data-twitter-tweet-id="820700507974955009" data-partner="rebelmouse"><div style="margin:1em 0">Writing @ the path to overturn #Roe in my new fav sweatshirt from #shoutyourabortion. TY, @ameliabonow! #ProtectRoe… https://t.co/H3Ei5WtemH</div> — Katie Klabusich (@Katie Klabusich)<a href="https://twitter.com/Katie_Speak/statuses/820700507974955009">1484505223.0</a></blockquote></div><p>For many people, having an abortion isn't really a huge deal and the <a href="http://journals.plos.org/plosone/article?id=10.1371/journal.pone.0128832#sec013" target="_blank">overwhelming majority (95%) of those who have had one don't regret it</a>. Still, because of the stigma surrounding it, many might not feel comfortable discussing their experiences. You can help change that!</p><p>Whether it's participating in social media campaigns like <a href="http://www.upworthy.com/after-tweeting-on-the-shoutyourabortion-hashtag-these-women-got-an-earful">#ShoutYourAbortion</a>, telling your story through a site like <a href="WeTestify.org">We Testify</a>, or hosting a teach-in through the <a href="http://abortiontruthproject.com/host-a-teach-in/" target="_blank">Abortion Truth Project</a>, sharing abortion stories plays a powerful role in battling the stigma that surrounds the procedure.</p><h2>4. Call your legislators at both local and national levels.</h2><p>Calling your legislators is one of the best ways to show your support or opposition to any issue close to your heart. Is your representative pro-choice? Give her a call. How's your senator planning on voting on an upcoming bill? Give him a call. It's important to remember that our elected officials are meant to represent their constituents — that means you!</p><p>There are some great guides too. Former Congressional staffer Emily Ellsworth's "<a href="https://gumroad.com/l/callthehallsguide" target="_blank">Call the Halls</a>" guide is a tremendous resource to have at the ready. If you're the type of person who struggles with phone anxiety, here's a <a href="https://staff.tumblr.com/post/153523747568/how-to-call-your-reps-when-you-have-social-anxiety" target="_blank">really cool Tumblr graphic</a>. And if you need help coming up with a script or finding the right number, check out <a href="https://5calls.org/" target="_blank">5 Calls</a>.</p><div id="dfc97" class="rm-shortcode" data-rm-shortcode-id="BUENQD1559346736"><blockquote class="twitter-tweet twitter-custom-tweet" data-twitter-tweet-id="800777304133828608" data-partner="rebelmouse"><div style="margin:1em 0">A comic for anxious people who want to be politically active: How to call your reps when you have social anxiety… https://t.co/j6nJryNFfQ</div> — Ariel Newman 🌟 (@Ariel Newman 🌟)<a href="https://twitter.com/arieltypes/statuses/800777304133828608">1479755161.0</a></blockquote></div><p>It doesn't have to be boring either! Maybe you can organize a call or postcard writing party with friends, complete with drinks, food, and prizes where you get together and contact your reps. </p><h2>5. Run for office. Yes, you. </h2><p>The day after the massive global Women's March, <a href="http://www.cosmopolitan.com/politics/a8629774/emilys-list-training-womens-march-washington/" target="_blank">500 women in Washington, D.C. gathered</a> to discuss taking the energy from the march and channeling it into a political movement. The group worked together with <a href="https://www.emilyslist.org/" target="_blank">EMILY's List</a> to learn the basics of getting involved in politics, and you can too!</p><div id="c3458" class="rm-shortcode" data-rm-shortcode-id="8ZXPGO1559346736"><blockquote class="twitter-tweet twitter-custom-tweet" data-twitter-tweet-id="824626686469742592" data-partner="rebelmouse"><div style="margin:1em 0">Are you angry about the attacks on our reproductive rights? Consider running for office. @emilyslist needs you! https://t.co/IdrSAAlldo</div> — EMILY's List (@EMILY's List)<a href="https://twitter.com/emilyslist/statuses/824626686469742592">1485441297.0</a></blockquote></div><p>As our new president has shown us, no prior political experience is no problem. But you don't have to run for president or Congress to make a difference. Consider getting involved with smaller local races if that's more your speed. Getting involved on a state, county, or municipal level can help make a real change in the world.</p><h2>6. Promote comprehensive sex education.</h2><div><div class="push-wrapper--mobile" data-card="image" data-reactroot=""><img type="lazy-image" data-runner-src="https://assets.rebelmouse.io/eyJhbGciOiJIUzI1NiIsInR5cCI6IkpXVCJ9.eyJpbWFnZSI6Imh0dHBzOi8vYXNzZXRzLnJibC5tcy8xOTQ3Mjc1NC9vcmlnaW4uanBnIiwiZXhwaXJlc19hdCI6MTYwNjU0NjI3Nn0.tyEYWv4GkLpzNXJ7UgQyUvuFQ1GLml-uZzzrJaOQU0I/img.jpg?width=980" id="72d9d" class="rm-shortcode" data-rm-shortcode-id="597b7a18a1bab11ad31b429e09ecbc4c" data-rm-shortcode-name="rebelmouse-image"><div class="image-caption"><p>Photo by Ted Aljibe/Getty Images. </p></div></div></div><p>It turns out that there are a couple surefire ways to reduce the number of unintended pregnancies in the world (which, in turn, has the effect of reducing the number of abortions as well): ensuring access to contraception and improving the type of <a href="http://www.gao.gov/new.items/d0787.pdf" target="_blank">sex education</a> we provide in schools. In fact, a recent study found that <a href="http://www.upworthy.com/a-massive-new-study-shows-how-to-reduce-abortions-and-its-not-more-regulation">abortion is at an all-time low</a>, and it appears to be a direct result of an improvement in both of those areas.</p><p>One obvious way to get involved in setting the agenda for sex education is finding a spot on your local school board (see point #5) or at least attending the board's meetings with the public.</p><h2>7. Talk to friends and family about why abortion rights matter to you.</h2><p>Large-scale projects dedicated to helping change public opinion using celebrities and stories from strangers about why pregnant people should have the ability to make their own decisions about their bodies are one thing, but there's nothing quite like hearing something from someone you trust. Sure, it might be a bit awkward, but at the end of the day, it might help reduce stigma (see point #3) and inspire others to feel more open in discussing the topic.</p><p>The <a href="https://rewire.news/article/2016/11/23/talk-family-abortion-holidays/%20" target="_blank">National Network of Abortion Funds put together a quick guide</a> on talking to your loved ones about abortion.</p><h2>8. Volunteer as a clinic escort.</h2><div><div class="push-wrapper--mobile" data-card="image" data-reactroot=""><img type="lazy-image" data-runner-src="https://assets.rebelmouse.io/eyJhbGciOiJIUzI1NiIsInR5cCI6IkpXVCJ9.eyJpbWFnZSI6Imh0dHBzOi8vYXNzZXRzLnJibC5tcy8xOTQ3Mjc1NS9vcmlnaW4uanBnIiwiZXhwaXJlc19hdCI6MTYzNDQ2NzMzOX0.w1Q4O7-soHalHPrviprark152TpatANaVjApkDXD6yU/img.jpg?width=980" id="83b09" class="rm-shortcode" data-rm-shortcode-id="dbc304c8e86590007b24f7e1ada9acb6" data-rm-shortcode-name="rebelmouse-image"><div class="image-caption"><p>Via <a href="http://www.clinicvestproject.org/">ClinicVestProject.org</a></p></div></div></div><p>It can be hard for some people to feel safe and comfortable walking into an abortion provider's office. Protesters can make going to a clinic a scary event, but that's why <a href="https://en.wikipedia.org/wiki/Clinic_escort" target="_blank">clinic escorts</a> exist.</p><p>Clinic escorts are individuals who help guide patients and staff in and out of abortion providers' offices, offering distractions to patients and just generally trying to reduce what can be a traumatic time. <a href="http://plannedparenthood.tumblr.com/post/24844762169/how-do-i-get-more-info-about-being-a-planned" target="_blank">Planned Parenthood</a> recently shared information on how to become a volunteer clinic escort. </p><p>Additionally, you can support the <a href="http://www.clinicvestproject.org/" target="_blank">Clinic Vest Project</a>, an organization that provides brightly colored escort vests to volunteers for free.</p><h2>9. Vote. Really — vote.</h2><div><div class="push-wrapper--mobile" data-card="image" data-reactroot=""><img type="lazy-image" data-runner-src="https://assets.rebelmouse.io/eyJhbGciOiJIUzI1NiIsInR5cCI6IkpXVCJ9.eyJpbWFnZSI6Imh0dHBzOi8vYXNzZXRzLnJibC5tcy8xOTQ3Mjc1Ni9vcmlnaW4uanBnIiwiZXhwaXJlc19hdCI6MTYzMjE2OTk3OX0.EDS1JigzCEwz94FAj2wE1_2M1WLNpsz6C3dLBPoL2ME/img.jpg?width=980" id="5d04f" class="rm-shortcode" data-rm-shortcode-id="53aa2ff53a1860c985fb6c125762fdcd" data-rm-shortcode-name="rebelmouse-image"><div class="image-caption"><p>Photo by Ringo Chiu/Getty Images.</p></div></div></div><p>One of the most direct things you can do to help influence policy is to become an <a href="http://votesmart.org/" target="_blank">informed participant</a> in the democratic process. It's an unfortunate fact that more than <a href="http://www.cnn.com/2016/11/11/politics/popular-vote-turnout-2016/" target="_blank">92 million eligible voters stayed home this past Election Day</a>. The presidential election, itself, came down to around just <a href="http://www.weeklystandard.com/the-election-came-down-to-77744-votes-in-pennsylvania-wisconsin-and-michigan-updated/article/2005323" target="_blank">80,000 votes</a> spread out over three states. Your vote matters! </p>