Democracy
The one question we all need to ask in the wake of the SCOTUS Dobbs decision on abortion
Losing the right to medical privacy hurts us all.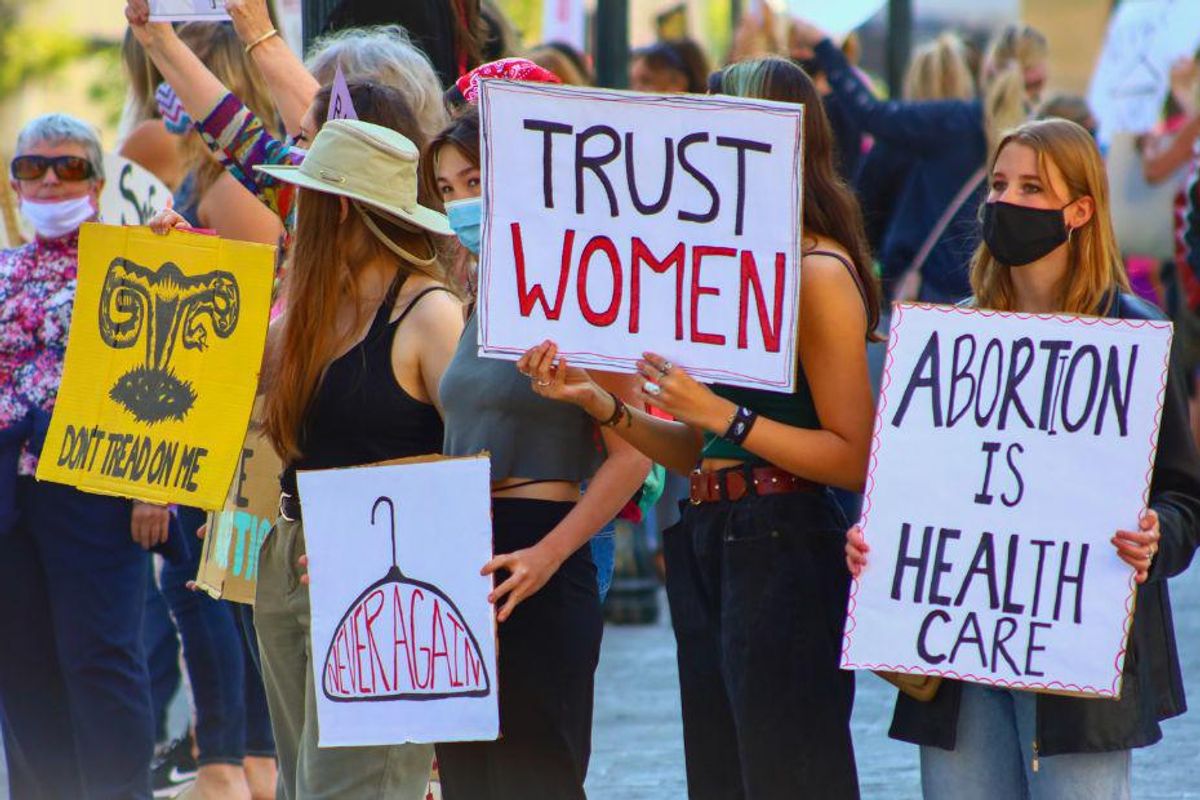 The Supreme Court has issued its ruling on Dobbs v. Jackson, a decision that we knew was coming and that overturns 50 years of precedent in the 1973 Roe v. Wade decision.
Roe v. Wade is widely known for upholding the right to an abortion, but it also upheld an individual's fundamental "right to privacy" (in the Due Process Clause of the 14th Amendment of the Constitution). In a 7-2 opinion (written by a lifelong Republican justice, for what it's worth), the Supreme Court decided that the right to privacy and liberty covered the right to abortion.
In the decades since Roe, people have rehashed all kinds of questions surrounding abortion: the nature of life and personhood, bodily autonomy, the rights of the unborn and more. And in those debates, we've lost the core of what the Roe ruling was really about—the right to privacy in our medical decisions, which affects each and every one of us.
The one question we should be asking, fellow Americans, is this:
---
Should the government have the authority to access someone's private medical and sexual history to investigate, judge, intervene in and/or prosecute their healthcare decisions?

That's the question. That's the debate. And I don't know anyone in their right mind who would answer that question with "yes."
In the Dobbs opinion, Justice Alito wrote, "It is time to heed the Constitution and return the issue of abortion to the people's elected representatives." Is it, though? Is government overreach just fine and dandy at the state level? Should elected representatives really be given the authority to determine people's medical needs? I don't think so.
Make no mistake—abortion is sometimes medically necessary to save the life of a mother or prevent undue suffering of an unborn baby. If it's sometimes necessary and the law acknowledges and allows for that, then the law would have to make the determination of whether or not it's necessary in each and every case. Not doctors, not the person carrying the baby, but representatives of the law. Investigators would have to delve into the personal, private medical records of patients to decide if an abortion was legitimate or not.
Who really wants that kind of government interference in their healthcare decisions?
If there are exceptions in state abortion laws for rape or incest, now we're looking at investigations not only into someone's medical records, but also into someone's sexual history. After all, anyone can claim they were victims of rape or incest. Such allegations are notoriously difficult to prove, so now we get 1) a slew of false accusations by women desperate to be able to get an abortion, which harms both real victims and innocent men, and 2) even more invasive investigations by the government into extremely private and painful matters.
I don't personally need a right to an abortion at this point in my life. There is almost no chance I will ever get pregnant again, and I can't imagine having an abortion even if I did. I do, however, need a right to privacy in my own medical care. That's what's being lost here.
I also don't begrudge anyone their belief that abortion is always wrong. I can actually understand how people get there, though I disagree. So by all means, debate the ins and outs and rights and wrongs of abortion all you want. Go out and hold up signs and preach to the masses and try to convince people to make different decisions. Set up pregnancy support clinics. Educate people about birth control or abstinence or whatever you believe is moral and right.
But allowing the government to legislate it is wrong. After all, the question of when life begins is fundamentally a religious or philosophical question, and we live in a country where we do not establish a religion. (It's literally in the first line of the First Amendment of the Constitution. And besides that, abortion access is a religious requirement in some faiths, so religious arguments for and against access are moot, legally speaking.)
We don't live in a black-and-white world. Every single pregnancy is a unique situation with a million different variables. Speaking in generalities is simple, but individual cases are nuanced and complex. Should the 11-year-old who has been raped and impregnated by her brother be forced to carry and bear his child when her own body hasn't even reached full maturity? Should the mother whose water broke prior to viability and who has a life-threatening infection, necessitating an abortion to save her life, now have to go through a painful investigative process to determine whether she's a criminal under the law? Should a pro-life Congressman with means be able to access abortion for the mistress he impregnated because he can afford it, all while trying to remove access for the rest of us?
You could say those are exceptions, but who makes that determination? Who gets to say what counts as an exception or not? Who gets to decide the criteria and determine who meets that criteria? Politicians most of us wouldn't trust to watch our dog? Is that really what we want from our government?
And what about the notion that abortion bans save lives? Do the lives of pregnant women not count? Not only will people risk their lives seeking dangerous unregulated abortions, but we could also see an increase in suicides in women who feel trapped in an impossible situation. In El Salvador, where abortion is banned with no exceptions, 3 out of 8 maternal deaths—more than one-third of mothers who die—are pregnant teens who die by suicide. Please read that twice.
The U.S. also has the highest maternal mortality rate among developed nations. And Texas specifically, where some of the most stringent abortion laws are being enacted, topped the developed world for maternal mortality as of 2014. Pregnancy and childbirth are not without risk, especially in this country.
But none of that, sadly, is even relevant to the central question:
Should the government be granted the authority to dive into someone's private medical and sexual history to investigate, judge, intervene in and/or prosecute their healthcare decisions?
Or more specifically:
Should the government—the random fellow citizens we elect on occasion—be granted the authority to access someone's personal medical and sexual history to determine the circumstances of a pregnancy and judge whether the healthcare decisions surrounding it are valid?
The answer is no. Obviously, no.
At this point in my life, I don't need the right to an abortion. But I do need the right to privacy in my personal healthcare decisions. We all do. That's what Roe guaranteed. That's what we have lost.