Joy
Pottery artist leaves gorgeous, handmade bowls in random places for people to stumble upon
Imagine coming across one of these gorgeous gifts.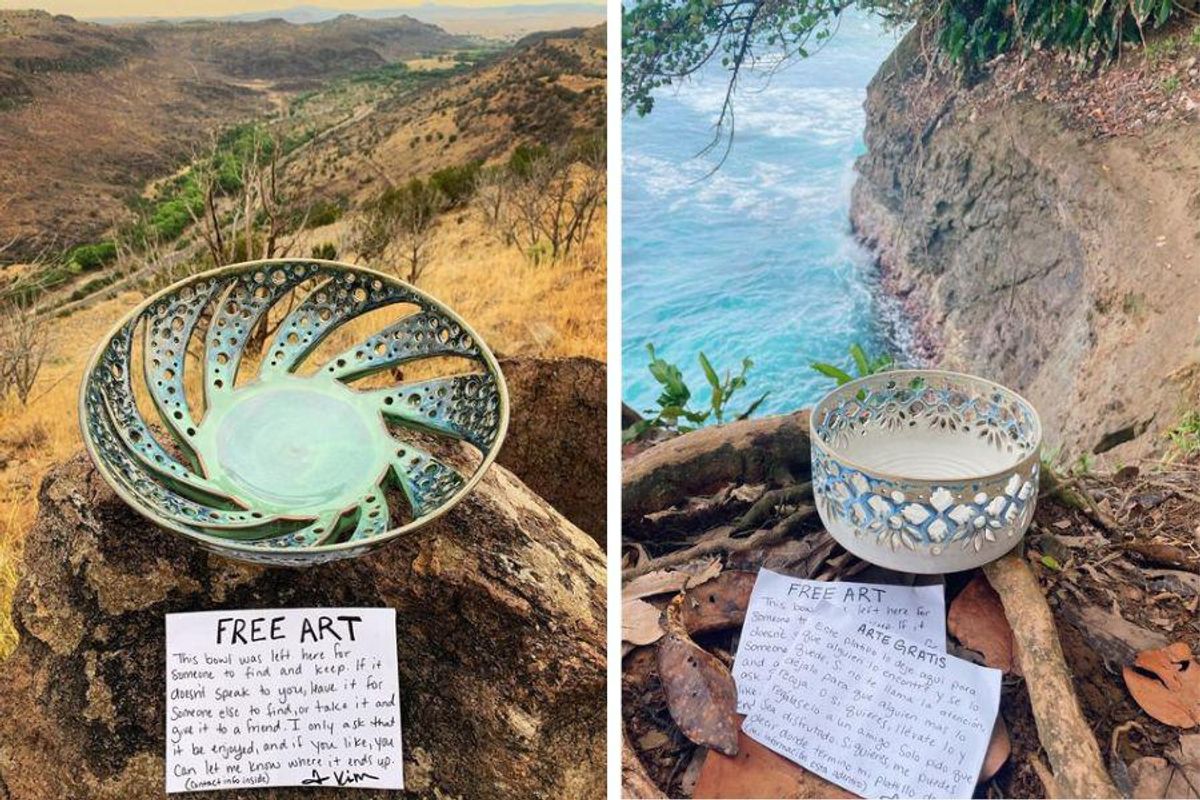 Imagine you're hiking out in the red rocks of Moab, Utah, or taking a stroll down the beach in Key West, Florida, when you come across a gorgeous piece of glazed pottery. No one is around, just a beautiful, hand-carved bowl sitting with an envelope next to it that reads:

FREE ART
This bowl was left here for someone to find and keep. If it doesn't speak to you, leave it for someone else to find, or take it and give it to a friend. I only ask that it be enjoyed, and if you like, you can let me know where it ends up. (Contact details inside.)
Love, Kim
---
Kim Press is an artist from Texas who shares her pieces under the name Sailing Adrift Studios. When she travels, she takes a piece with her to leave for a random, unsuspecting person to find. Lucky wanderers in 36 states and two countries have come across Press' pottery "free art drops" and gotten to take home an unexpected artistic treasure from their own travels.
And these aren't any old bowls. Check out how absolutely stunning these pieces are:
Press recently shared a video highlighting some of the pieces she's dropped, and every single one of them would be an incredible gift.
"To say that I am proud of these numbers is an understatement," she wrote. "In my wildest dreams, I could never imagine how much taking a pottery class and playing in mud would change my life…. And it just goes to show that if you travel far enough, eventually you will find yourself."
People who find Press' pottery let her know where the pieces ended up, and half the fun of it is seeing how far they travel. She put a page on her website where she shares the pieces' "found" stories, such as the bowl she left in Santa Monica, California, making its home in Spain, a bowl she left in Tucson finding its way to China and a piece found in Pennsylvania ending up in Mexico. Sometimes she leaves them in hiking spots in the wilderness. Sometimes she drops them in the middle of a city. Some pieces have stayed in the states she dropped them and others have traveled across the country or the world.
People who have found them have shared how much joy their discovery brought them:
"Just wanted to drop you a note to say that I picked up your 'Free Art' in the park in Fairhope during my last day of my Snowbird stay (January and February) in Orange Beach. While I was in Orange Beach, a dear friend fell and broke her hip and I wanted to get her something to take back. When I say your beautiful bowl, I knew it would touch her heart. Thank you so much for your generosity. She absolutely loved it."
"Dear Kim , Today I found a wonderful surprise, we were at Ft. Zach for my grandson's 5th birthday party and found this on our table, my first thought was ..why is this here? Then I read the card and was speechless... How incredibly lucky I am to have such a precious gift. You are an amazing , talented person. Thank you so much , this will be something I will pass on to my grandchildren. I wish you nothing but the best!"
"Found this incredible gem today. It makes me happy how people are so passionate about their gifts and talents that they would want to share it with the world. Thank you."
Some people have even started looking for the pieces when Press does an art drop announcement, alerting friends and family if the drop is near where they live. A woman who found a bowl in Boise, Idaho, wrote:
"My friend follows you and today she shared your profile with our friend group. We all followed your page and on my way home from work she called me and sent me on an adventure. I squealed when I found it. Thank you so much!! Keep on keeping on."
And a group in Lago Vista, Texas, shared:
"Our out of state guests were about to do a polar plunge in our pool when they saw your post and decided to go art drop hunting instead... so exciting!!!"
Everyone who found pieces shared how much gratitude they felt upon finding them.
Check out the Sailing Adrift Studios website to see where Press has left her free art so far, and follow her on Facebook and Instagram to see where the next art drop happens.
Thank you, Kim Press, for bringing joy not only to the people who happen upon your artwork, but also to those of us living vicariously through them. (I really need one of those bowls!)