Joy
Man captures magical scenes of acorn characters and the wildlife that stumbles upon them
David Bird has created over 100 "Becorns," each with their own name and personality.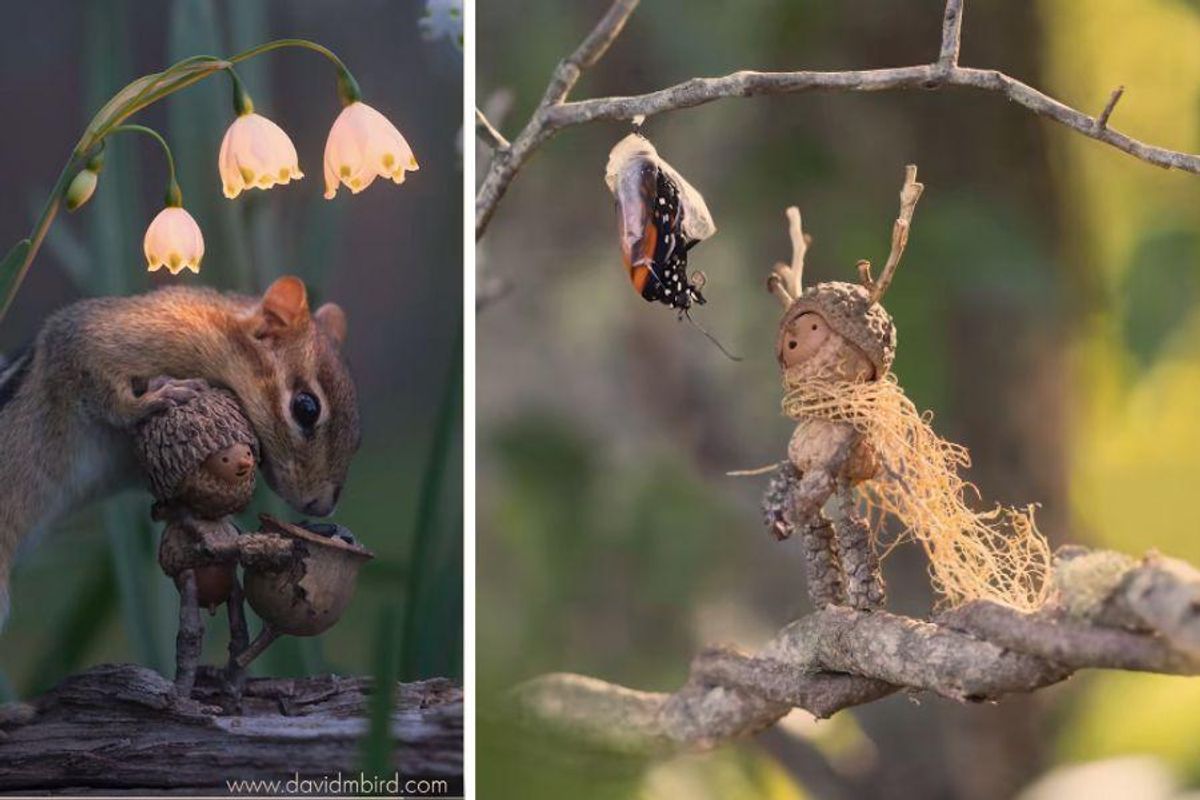 David M. Bird/Facebook
No matter how old we get, there's a part of us that revels in the magical wonder of childhood. One toy designer-turned-acorn artist has tapped straight into that wonder with the worlds he creates for his "Becorns" and the creatures who stumble upon them.
Becorns are David Bird's name for the tiny characters he creates out of acorns and sticks. He has made over 100 of them, all with different personalities and names (such as Bing, Cooper, Big Boone and Vildegarde), and they are absolutely precious.
Meet Dink, for instance:
Dink may be having a solo moment of awe here, but Becorns aren't usually on their own when Bird captures them in photos. After setting up a scene and waiting patiently, Bird might catch one of his Becorn friends examining an insect, bathing with a bird or sparring with a squirrel.
---
And the end result is something straight out of a fairy tale.
"Kind of the essence of Becorns is this wonder about the natural world and sort of experiencing nature and the wonder of nature in kind of a pure way," Bird told PBS. "And a lot of people have said, 'I haven't felt that since I was a kid.'"
"There's a wide variety of personalities in the Becorn world," he shared. "They tend to be gentle, they're almost always curious and up to something. There are warriors that are defending against squirrels. They definitely are nurturers—they feed the wildlife and care for them."
The idea for creating Becorns came to Bird when he was sweeping debris off his mom's driveway and saw the acorns and sticks scattered on the ground. Bird had worked as a toy designer at LEGO in Denmark for almost five years and his work on Bionicles served as the foundation for piecing together his Becorn friends.
"I kind of realized,—Oh my God, everything I did at LEGO I can do with these sticks and acorns and kind of create a whole world with them," he told PBS.
And that's exactly what he's done.
Bird sells prints of his photographs on his website and gallery shows and he shares them on social media as well. He recently shared a video montage of his favorite Becorn scenes from 2022.
"People love Becorns because on the one hand, it's all so familiar, like we all know acorns and sticks and chipmunks in our backyard, and we see it all the time," Bird told CBS. "But on the other hand, it seems like this whole other world."
Watch Bird share his process for creating a Becorn scene with CBS Sunday Morning: