popular
7 stories of people who were off grid during major events and came back to a changed world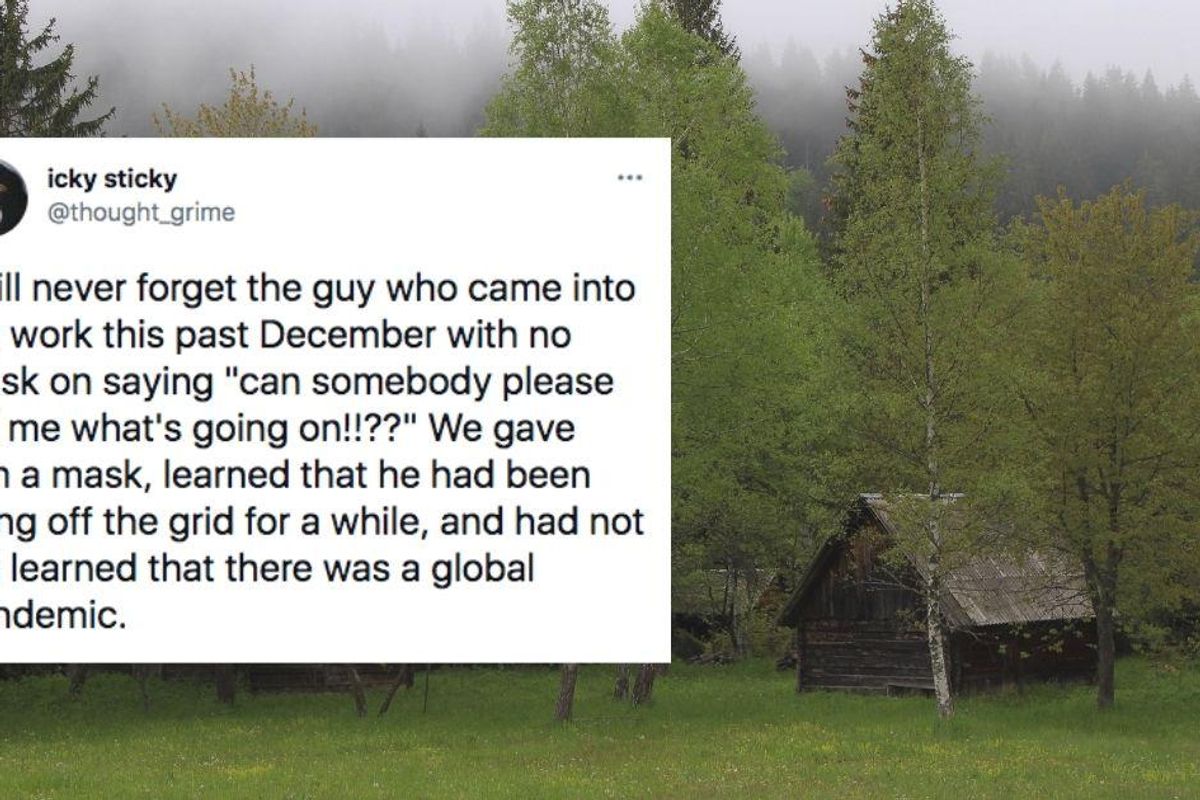 On February 19, 2020, a group of outdoor adventurists took a 25-day rafting trip down the Colorado River through the Grand Canyon. During the trip, they had no cell service and no contact with the outside world. When they ended they ended their journey on March 14, the man who pulled them ashore asked if they had been in touch with anyone else. When the rafters said no, the man sighed, then launched into an explanation of how the globe had been gripped by the coronavirus pandemic and everything had come to a screeching halt.
The rafters listened with bewilderment as they were told about toilet paper shortages and the NBA season being canceled and everyone being asked to stay at home. One of the river guides, who had done these kinds of off-grid excursions multiple times, said that they'd often joke about coming back to a completely different world—it had just never actually happened before.
The rafters' story was shared in the New York Times last spring, but they're not the only ones to have had such an experience.
---
Twitter user @thought_grime shared a mind-blowing story of a man who came extraordinarily late to the pandemic party last winter.
"I will never forget the guy who came into my work this past December with no mask on saying, 'Can somebody please tell me what's going on!!??'" they wrote. "We gave him a mask, learned that he had been living off the grid for a while, and had not yet learned that there was a global pandemic. He was so sweet and so confused and he said he only came to town because he ran out of oats."
People who live that far off the grid for that long are rare, but they exist. It's hard to imagine being that unplugged from society, but even those who disconnect even temporarily can find themselves returning to a world that's very different than the one they left, sometimes just days before.
Imagine being backwoods camping when 9/11 happened. Or when the Soviet Union fell. Imagine coming back to a world forever changed by a major event you had no idea had occurred.
It's hard to imagine now with everyone carrying internet-enabled cell phones, but even being disconnected for a matter of hours can leave a person feeling dazed and confused if they miss a major event. There were some people who didn't know their loved ones were safe after 9/11 hours after it had happened, and even some people who didn't know it had happened.
We've become accustomed to news coming to us in real- time, but it wasn't that long ago that news of only extraordinary news events warranted interrupting regular television programming. And prior to television, news came out only as fast as word of mouth and print newspapers could carry it.
These days, it's generally people who have chosen to live in isolation or those who are living someplace remote who find themselves blindsided by major world changes that they missed.
For instance, imagine what it was like for this team of science researchers studying on a remote atoll 1300 miles from Hawaii, who returned to civilization—and a raging pandemic they hadn't heard about—in December.
Isolated Science Researchers Learn of Pandemic 8 Months Inwww.youtube.com
Absolutely wild.
There are other instances of people missing out on news as well, either due to being in a coma or in prison or some other circumstance.
Living in the age of constant connectedness and instant information makes these kinds of stories all the more incredible, and perhaps ironically, also makes them more accessible to more people. The fact that some of us can miss big things due to a lack of technology, and then utilize the technology we were lacking to share that experience with millions is a sort of surreal sign of the times.

What a weird and wonderful time to be a human.