More
NBA player Kyle Korver wrote a must-read essay on what he's learned about white privilege in America.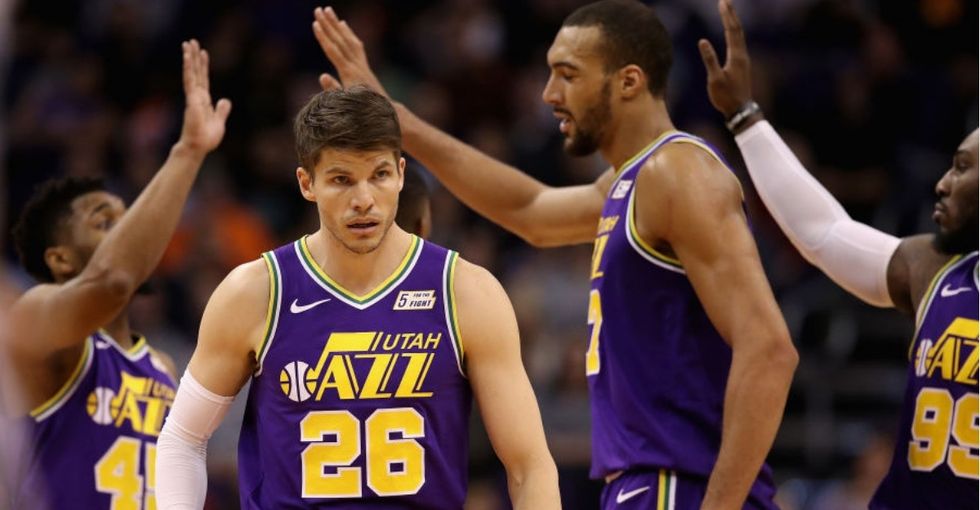 Kyle Korver's thoughtful essay on race—and his role as a white man in today's America—is a must read.
Utah Jazz basketball player Kyle Korver is making waves with his Players Tribune essay in which he lays out what he's learned about race and racism and his personal role in it all.
Korver starts with his reaction in 2015 to finding out that the NYPD had arrested his black teammate and friend, Thabo Sefolosha—and broken his leg in the process. Sefolosha was eventually found not guilty on all charges and the city of New York paid him $4 million in a wrongful arrest settlement.
---
Korver describes how his initial response to news of the incident has gnawed at him:
"On the morning I found out that Thabo had been arrested, want to know what my first thought was? About my friend and teammate? My first thought was: What was Thabo doing out at a club on a back-to-back??
Yeah. Not, How's he doing? Not, What happened during the arrest?? Not, Something seemsoff with this story. Nothing like that. Before I knew the full story, and before I'd even had the chance to talk to Thabo….. I sort of blamed Thabo.
I thought, Well, if I'd been in Thabo's shoes, out at a club late at night, the police wouldn't have arrested me. Not unless I was doing something wrong.
Cringe.
It's not like it was a conscious thought. It was pure reflex — the first thing to pop into my head."
So begins Korver's deep dive into his own unconscious biases, his burgeoning awareness of his own privilege as a white man, and his growing understanding of the racism so many of his teammates and other people of color constantly deal with. His essay represents a thoughtful, honest example of the kind of self-analysis white Americans need to undertake to uproot the racism enmeshed in our country's foundation.
It really needs to be read in its entirety. Slowly. Without a lens of defensiveness or fragility, if possible.
I've been trying to write this for a while. https://t.co/Qkt8aoVtdE

— Kyle Korver (@Kyle Korver) 1554730598.0
Korver doesn't say anything about racism that black people haven't said forever. But seeing the journey of a white American's consciousness may help others on their own path.
In a perfect world, all white Americans would listen when chorus after chorus of black Americans tell us how they experience racism. In a perfect world, the voices of people of color would be listened to, heard, and believed.
Obviously, we don't live in a perfect world. Hopefully, Korver's voice will reach people who need to see an example of what learning to be an ally looks like. Perhaps his eloquent explanation of how his understanding has evolved will help other white Americans ask themselves hard questions about their own privilege and racial blind spots.
For example, Korver points out how simply having the ability to ignore or blow off race issues is a form of privilege that many of us don't think about. White Americans have the choice to opt in or out of grappling with racism. People of color have no choice but to deal with it, day in and day out.
Korver also explains that subtle racism—the kind we see all the time but don't always recognize—needs to be tackled just as much as blatant racism:
"As disgraceful as it is that we have to deal with racist hecklers in NBA arenas in 2019? The truth is, you could argue that that kind of racism is 'easier' to deal with.
Because at least in those cases, the racism is loud and clear. There's no ambiguity — not in the act itself, and thankfully not in the response: we throw the guy out of the building, and then we ban him for life.
But in many ways the more dangerous form of racism isn't that loud and stupid kind. It isn't the kind that announces itself when it walks into the arena. It's the quiet and subtle kind. The kind that almost hides itself in plain view. It's the person who does and says all the 'right' things in public: They're perfectly friendly when they meet a person of color. They're very polite. But in private? Well….. they sort of wish that everyone would stop making everything 'about race' all the time.
It's the kind of racism that can seem almost invisible — which is one of the main reasons why it's allowed to persist."
Again, this is the same thing black folks have been saying over and over and over again. When are we going to listen?
Predictably, Korver's essay irked defensive white folks who ironically prove his point. But most responses have been enthusiastically supportive.
Some people just aren't going to get it, no matter how well all of this is explained. Cue the "white guilt" (which is directly addressed in the essay, by the way) and "no such thing as white privilege" (literally the point of the essay), along with "enough with the victimhood" and "SJW-virtue-signaling-PC-nonsense" commenters.
But thankfully, those voices are being drowned out by the ones that matter most. And yes, some voices actually carry more weight in discussions about racism—namely the people who live it, day in and day out.
LeBron James, Korver's former teammate on the Cleveland Cavaliers, shared his essay with the comment, "Salute my brother!! Means a lot. And like you said I hope people listen, just open your ears and listen."
Salute my brother!! Means a lot. And like you said I hope people listen, just open your ears and listen. 🙏🏾‼️‼️ https://t.co/qBrd2H27x0

— LeBron James (@LeBron James) 1554739172.0
Dwyane Wade of the Miami Heat offered a simple "Thank you."
Thank you @KyleKorver https://t.co/5iK9D4OBJv

— DWade (@DWade) 1554784081.0
Speaker and writer Exavier Pope praised Korver for the example he is setting:
@KyleKorver Kyle Korver thank you for saying something many black people innately know and have screamed, marched,… https://t.co/HimTp4oVkT

— Exavier Pope (@Exavier Pope) 1554740375.0
As did Chicago Bears defensive tackle Akiem Hicks:
Wow, that was huge. It's what we have always needed. More athletes that are not of color to show support and unders… https://t.co/dbgY8awG2g

— akiem hicks (@akiem hicks) 1554773647.0
These issues need to be brought to light over and over again until everyone who needs to see them starts seeing them. As writer Doyin Richards wrote when he shared the post on Facebook, "This article from Kyle Korver (a white NBA player) is phenomenal and should be required reading for all white people."
Seriously, let's all read the essay. Twice. Then let's get busy doing the vital work that needs to be done.