Pop Culture
Embrace your inner coziness: Mozy 22 is the ultimate wrap for comfort, warmth, and convenience on the go
It's over 500% warmer than a typical stadium blanket.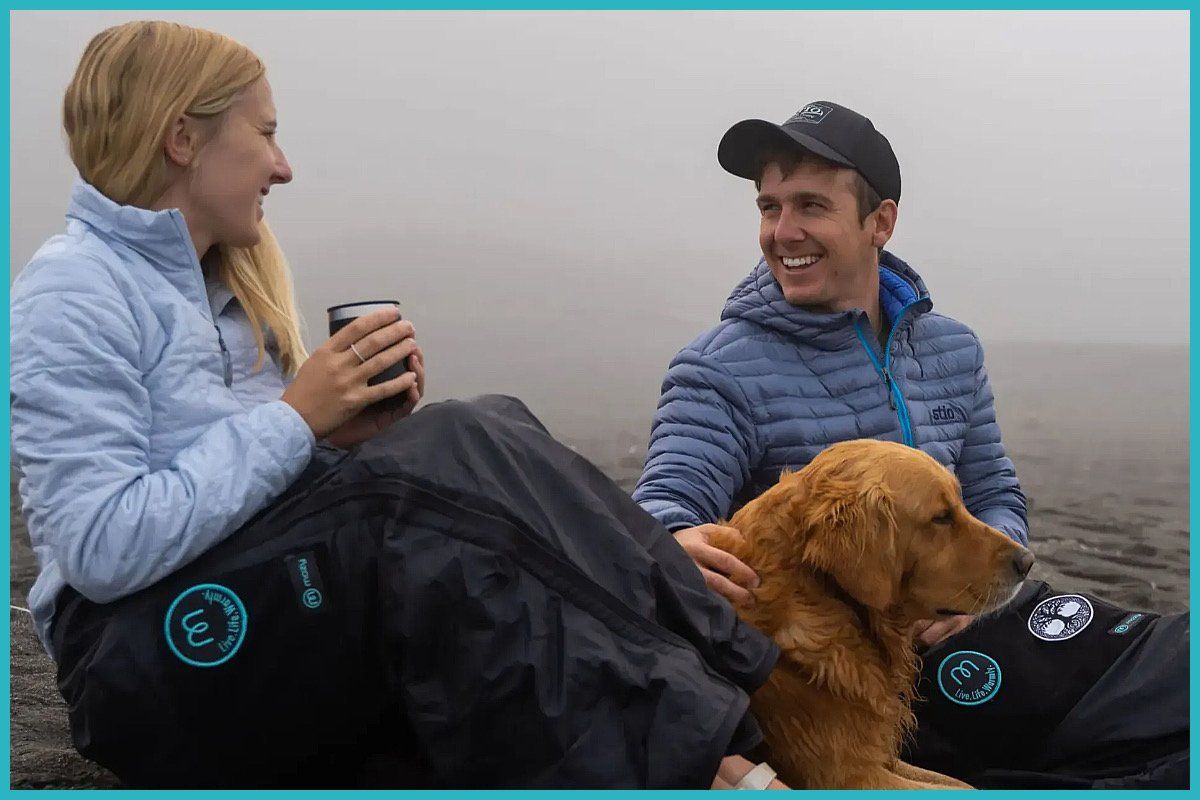 Editor's Note: Upworthy earns a fee for purchases made from items listed in this article.

Imagine you're working from home, attending a Zoom call, when you suddenly feel a chill in the air. Or maybe you're out exploring nature, taking in the beauty of the great outdoors, but the temperature starts to dip, and your jacket just isn't enough. Wouldn't it be nice if there was a simple solution to keep you warm and comfortable that was also lightweight and mobile? That's where the Mozy 22 comes in. It provides warmth, comfort, convenience, and mobility, making it the perfect companion for video calls, outdoor adventures, and everything in between.
---
The Mozy 22 isn't just any ordinary wrap; it's a game-changer. Whether you're snuggled up on the couch with a good book, taking your dog for a walk, or cheering at your child's soccer game, Mozy 22 literally has you covered. With its lightweight, super-soft design and adjustable hook closure, you can easily wrap yourself up and stay warm in those cooler temperatures.
The journey to create the Mozy 22 began with its founder, a busy dad who found himself shivering at his kid's games and realized there had to be a better alternative to the traditional stadium blanket. This problem sparked a relentless pursuit to develop a superior solution that provides warmth, comfort, and mobility. Through countless trials and iterations, the team behind Mozy explored over 40 different designs, fine-tuning the details to create the ultimate wrap. It wasn't just about creating a better stadium blanket but revolutionizing how we keep warm in everyday situations, from virtual meetings to outdoor leisure activities. After numerous tests and refinements, the Mozy 22 was born.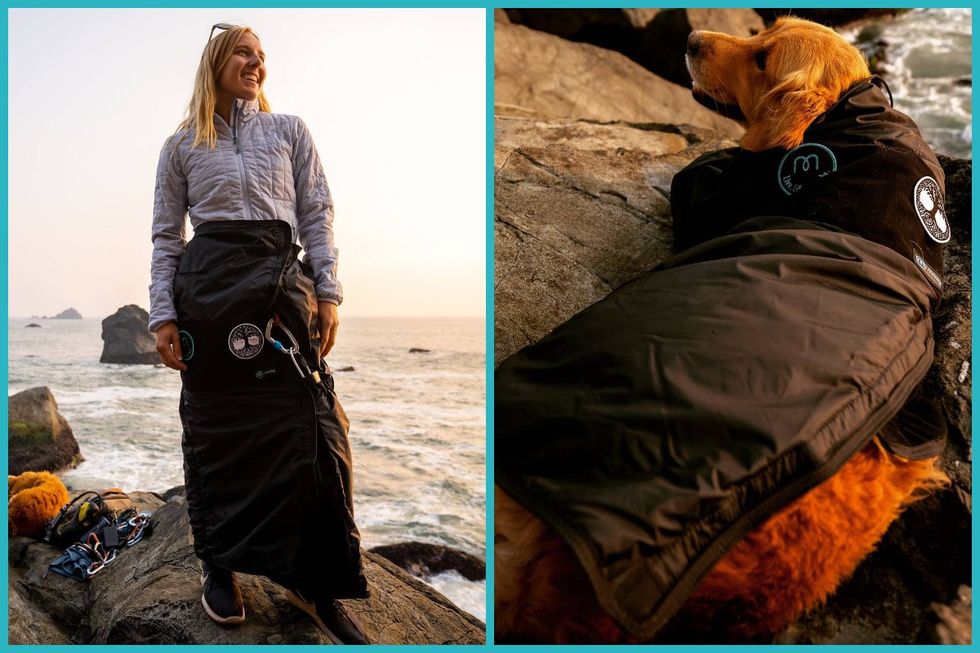 The Mozy 22's groundbreaking approach to warmth and comfort sets it apart from other products. With its patented technology, this extraordinary wrap is truly a one-of-a-kind solution for those looking to stay warm, no matter the occasion. Extensive testing using thermocouples has proven that the Mozy 22 is over 500% warmer than a typical stadium blanket. With one patent issued and another pending, its innovative design effectively blocks convective heat loss.
What sets Mozy 22 apart from traditional warmth solutions is its innovative design that reduces convective heat loss. Compared to jeans, which offer minimal protection and allow heat to escape all over the legs, or stadium blankets, which still lose heat through gaps and around the back of the legs, Mozy 22 efficiently retains warmth. This design ensures that cool breezes don't penetrate the wrap, keeping your legs toasty and comfortable. The science behind Mozy 22's impressive warmth retention lies in its ability to minimize molecular convective heat loss. By effectively maintaining a layer of warm air molecules close to the exterior of the jeans while keeping cold air molecules outside, Mozy 22 ensures you stay warm even when the temperature drops. This intelligent design creates a microclimate around your lower body, making it the perfect choice for those cooler days.
Controlled engineering tests were conducted on the Mozy 22, using a warmed test dummy and thermocouples to compare its performance against jeans and stadium blankets. The results were clear: Mozy 22 excelled at retaining heat, proving that its groundbreaking design truly lives up to the promise of keeping you warm and comfortable.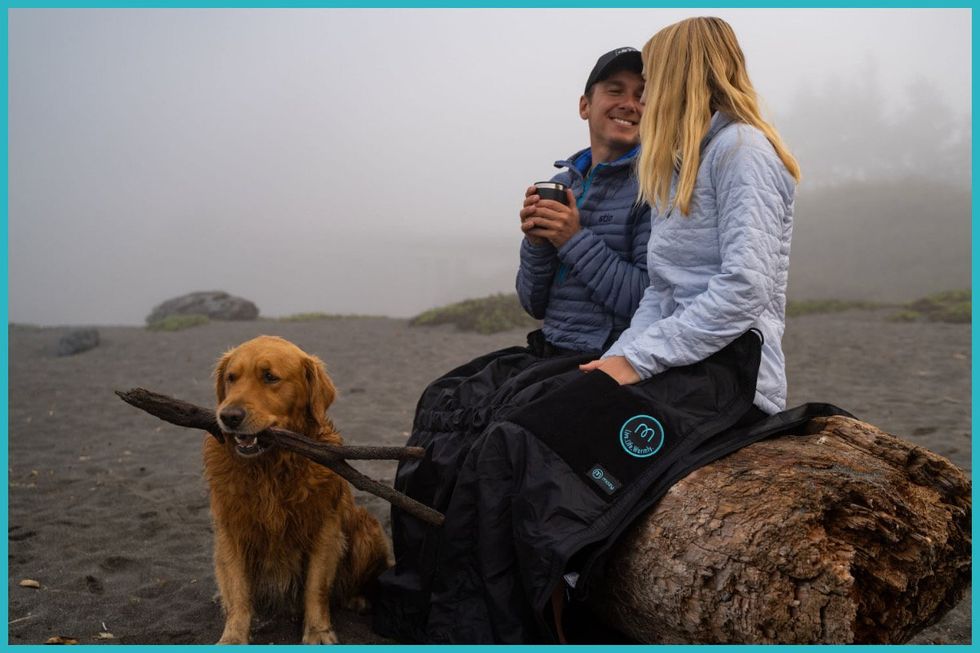 One of the standout features of Mozy 22 is its mobile and hands-free design. It allows you to move freely without sacrificing warmth. Whether you're hopping up to cheer at a game or simply going for a walk, Mozy 22 stays securely fastened around your waist, ensuring your blanket won't fall to the ground, and you'll never have to fumble with it while on the go. Another fantastic benefit of Mozy 22 is its adjustable hook closure, which provides a customizable fit for users of all shapes and sizes. The wrap is easily pressed closed along your left side as snugly as you'd like, and the snag-free hook and loop border creates a seal that's both easy to adjust and open, keeping you dry and comfortable.
Mozy 22 also features two easy-to-reach pockets and a carabiner clip, making securing all your outdoor essentials a breeze. From water bottles and keys to hats, gloves, and even your phone, Mozy 22 has room for everything you need while out and about. Comfort is key with Mozy 22, and its plush fleece interior offers an added layer of warmth and coziness. As you wrap yourself in this soft, heavyweight fleece, you'll feel instantly snug and ready to face cold weather.

But Mozy 22 isn't just a one-size-fits-all solution. Its infinitely adjustable warmth allows you to adapt quickly to changing weather conditions. You can wear Mozy 22 higher up on your torso, just at your waist, sealed halfway down, or fastened snugly over your ankles. With Mozy 22, you're always in control of your level of warmth, making it a versatile and essential addition to your wardrobe.
Mozy 22 is designed to cater to various body types, ensuring everyone can enjoy its warmth and comfort. With size options available for both youth and adults, there's a Mozy 22 for everyone. The Size 120 is best suited for youth with hip sizes ranging from 20" to 27", while the Size 140 is ideal for adults with hip sizes between 28" and 46". For those with hip sizes of 47" to 58", the Size 160 is the perfect fit. To choose the best size for your needs, simply measure your hip size and refer to the recommendations provided. By selecting the proper size, you'll ensure that your Mozy 22 fits comfortably and securely, providing optimal warmth and coziness as you go about your day. So whether you're attending a chilly outdoor event or just looking for that extra layer of comfort during a Zoom call, Mozy 22 is the perfect fit.

With the unbeatable combination of comfort, warmth, and convenience, the Mozy 22 is a must-have for anyone seeking an adaptable and stylish solution to staying warm on the go. Act now, and embrace your inner coziness with Mozy 22! Grab yours today and join the revolution in staying warm and cozy, no matter where life takes you.