popular
In just 40 seconds, Matthew McConaughey makes the heartbreaking case for gun safety
"She wore these every day, green Converse with a heart on the right toe."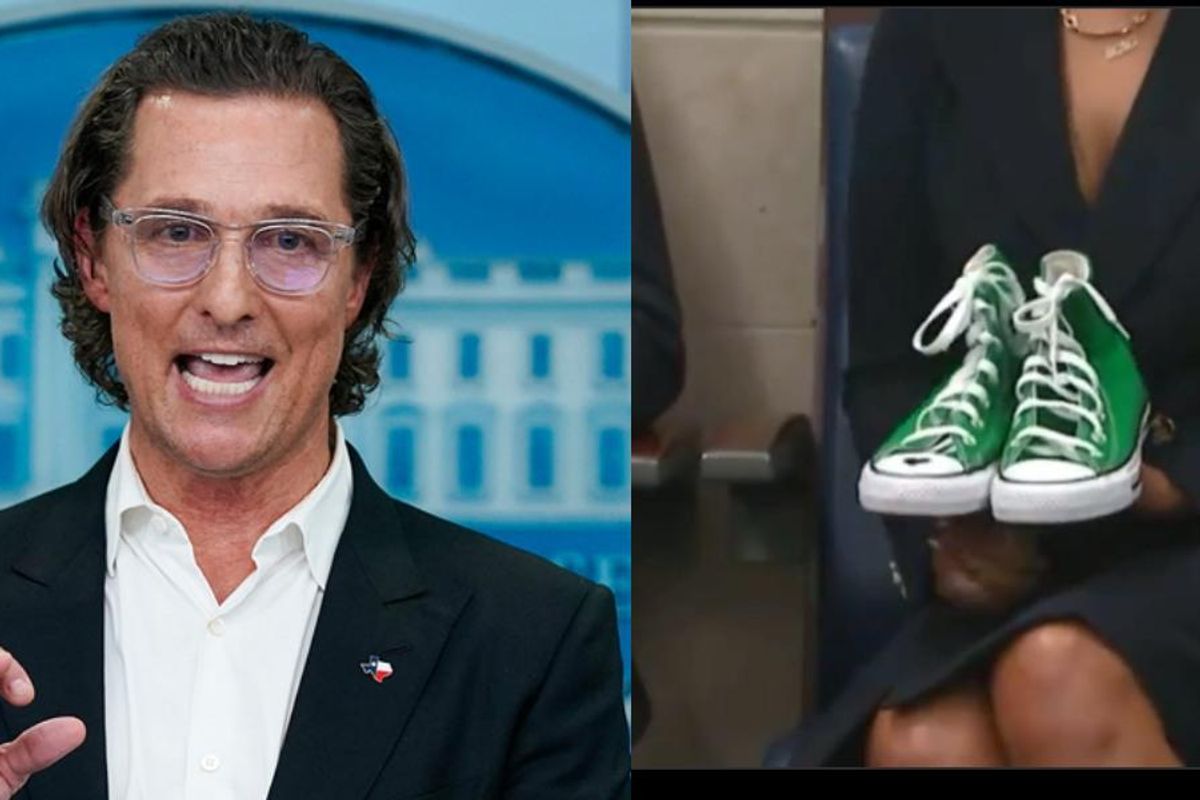 Twitter/WhiteHouse.gov
Maite Rodriguez was only 10 years old when she was senselessly murdered during the mass school shooting in Uvalde, Texas, that made national headlines last month. The Robb Elementary School student was passionate about nature. So much so that every day she wore the same pair of green Converse shoes with a tiny heart etched in ink on the toe of the right shoe.
Those now iconic shoes were the only reliable piece of evidence in identifying her body after Rodriguez was gunned down by the AR-15 style rifle that killed her and 18 of her fellow classmates.
Actor Matthew McConaughey used that horrifying and unforgettable image during an appearance at the White House, where he advocated for gun safety measures in light of the shooting that has rocked his home town of Uvalde and the nation at large. McConaughey's remarks immediately went viral across social media, with a short, 40-second clip amassing more than 7 million views in less than 24 hours.
"How can we make the loss of these lives matter?" McConaughey asked. "You could feel the pain, the denial, the disillusion, anger, blame, sadness, loss of lives, dreams halted," he added, when describing his visit to Uvalde after the shooting.
McConaughey's call for action is fairly modest. In an op-ed published in the Austin American-Statesman, the Oscar-winning actor called for commonsense reforms including expanded background checks.
"I believe that responsible, law-abiding Americans have a Second Amendment right, enshrined by our founders, to bear arms," he wrote in the op-ed. "I also believe we have a cultural obligation to take steps toward slowing down the senseless killing of our children. The debate about gun control has delivered nothing but status quo. It's time we talk about gun responsibility."
But it is this 40-second clip that has spread like wildfire across social media in which a tearful McConaughey asks his wife Camila Alves to hold up the pair of Converse worn by Rodriguez.
"Maite wore green Converse with a heart hand-drawn on the right toe," McConaughey says in the clip, voice cracking with grief, "because they represented her love of nature. Camila's got these shoes, can you show these shoes, please?"
Alves, herself visibly shaken with grief, holds up the shoes with her head held down.
"Wore these every day. Green Converse with a heart on the right toe. Because it was the same green Converse on her feet that turned out to be the only clear evidence that could identify her at the shooting," McConaughey says.
The actor angrily slammed his fist on the White House podium, audibly moaning and muttering, "How about that," as the clip ends.
McConaughey and Alves spent the day on Capitol Hill meeting with lawmakers from both parties. The actor and activist has used his stardom to advocate for middle-ground commonsense solutions to the nation's problems, including gun safety. In both his op-ed and in comments at the White House, McConaughey acknowledged the unique reality of America's Second Amendment and relationship with firearms. Rather than shaming the concept of gun ownership, McConaughey stressed the need for workable solutions and for political leaders to put principle ahead of fundraising and reelection concerns, saying, "We can't truly be leaders if we are only living for reelection."
"We need to invest in mental health care. We need safer schools," McConaughey added. "We need to restrain sensationalized media coverage. We need to restore our family values. We need to restore our American values. And we need responsible gun ownership."
With the potential for modest but meaningful gun safety legislation making progress in Congress, it's all the more important to have voices like McConaughey's as part of the conversation, to both remind us of the urgency of the moment and that there is a way forward with consensus on bipartisan solutions to a problem that should be a priority for every parent and every voter in the nation.
You can watch McConaughey's full remarks below: